Latest Passing Reports from SPOTO Candidates
CCIE EI Lab Exam Info-100% Pass With SPOTO
The Cisco CCIE Enterprise Infrastructure (v1.0) Lab exam is an eight-hour hands-on test that requires candidates to plan, design, deploy, operate and optimize dual stack solutions (IPv4 and IPv6) for complex enterprise networks. SPOTO offers latest & updated CCIE EI Lab Exam questions for candidates to study and pass CCIE EI Lab exam fast. You can pass your CCIE EI Lab exam in the first attempt by using SPOTO CCIE EI Lab practice tests.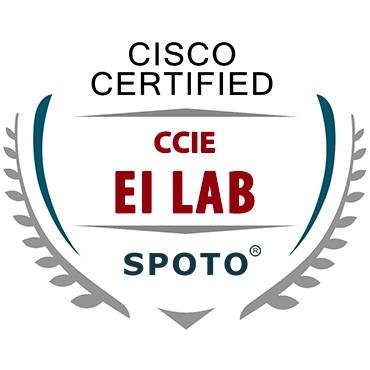 Exam Code: CCIE EI Lab
Exam Fee: $1,600
Exam Duration: 8 hours
Validity Period: 3 years
Major topics of CCIE EI Lab Exam:
1.Network Infrastructure
2.Software Defined Infrastructure
3.Transport Technologies and Solutions
4.Infrastructure Security and Services
5.Infrastructure Automation and Programmability
Cisco implemented some changes in the CCNP and CCIE certification exams last February 24, 2020. To get certified, candidates have to take the same core exam, and once they pass, they can proceed to take the exam for their concentration or focus area. CCIE candidates who choose to concentrate on CCEI enterprise infrastructure must pass the CCIE enterprise infrastructure lab exam to get their badge. The CCIE enterprise lab test, which is a hands-on lab exam covering enterprise networks design, deployment, operation, and optimization, is one of the toughest Cisco Certification exams.
Benefits of Passing the CCIE EI lab Exam
Preparing for the CCIE enterprise infrastructure lab exam will demand much of your time and effort. However, everything will be compensated when you start to reap the fruits of your labor once you get your certification. Here are the benefits that you will enjoy:
Job security
Nowadays, the job that you have today might become irrelevant in the next few years. Learning a new skill that will be in demand in the future will assure you that you will never be jobless because you can qualify for emerging jobs of the future. Getting certified will increase your job prospect despite the change.
Promotion
With your expertise, you will most likely get a key role in companies or organizations that use the Cisco System. Your expertise will help you get promoted to a senior position in the company.
International recognition
Cisco System is used by a myriad of companies and organizations worldwide. With your Cisco certification, you can find a job in any country of your choice. If you have been dreaming of living in a certain place, your Cisco badge will help you turn your dream into reality.
High Salary
One of the most important perks of passing the CCIE EI lab exam is enjoying a high salary. Your certification can bring you an average annual salary of $120,000. This is around 20% to 25% higher than what your uncertified colleagues will receive.
How to Pass the CCIE EI Lab Exam on the First Try
If you plan to pass EI CCIEV1.0 once at the most stable time, please give us enough trust and join SPOTO to learn with ease!
SPOTO CCIE EI lab service is ready. We will provide exam plan, one-on-one online support, instruction video and complete rack for your practice!
If you are working full time, time might the number one constraint in your plan to take the CCIE EI lab exam. You will need to rent a lab or make your own to prepare for the practical exam. Passing the test on your first attempt will save you time and money. Let SPOTO help you pass the lab exam fast. Get the SPOTO CCIE enterprise infrastructure lab dumps, which contain the latest and updated questions for practice. We also provide a 100% real lab exam environment, complete rack service, and 100% verified workbooks and solutions. You can ask for help from out expert technical tutors 24 hours a day, 7 days a week.
About the Exam
The CCIE EI Lab exam is a hands-on test that has duration of eight hours. Candidates will be asked to plan, design, deploy, operate, and optimize dual stack solutions for complex networks. The exam costs $1,600 every time you take the test.
Major topics of CCIE EI Lab Exam:
1.Network Infrastructure
2.Software Defined Infrastructure
3.Transport Technologies and Solutions
4.Infrastructure Security and Services
5.Infrastructure Automation and Programmability
Before you can take the CCIE enterprise infrastructure lab exam, you must pass the core exam 350-401 exam first. For the written exam, we also have valid 350-401 exam dumps that cover all real exam questions. You can easily pass the exam in 7 days in general.

This is the material content that you need practice. You will face them when you take exam.
Design: Design 1
Deploy & Operate & Optimize:LAB1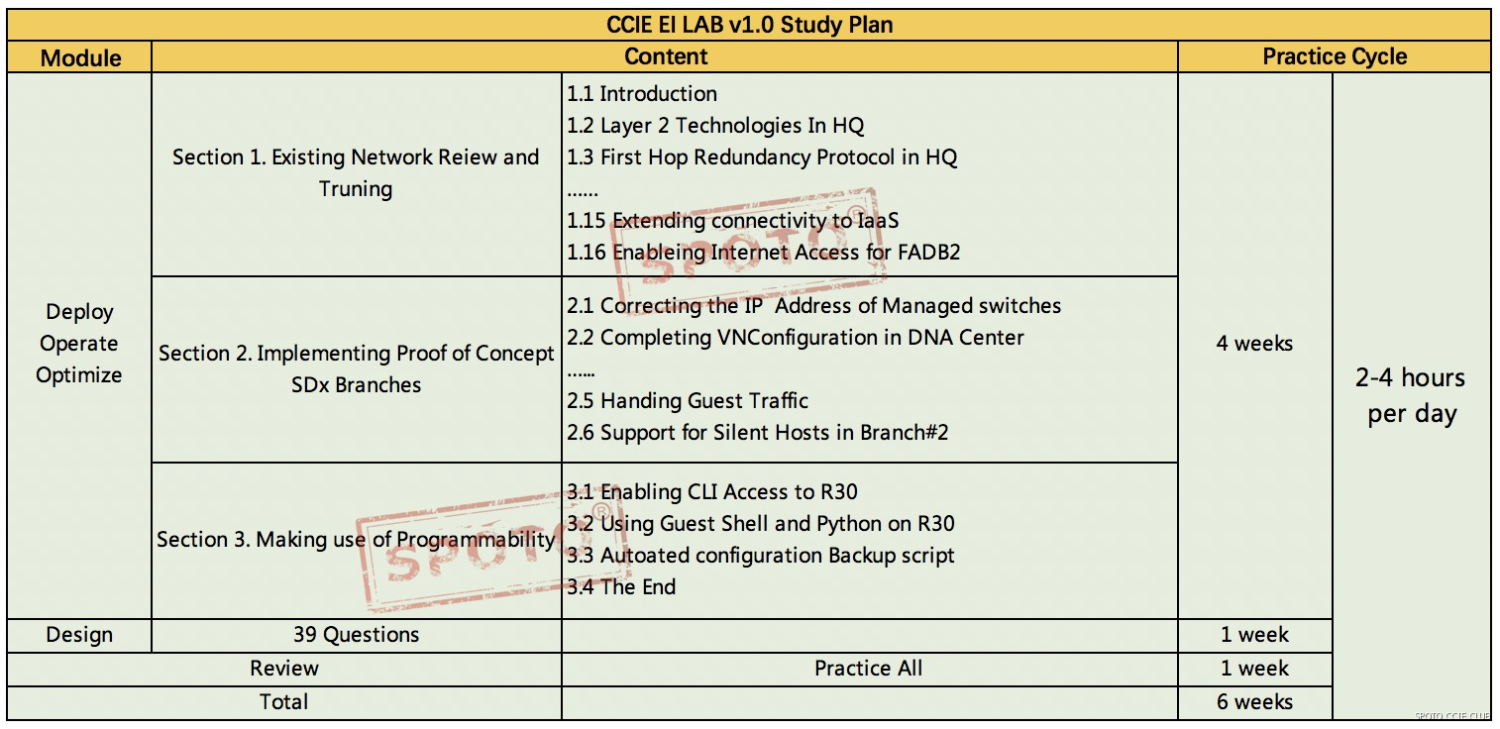 This is CCIE EI LAB v1.0study plan
If you can spend 2-4 hours on lab practice per day, you can take exam after 1.5 months.
we provide 3 months service time, thus you will have enough time to practice, so you can follow your timetable, it is flexible.

Rack Service: offer rack to practice, the rack includes IOS, init configuration, etc.
Study Materials: Workbook, Solutions, Instruction Video, Study Plan.
We delivered the materials stage by stage:
stage 1:Section 1 & Section 2
stage 2:Section 2
stage 3:Section 4 & Section 5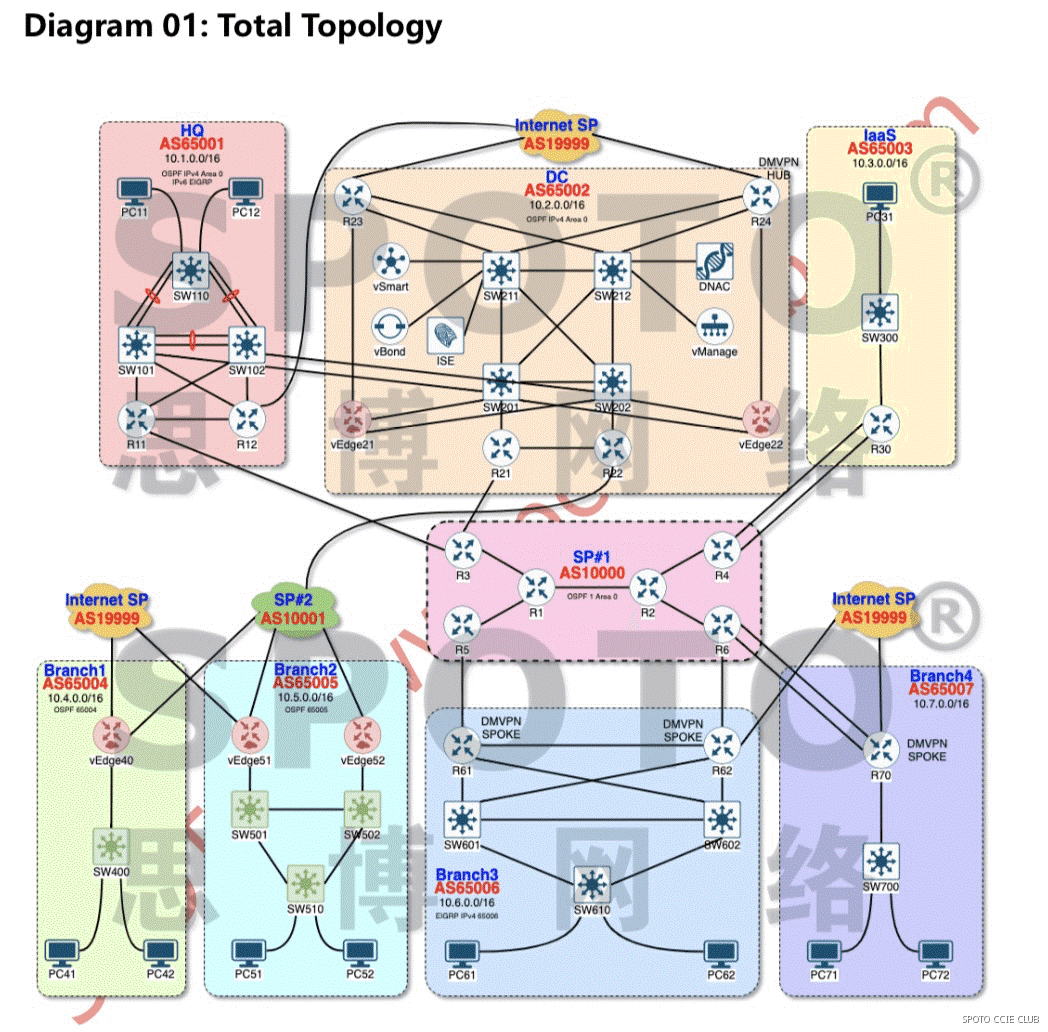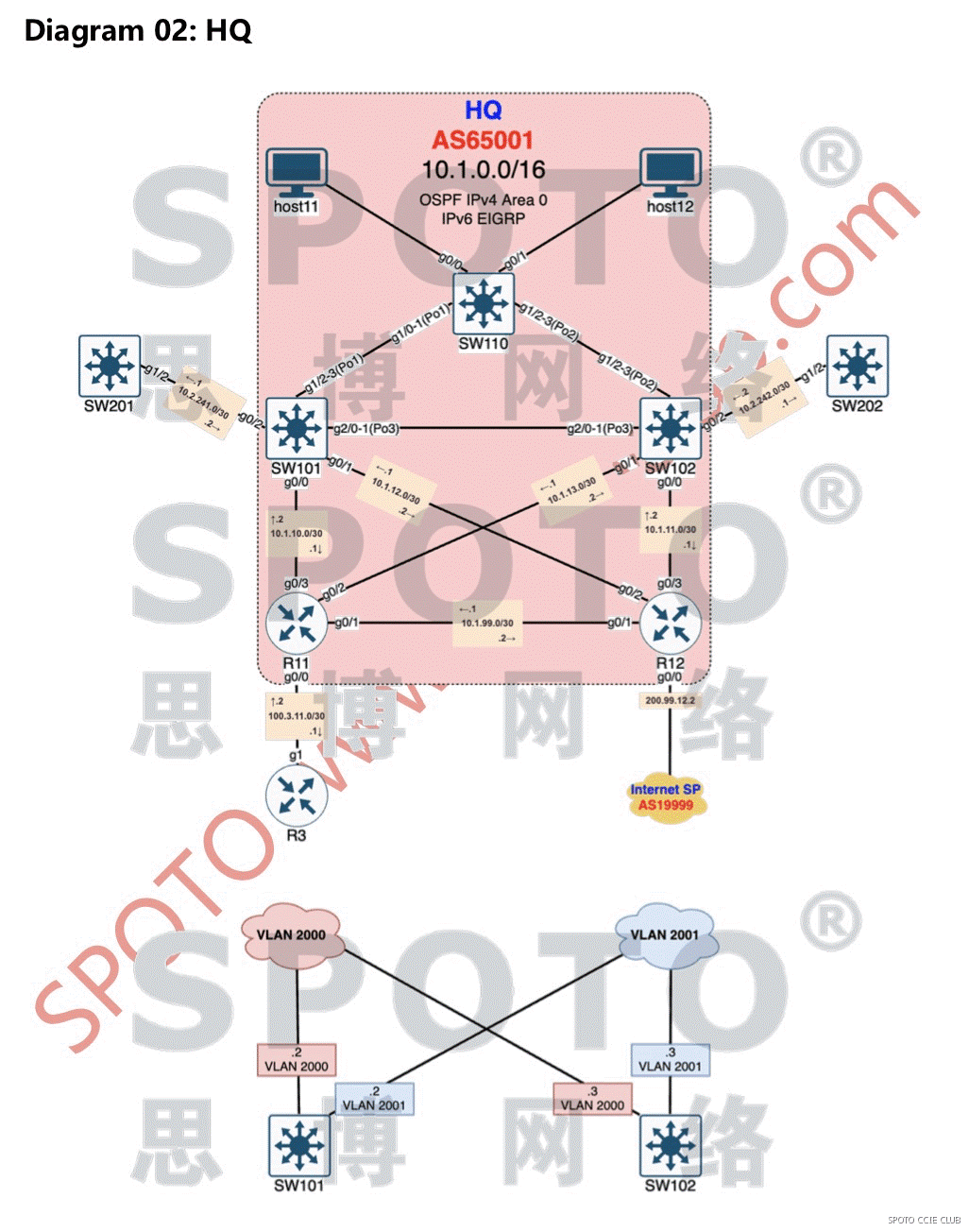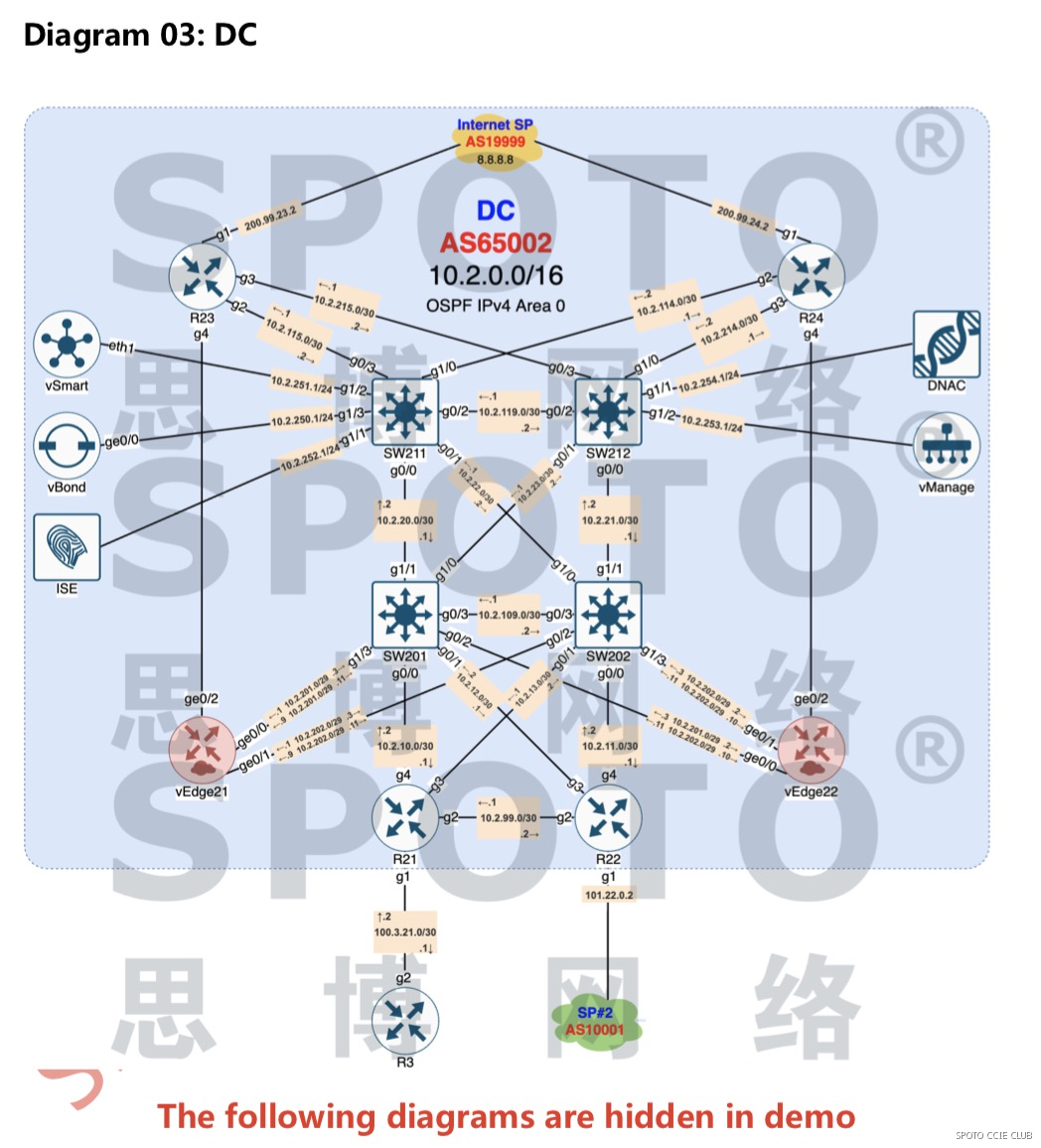 1. How soon can I receive the learning materials?
The followings will be sent to your email no later than 8 hours after verification of your payment.
Software and setup instructions
Learning Materials, including Workbook, Solutions and Instruction Video.
Study Plan
2. How long is my service period?
Our standard service period is 3 months.
3. Is the environment of the rack practice the same as the examination?
The environment in which you practice on the rack is the same as the real lab exam.
4. How to open workbook and solution?
All of the workbook and solution are encrypted documents, it only allows one pc to open it. We will send a guide to tell you how to open the workbook and solution. It supports windows operating system and mac operating system
5. What happens if the exam becomes unstable?
We make sure you will receive updated information and materials as soon as we learned any changes to the exam. In case we learned any major changes happened during your service period, your remaining service period will be calculated from the date we learned the exam becomes stable again.
IT Training Leader for 18 Years
SPOTO, an outstanding IT training Institute with 18-year experience, has assisted thousands of candidates to pass their dream IT exams in first try. Our candidates speak highly of quality practice tests & outstanding service.
7/24 Professional Technical Support
To help SPOTO candidates well prepared exam, we have professional tutors to provide 7/24 online technical support to ensure candidates solve any problems at any time.
Latest & 100% Pass Exam Solutions
Our solutions cover 100% real pass exam answers and questions and exam practice tests. SPOTO will update the exam solutions timely and our product manager will ensure the accuracy and stability of exam solutions to help you 100% pass exam.
Get Limited Time Offer
Pass Your IT Certification Exams in the First Attempt With SPOTO!
SPOTO offers 100% real and valid IT exam dumps, 100% same with the real exam. SPOTO, the leader of IT certification online training for 17 years, has helped 2100+ candidates to get their Cisco CCIE certifications. Our products cover Cisco, PMP, ISACA, Amazon Aws, Palo Alto, Microsoft and other IT exams. With SPOTO real IT exam practice tests, you can boost salary and advance your IT networking career fast!
I want to say thank you to you guys. This is the first time I buy CCIE EI lab exam dumps from you while I think I will be a regular customer.
I took the exam last week, many of CCIE EI lab exam questions were from this dump and I swear I'm not lying. Recommend to all.
This Cisco CCIE dump is useful and convenient. I think it will be your best choice. Believe on it.
Awesome! These CCIE EI Lab practice questions are very valid. 90% of my exam questions came from SPOTO dumps. I did excellent in the exam.