Latest Passing Reports from SPOTO Candidates
CCNP 350-401 Exam Info-100% Pass With SPOTO
The Cisco Enterprise Network Core Technologies v1.0 (350-401 ENCOR) is a 120-minute exam connected with the CCNP and CCIE Enterprise Certification. SPOTO offers latest & updated CCNP 350-401 Exam questions for candidates to study and pass 350-401 exam fast. You can pass your CCNP 350-401 exam in the first attempt by using SPOTO 350-401 practice tests.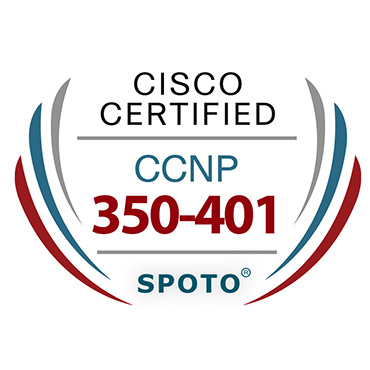 Exam Code: 350-401
Exam Fee: $400
Exam Duration: 120 minutes
Validity Period: 3 years
Major topics of CCNP 350-401 Exam:
1.Dual stack (IPv4 and IPv6) architecture
2.Virtualization
3.Infrastructure
4.Network assurance
5.Security
6.Automation

350-401 ENCOR is a 120-minute exam related to CCNP and CCIE Enterprise certification. The exam tests candidates' knowledge of core enterprise network technology implementation, including dual-stack (IPv4 and IPv6) architecture, virtualization, infrastructure, network assurance, security and automation. To obtain the CCNP Enterprise certification, you must first pass Cisco 350-401, and then choose to take any centralized exams, including 300-410 ENARSI, 300-415 ENSDWI, 300-420 ENSLD, 300-425 ENWLSD, 300-430 ENWLSI, 300-435 ENAUTO.
After Cisco's reform in 2020, the CCNP 350-401 exam can not only earn you an expert certificate, but also provide a qualification exam for the CCIE Lab exam.
Retired exam
Cisco 350-401 exam (and 300 series centralized exam) replaced the following old exams. Older CCNP R&S exam route switch shooting Older CCIE R&S exam
The Cisco ENCOR 350-401 exam replaces the following CCIE R&S exams. You can think of ENCOR as the new R&S "written test" - Routing and Exchange Written 400-101 exam.
Why take the ENCOR 350-401 exam?
Career benefits This certification is very valuable for IT candidates and staff because it has been recognized worldwide. Obtaining this certification increases the possibility of upgrading depending on the organization.
Obtaining CCNP certification can approve your ability to perform and investigate LAN and WAN networks. As we all know, certified personnel have valuable capabilities required by large enterprises, such as network engineers, system engineers, support engineers, network technicians, and this is just the beginning. Good job opportunities High salary potential The latest technology Excellent resume Self-assurance Excellent job development
Skill recognition After passing the ENCOR 350-401 exam, you will receive the CCNP expert badge, which can prove your skills in implementing core enterprise network technologies. This increases the likelihood of a successful interview or promotion. In addition, the CCNP corporate certification provides expert network engineers with the information and skills needed to handle Cisco products. It provides the necessary industry-specific tool knowledge to complete its job as a network engineer.
Job roles you can get after CCNP enterprise certified The current economy may be developing, but the IT business is still in good shape. Until recently, IT outsourcing organizations have become mainstream, but large organizations from hospitals to manufacturers have also hired a growing team of internal IT experts.
Cisco CCNP has a history of more than 20 years and maintains its reputation. It is expected that the CCNP will prompt any number of personnel to enter a career alternative based on a mid-level network. These personnel include positions such as network engineers, network technicians, network supervisors, network investigators and even potential network security experts. Network experts, network analysts, system engineers, etc.
Who should take the CCNP 350-401 exam?
Cisco certified network experts are best suited to serve as network administrators, network engineers, and technical support personnel. In addition, this certificate is also suitable for IT professionals who have 3-5 years of relevant experience and can independently manage Cisco network technology.
How to pass the Cisco 350-401 exam in the first attempt?
Having hands-on network experience, studying according to the exam blueprint and having the right resources will help optimize your Cisco 350-401 study. The new Cisco 350-401 exam is not so easy, but if you work hard, you have a chance to pass the exam. The most important thing is to choose reliable learning materials, such as SPOTO 350-401 dumps.
100% real CCNP 350-401 practice test The SPOTO CCNP 350-401 practice test contains the same practical exams as the real exams. All questions are from the real 350-401 exam. In addition, the VCE dump format can make you feel very professional in a real exam environment.
100% pass guarantee The SPOTO 350-401 dump contains questions and answers verified by CCIE experts. Therefore, if you practice dumping for a few days, you can basically grasp the key to the success of the 350-401 exam. SPOTO candidates try to pass the CCNP 350-401 exam for the first time, with an average preparation time of 7 days.
Outstanding customer service and professional mentors SPOTO has a strong customer service team and teacher team for more than 18 years. No matter what questions you ask, our team will reply you quickly and provide teachers' technical support.
More information about the 350-401 exam
1. 350-401 exam overview: 350-401 ENCOR is a 120-minute exam that tests your overall knowledge of implementing core enterprise network technologies. After passing the core exam, you will have 3 years to take a concentration exam and earn the CCNP Enterprise certification.
Exam Type: drag & drop, multiple-choice single answer, multiple-choice multiple answers, and simulations Number: 105 questions Exam Cost: $400 Exam Time: 120 minutes Language: English, Japanese
2. CCNP 350-401 Exam Prerequisites Required: There are no formal prerequisites for the CCNP 350-401 exams. It is better to learn about the exam topics well before exam. Recommended: Three to five years of relevant networking experience.
3. CCNP Enterprise Recertification CCNP enterprise certification is valid for three years. Candidates will be able to recertify by taking exams, earning Continuing Education credits or a combination of both.
FAQ
1. What's the quality of SPOTO products? We offer high-quality and reliable 350-401 ENCOR dumps. Besides, we have other vendor certification exam dumps like PMI, AWS, ISACA, Microsoft, etc. to help you ace the exam smoothly.
2. How can I get the product? Our service will send the dump and study materials to you through e-mail after your payment.
3. Is the question number in your dump same as the real exam? The number of SPOTO CCNP 350-401 dumps is nearly same as that of the real 350-401 exam. We ensure highest accuracy with fewer questions to save you a lot of time!
4. Will the 350-401 practice tests be updated frequently? Yes, we follow the latest trends in Cisco 350-401 exam and update the dump regularly to ensure stability.
5. Can I pass the exam with your dump? Definitely! SPOTO dump contains real exam questions and topics. As long as you practice the dump, you will ace the 350-401 exam in the first try.
6. How long can I practice CCNP 350-401 exam dumps? You can be access to the written dump on our remote server for 7 days.
7. Is your dump format PDF or VCE? SPOTO dump format is VCE, the same as the real exam dump format.
8. What's the way to practice the dumps? You can practice our dumps on a remote server, which support 24-hour access. You will receive the account to log in remote server after payment.
9. What ways can I choose to pay for the product? We guarantee your purchase with SPOTO is safe and fast. Many payment methods are available such as PayPal, Western Union and bank transfer
10. If I fail the exam, what should I do? If you fail unfortunately, you can ask the service to extend services for free. Furthermore, we support money-back guarantee. So, you don't need to worry about failure!
IT Training Leader for 18 Years
SPOTO, an outstanding IT training Institute with 18-year experience, has assisted thousands of candidates to pass their dream IT exams in first try. Our candidates speak highly of quality practice tests & outstanding service.
7/24 Professional Technical Support
To help SPOTO candidates well prepared exam, we have professional tutors to provide 7/24 online technical support to ensure candidates solve any problems at any time.
Latest & 100% Pass Exam Solutions
Our solutions cover 100% real pass exam answers and questions and exam practice tests. SPOTO will update the exam solutions timely and our product manager will ensure the accuracy and stability of exam solutions to help you 100% pass exam.
Get Limited Time Offer
Pass Your IT Certification Exams in the First Attempt With SPOTO!
SPOTO offers 100% real and valid IT exam dumps, 100% same with the real exam. SPOTO, the leader of IT certification online training for 17 years, has helped 2100+ candidates to get their Cisco CCIE certifications. Our products cover Cisco, PMP, ISACA, Amazon Aws, Palo Alto, Microsoft and other IT exams. With SPOTO real IT exam practice tests, you can boost salary and advance your IT networking career fast!
I studied this Cisco CCNP 350-401 material carefully and took every question seriously. At last, I passed the exam with high score. Prepare well and study much more.
Passed the CCNP 350-401 exam today. All the question from this dump, so you can trust on it!
I am a network engineer. I passed my CCNP Exam with SPOTO help. Thanks.
Great Cisco CCNP 350-401 dump! I have passed the exam by using this dump only half a month. I will share with my friend.