Agile Certified Practitioner (ACP ) Certification Exam
PMI-ACP (Agile Certified Practitioner) is an agile practice professional certification launched by the American Project Management Association (PMI) in 206 countries and regions around the world in 2011. In the study of agile project management content, the number of Chinese people taking certification exams each year has increased at a rate of 100%, which has become a symbol of the status of agile management professionals.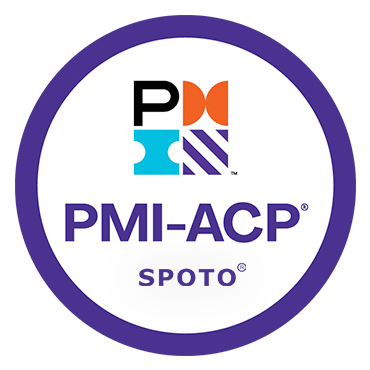 Valid Practice test & Accurate exam questions for PMI-ACP Exam Pass
Exam Duration: 3 hour
Exam Format: 120 multiple-choice questions
Exam Fee: Member: US$435.00 Non-member: US$495.00
Special Dicount
Get special offers
Latest Solutions and feedback
Workbook & Solution & Feedbak
One of the PMI certifications that have gained popularity is the ACP or Agile Certified Practitioner. In agile project management, a project is broken down into small tasks, making it possible to finish the project faster, make necessary changes during the duration of the project life cycle, and optimize workflow.
Advantages of An ACP Holder
As an Agile Certified Practitioner, you can enjoy the following benefits:
•As a certified Agile Professional, you will be able to work using agile technologies and tools so that you can ensure your team's productivity and customer satisfaction.
•You will gain knowledge and experience that will help you develop and complete projects in an agile way. You can deliver more value to your clients as the documentation requirements are reduced to the basics allowing you time to focus on changes needed to achieve a positive result.
•With an ACP certification, you will receive better compensation, which is 28% higher than what your uncertified team member gets.
•Excellent career opportunities await Agile Certified Professionals. There is a rising demand for someone with ACP certification as more and more global organizations use the agile approach in management. Your ACP credential will add value to your resume.
With these benefits, getting an ACP certificate is worth all your efforts.
The PMI-ACP exam is quite difficult because it covers all the approaches to agile management Scrum, extreme programming or XP, Kanban, Lean, and Test Driven Development (TDD). For a 100% pass rate on your first try, get the PMI-ACP exam questions from SPOTO. Practicing the simulated exam will help you familiarize yourself with the questions and answers. Besides, your familiarity with the PMI-ACP exam questions will give you an advantage over other test-takers because you already have an idea of what to expect. When you take the exam, you will realize that you have already encountered the test items that came out during your PMI-ACP exam prep. Aside from containing PMI-ACP exam questions, the dumps come with a remote server that can give you access to supporting services. SPOTO has a team of certified experts to help you with difficult questions, give feedback regarding your performance in the practice tests, and tips as to how to pass the exam on the first try.
For 17 years, SPOTO has helped thousands of certification exam takers pass on the first try.
If you aspire of passing the PMI-ACP exam on the first try but do not have enough time for the PMI-ACP exam prep, getting the dumps will be of great help. The PMI-ACP exam questions for practice are 100% real, valid, and updated so that they are most likely to come out during the examination day.
The following are the requirements to take the exam:
•High school diploma
•21 contact hours in agile practices training
•12 months general project experience within the last 5 years or certificate in Project Management Professional or Program Management Professional
•8 months of agile project management in the last three years
The PMI-ACP exam is a 120-multiple choice test that must be answered within 180 minutes. The examination fee is $435 for PMI members and $495 for non-members.
Product Advantages
100% Passing Rate
Timely Updated Exam Dumps
Completely Coverage of Real Exam
Real Simulated Exam Environment
24h Professional Tutors Instruction
High-score Passing Guarantee
Free Study Tutorial Video
Professional Service Team
PMI-ACP® Practice Questions
1.If the burndown chart showed an upward trend for two days in a row in the middle of the iteration, what might be the reason?
A.the team is not completing the stories fast enough
B.few team members are absent
C.stories got added to the iteration backlog
D.the team is working overtime
2.A team is going through a retrospective meeting. They discussed potential improvements for the next iteration. The Scrum Master noted 15 improvement-related action items that the team wanted to work on. What should be done next?
A.the team should ask the Manager for the feedback
B.the Product Owner should be asked for backlog items for the next iteration
C.the team should start fixing the bugs found in the previous iteration
D.the team should identify the top priority action items and focus on improving those in the next iteration
3.The team is working on a project, based on a Fixed Price contract and is using Agile methodologies. Midway through the project, the customer requested for a change. What should you do?
A.inform the customer that no changes are followed on Fixed Price contract
B.agile is about customer collaboration over contract negotiation - hence we accept the change
C.negotiate with the customer to drop some low priority feature of same size as that of the change requested
D.defer the decision to the management of the organization
4.What is meant by 'Ideal Days'?
A.the lowest possible time it would take to implement something - assuming everything goes well
B.the amount of time it would take for the best developer to complete a story
C.the goal for a story or a project that is set by the management
D.the amount of time it would take to complete a story, assuming there are no distractions
5.The Project Management Office in an organization that has adopted Agile, regularly issues best practices and records performance data. They have just published a comparison of velocity data (story points completed per iteration) from different teams. As a Scrum Master for one of the teams, what would be your next steps?
A.share this data with the team and discuss with them how to improve its numbers in relation to the rest of the organization
B.write back to the PMO stating that velocities should not be compared across teams
C.write to the management justifying the difference between the organizational benchmark and the figures for your team
D.as the team is self-organizing, simply share the data with them and let them figure out what to do.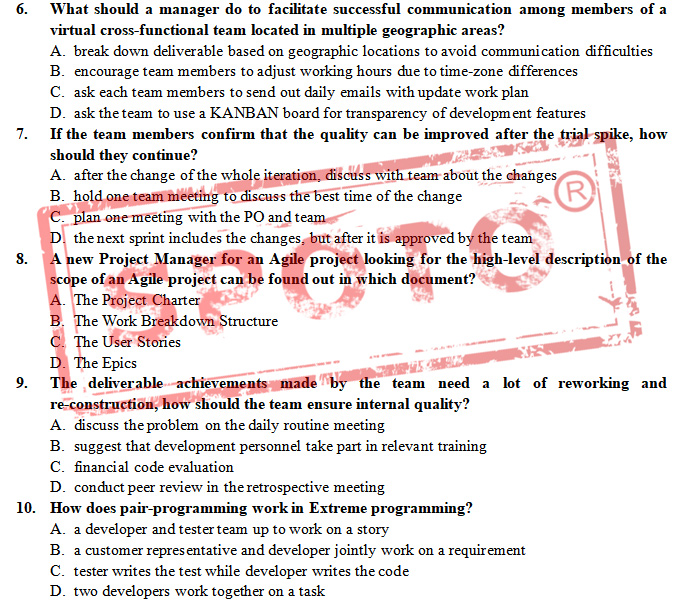 Introduction of PMI-ACP exam eligibility criteria:
Candidates will not see the score directly, but instead use A \ T \ B \ N.
1.Above Target
2.Target
3.Below Target
4.Needs Improvement
The final score obtained by the candidates is the level obtained by each process group, such as 4A1T.
The four levels of A, T, B, and N have intervals. At the same time, the number of questions in each field is different, so sometimes one student fails 3T2B and another student 3T2B passes. Therefore, when viewing the performance report, you cannot simply count the numbers of A, T, B, and N. You still need to use the PASS or FAIL given by PMI.
Prerequisites
1.2,000 hours of general project experience working on teams. A current PMP® or PgMP® will satisfy this requirement but is not required to apply for the PMI-ACP.
2.1,500 hours working on agile project teams or with agile methodologies. This requirement is in addition to the 2,000 hours of general project experience.
3.21 contact hours of training in agile practices.
1.Who should apply?
If you work on an agile team, or if your organization is adopting agile practices, PMI-ACP is your ideal choice. Compared with other Agile certifications based only on training and exams, PMI-ACP can prove that you have real practical experience and skills.
2.What about the befits of holding ACP certification?
The ACP certification helps you build an important contact in your product career. Use the credentials and credentials to contact the opportunity, promotion, and new job responsibilities.
3.How long Is the Service?
The service length is 7 days. In case you failed at your first attempt within service time, we will provide 3 days for free after you share your failure screenshot (name, date, score). 
Please note: we will end the service three days after your exam date if we were not notified of your free extension request. We reserve the rights to terminate all the services in case we learned you shared our materials with others.
4.What happens if the exam becomes unstable?
We will keep you updated with the latest exam information. If there are any big changes in the exam during your service time, we will remain the left service time until dump is ready. Although we helped thousands of candidates passed the exam and share high pass rate, we do not guarantee 100% pass or refund.
5.How to Verify my version of the Questions and Answers Product?
If there is an update on dumps, our service will inform you by email and the server also will warm you when you practice dump.
6.How often are your products updated?
There is NO FIXED DATE for the update of Exams. All cciedump.spoto.net Products are reviewed by Product Manager on weekly basis and if any certification vendor changes the question in the exam our product will be updated accordingly.
7.I have paid for my Product when can I get my product?
If the payment was successful, we will send the access to your product via Email within eight hours after confirmation.
8.How Can I practice Dump?
You can practice questions and answers of VCE dump on a remote server and view questions and answers of PDF dump on your PC / phone/ pad.
9.What ways can I choose to pay for the order?
SPOTO is accepting payments in many ways. The most popular one is Paying instantly through PayPal and Western Union. We recommend PayPal for faster payment. Your purchase with SPOTO is safe and fast. Our SPOTO website is protected by 256-bit SSL from Cloudflare, the leader in online security. 
10.How can I get Discount?
Special Discount is offered for popular certifications and exams. If you want to buy three or more products, please contact support@spoto.net for getting discount.
11.Can a third party see your customers' information from your website?
No,they cannot. Our system is fully secured, and we do not share any information with third partied. 
12.I took the exam today and failed what can I do?
If you fail the exam at the first attempt, then you can claim free extend to prepare your exam. Service will extend your service after confirming your next exam date.
CCNA Other Written

04.14, 2021

CCNP Security Written

04.14, 2021

PMP Other Written

04.14, 2021

CCNP Enterprise Written

04.14, 2021

Other Other Written

04.14, 2021