Latest Passing Reports from SPOTO Candidates
CCNA 200-301 Exam Info-100% Pass With SPOTO
The Cisco Certified Network Associate v1.0 (CCNA 200-301) exam is a 120-minute exam connected with the CCNA certification. SPOTO offers latest & updated CCNA 200-301 Exam questions for candidates to study and pass 200-301 exam fast. You can pass your CCNA 200-301 exam in the first attempt by using SPOTO 200-301 practice tests.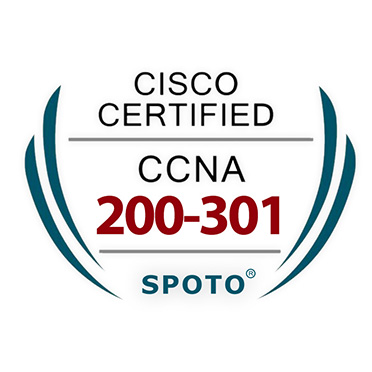 Exam Code:200-301
Exam Fee: $300
Exam Duration: 120 minutes
Vality Period: 3 years
Major topics of CCNA 200-301 Exam:
1.Network fundamentals
2.Network access
3.IP connectivity
4.IP services
5.Security fundamentals
6.Automation and programmability

The Cisco Certified Network Associate exam or the CCNA 200-301 exam is the new exam that replaced the old CCNA certification exam. The change came after Cisco decided that certification aspirants need to pass only one exam instead of several exams according to their tracks. CCNA 200-301 or Implementing and Administering Cisco Technologies covers a wide range of rudimentary topics on the latest job roles, technologies, and skills in software development. Instead of giving a different certification test for each track, only one exam has been given after February 24, 2020.
History of CCNA 200-301
Before February 24, 2020, there were nine tracks under the CCNA. These are CCNA Cloud, CCNA Collaboration, CCNA Data Center, CCNA Industrial, CCNA Routing and Switching, CCNA Security, CCNA Service Provider, CCNA Wireless, and CCDA or Cisco Certified Design Associate. All of these are now covered by only one certification exam. You can have specialization when taking and passing the certification exam for Cisco Certified Network Professional or CCNP. That means you only have to pass the CCNA 200-301 to get the CCNA badge.
Is the CCNA 200-301 Worth It?
With the IT Industry expanding everywhere in the world, IT professionals with CCNA certification will always find a good job wherever he is. Recruiters will be running after your credentials and employers will always be willing to give you a good offer. With the high demand for certified CCNA, a good job is always waiting for you.
You also enhance your value to your company and your team. Because of hard work, you have attained skills and knowledge that will bring your company and your team more clients and more projects. Clients will feel confident to entrust their big projects to your company because you can finish them on time with the best results.
High earning potential awaits IT professionals with the CCNA badge. Cisco Certified Network Associates usually receive higher salary than their uncertified colleagues. There is a high demand for them and employers are willing to pay them more because of their expertise.
How to Pass CCNA 200-301 and Get Certified on the First Try
With the new CCNA, you will only pass a single exam,that is 200-301 exam, to get certified. Because the exam will verify your basic knowledge, it will cover all fundamental topics. Studying for the CCNA 200-301 exam will need an extensive preparation. However, for employed people who might not have the time to review, SPOTO offers CCNA 200-301 dumps, which include CCNA 200-301 study guide that you can use to create an excellent plan for studying.
The dumps also feature CCNA 200-301 practice tests. The answers and questions for your practice include 100% real, valid, and updated questions and answers that will most likely come out in the test. You do not have to waste time studying irrelevant items. The 200-301 dumps come with access to a remote server that will allow you to practice taking the test in a simulated exam day setting.
Besides, you can contact customer service and tutors that SPOTO employs to help you with difficult questions, give you feedback, as well as tips on how to pass the exam on the first try.
What's more, we have a 100% money-back guarantee. If you fail the exam at the first try, you can ask for a free service extension with screenshot or other proof.
Details of CCNA 200-301 Exam
The new CCNA 200-301 exam costs $300. It is a 120-item test to be answered within 120 minutes. Its components are as follows: Network Fundamentals: 20% Network Access: 20% IP Connectivity: 25% IP Services: 10% Security Fundamentals: 15% Automation and Programmability: 10% There are no specific requirements except for having a good understanding of all exam topics and the fundamentals, and one year or more experience in computer networking and Cisco equipment.
FAQ
1. What Products SPOTO offers? We offer 100% real exam answers& questions of Cisco CCNA, CCNP, CCIE, ISACA, PMP, AWS and other IT exams as well as CCIE Lab training courses.
2. Can I pass the CCNA exam with Q&As only? Yes! Our dumps are same as the real exam questions & answers. SPOTO dumps 100% cover the real exam. If you practice our dumps, you will pass the exam successfully.
3. How can I know my product is the latest? All the products are updated fully and our CCNA 200-301 practice test are the latest on remote server. If there is an update on dumps, our service will inform you by email and the server also will warm you when you practice dump.
4. How often are your products updated? All our products are reviewed by Product Manager on weekly basis. If any certification vendor changes the question in the exam, our products will be updated accordingly.
5. Is your update free? We provide free updates during your service time. We recommend you practice dump at least three days.
6. How to extend my expired product? If your service period expires and you can pay the fee to extend your service period
7. What is the dump format? The CCNA 200 301 exam format is VCE, it is similar to real exam format; you can practice the written dumps on remote server.
8. How can I practice dump? The 200-301 practice exam are practiced on remote server. Our remote servers offer 24 hours per day access for study/review. We will send account to login remote server after you pay it.
9. How can I get discount? There are always some special discounts in some special days. If you are interested and want to buy three or more products, please contact support@spoto.net for getting discount and check regularly of our site.
10. Can a third party see your customers' information from your website? No, they cannot. SPOTO respects every client's right to privacy. Our system is fully secured, and we do not share any information with third parties.
IT Training Leader for 18 Years
SPOTO, an outstanding IT training Institute with 18-year experience, has assisted thousands of candidates to pass their dream IT exams in first try. Our candidates speak highly of quality practice tests & outstanding service.
7/24 Professional Technical Support
To help SPOTO candidates well prepared exam, we have professional tutors to provide 7/24 online technical support to ensure candidates solve any problems at any time.
Latest & 100% Pass Exam Solutions
Our solutions cover 100% real pass exam answers and questions and exam practice tests. SPOTO will update the exam solutions timely and our product manager will ensure the accuracy and stability of exam solutions to help you 100% pass exam.
Get Limited Time Offer
Pass Your IT Certification Exams in the First Attempt With SPOTO!
SPOTO offers 100% real and valid IT exam dumps, 100% same with the real exam. SPOTO, the leader of IT certification online training for 17 years, has helped 2100+ candidates to get their Cisco CCIE certifications. Our products cover Cisco, PMP, ISACA, Amazon Aws, Palo Alto, Microsoft and other IT exams. With SPOTO real IT exam practice tests, you can boost salary and advance your IT networking career fast!
I just passed this CCNA 200-301 exam today. The dump is still valid and useful! I got 987 :). Thanks SPOTO!
Really valid and stable Cisco CCNA 200-301 exam dumps. you can believe on it.
Guys, just out from test center passed with 928.This CCNA dump is 100% valid.
Yes, I passed with high scores. I hope you also can do it with the help of this CCNA dumps. Recommend.