18 Years of IT Training Experience
SPOTO is a brilliant leader in IT training experience for 17 years. We have helped thousands of candidates from the world to pass their exams in first try. We have gained many likes for our candidates.
7/24 Technicial Support
SPOTO has many professional tutors who have more many years tutorial training experience. They have aided thousands of candidates passing their exam in the first try. What's more, professionals will provide 7/24 technicial support only you join us!
Latest Exam Soulations
SPOTO will update the exam soulations at the fastest speed. Our professionals will spare no efforts to resolve the solutions. What's more, our solutions cover all exam answers and questions, and 100% real exam practice tests.
CCNP 300-410 ENARSl Exam Information
Implementing Cisco Enterprise Advanced Routing and Services v1.0 (ENARSl 300-410) is a 90-minute exam associated with the CCNP Enterprise Certification. This exam certifies a candidate's knowledge for implemention and troubleshooting of advanced routing technologies and services including Layer3, VPN services, infrastructure security, infrastructure services, and infrastructure automation.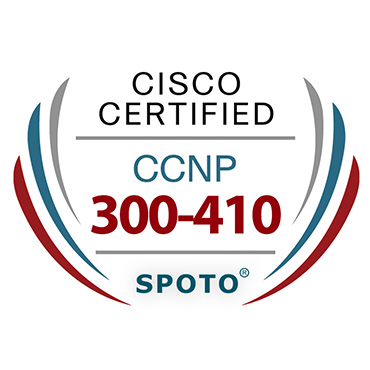 Exam Fee: $300
Exam Duration: 90 minutes
Available language: English, Japanese
Major Topics of 300-410
1. Layer 3 Technologies
2. VPN Technologies
3. Infrastructure Security
4. Infrastructure Services

Do you want to boost your career as an IT professional? Pass the 300-410 ENRSI exam or the Implementing Cisco Enterprise Advanced Routing and Services and become CCNP Enterprise and Cisco Specialist and earn Enterprise Advanced Infrastructure Implementation certificate. Acing the exam validates your knowledge and skills in implementing and troubleshooting routing services and technologies. Preparing for the exam requires time, effort, and money. However, acing the 300-410 exams can bring you several benefits as follows:
1. Increased chances for getting hired
Your certification will increase your chances of getting the job that you want. When several applicants are vying for a position, chances are employers will hire you because of your Cisco badge, which validates your expertise in the job. You will be an asset to the company that will hire you.
2. Enhanced job security
A Cisco certificate such as the 300-410 is highly valuable, and employees that have this badge are assured of always having a job. Employers will do their best to retain you. Still, if you want to find another job and employer, you can quickly get hired because of the high demand for IT professionals with Cisco certification. The IT industry is still growing, an assurance that you will never be without a job.
3. Higher salaries
The Cisco 300-410 certification will help you move up the corporate ladder. As you occupy higher positions and perform critical tasks, your pay will go up as well. This will not be possible if you do not have a Cisco certification. On average, some with a Cisco badge receive around 20% to 25% higher than those that do not have a certificate.
4. Better networking opportunities
Once you have a 300-410 certification, you will meet highly-skilled people like you. These experts are excellent sources of information about solutions to difficult problems that you encounter. They can also give you tips on how you can continue moving up the ladder of your career.
5. Increased professional credibility
As a 300-410 certified professional, your credibility will increase. Employers will find you motivated and eager to learn, considered excellent character traits of an IT certified professional.
Pass the Cisco 300-410 Exam on the First Try
If you are looking for a sure and quick way to get 300-410 certifications, you can get it from SPOTO, a company that has helped IT professionals enhance their career by receiving the Cisco badge. We have been operating since 2003, and we have helped thousands of test-takers pass the exam on their first try. Our 300-410 dumps are 100% real, valid, and updated so that you can expect to meet the same or similar questions when you take the test.
How to Get 300-410 Exam Dumps
To get the 300-410 exam dumps, register on our website by completing the registration form. Once done, hit the submit button to send. Then, pay the registration fee. Once done, you will receive the materials within an hour through your email. Aside from the materials, we will create an account for you to access our remote server. You can download the practice test items and use the server to practice answering the exam in a simulated test environment.
You can use the remote server to seek help from our expert tutors. Our customer support services can organize individual or group tutorials to help you pass the 300-410 exam.
"I Have a Few Questions..."
1. How can I get the products after purchase?
CCNP Certification exam dumps are available from SPOTO. Once you have made the payment, our sales will send the dumps that you have purchased to you. Moreover, SPOTO will provide CCNP certification training and make CCNP certification study plan that guarantees you can pass the exam.
2. What can I get?
Getting the CCNP certificate is a good choice to increase your salary. You can get the certification that can versify your ability to skills of survey, install, and administer enterprise the network.
3. How often are the questions updated?
We always try to provide the latest pool of questions, Updates in the questions depend on the changes in actual pool of questions by different vendors. As soon as we know about the change in the CCNP exam question pool, we try our best to update the products as fast as possible.
4. How to recertificate?
SPOTO's tutors will setup the study timetable in accordance with your condition. We will give you the best service and offer professional teams to help your study.
5. Is SPOTO a cheater?
No! SPOTO is an outstanding IT training leader in the world. Its mission is to help all candidates who want to get the certified pass their exam in the first try. Believe in SPOTO!
Limited Offer
Pass Your IT Certifications In First Attempt!
SPOTO Offers 100% Real and Valid IT Exam Dumps, 100% Same with the Real Exam. SPOTO, the Leader of IT Certification Online Traing for 17 Years, helped 1900+ Candidates to Get Their Cisco CCIE Certifications. Our Products cover Cisco, ISC, Amazon AWS, and Other IT Exams. With SPOTO Can Help You Boost Your Salary And Advance Your IT Networking Career Fast.
CCNP Enterprise Exam is important for my exam. It's a core exam if you want to get CCIE or CCNP certified. So, I think SPOTO's dumps are accurate.
Next step is to prepare my CCIE lab exam. all same as SPOTO. Hope tutor would give best service when I practice lab, especially CFG part, I did practice some old Troubleshooting and Diagnostic materials by myself.
Got 950! I planned to buy other vendor dumps for they are cheaper, finally I bought SPOTO dump for one guy in the study group said he failed with passleader for incorrect answer and not complete questions, then I decide to buy, thanks god I pass.
My colleague recommends me SPOTO dump for he also passed CCIE exam with SPOTO, hope I can pass CCIE Lab exam before 2020, although it takes time to prepare, at least it easy to pass.
Latest Passing Reports from SPOTO Candidates