400-101 CCIE Routing and Switching Written Exam

400-101: CCIE Routing and Switching Written Exam Dump
It's important to use accurate exam materials if you want to pass Cisco certification exam at first try. The accuracy and valid of exam questions and answers are guaranteed by IT Certified Experts. Cisco 400-101 dump covers all topics of the real CCIE Routing and Switching written exam.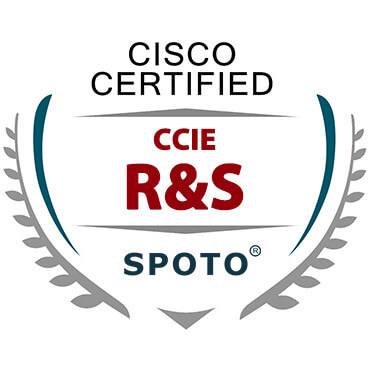 CCIE R&S Written Exam Information

Exam Code: 400-101
Certification Provider: Cisco
Certification Exam Name: Cisco Routing and Switching
Update Date:Feb 6, 2023
Special Dicount
Get latest offers now
Latest Dump
Numbers of Question & Answers
Product Advantages
100% Accurate Questions
Real Exam Environment
VIP service team Support
Average 7 Days to Practice & Pass
Update Timely
100% Cover Real Exam
Latest Exam Feedbacks
7/24 Online Technical Support
Average 11 CCIE Written Pass Everyday
16 Years of IT training Experience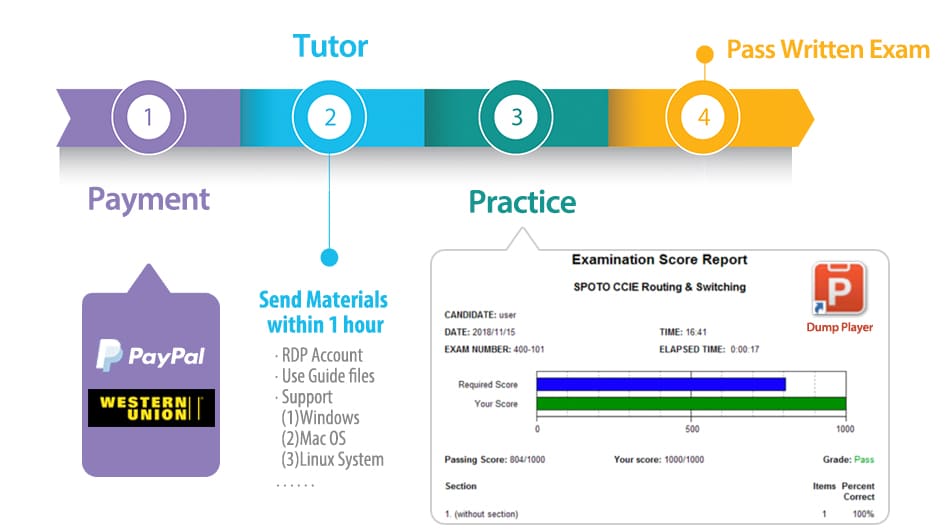 Last Week Results!
8770
Customers Passed CCIE Exam
100%
Dumps questions Cover Real Exam
100% Accurate Questions
SPOTO provides Cisco 400-101 practice test with real Cisco exam questions: Multiple Choice, Drag and Drop, Simulations
Verified by IT Certified Experts
All Cisco practice test with accurate answers which verified by IT certified experts' team who at least with 15 year-research on Cisco certification.
Up-To-Date Exam Dumps/ Practice tests
After purchase we will ensure you get the latest and complete exam materials to pass your exam.
Simulated Exam practice system
If you never attend Cisco exam before, the standard exam is necessary for you. Simulated exam practice system can help you adjust to real exam.
Fast Pass Certification Exam
It's enough to pass exam in three to five days with accurate practice test questions & correct answers.
Guarantee Valid Exam Materials
With latest exam feedbacks and instructors' 15+ years research on Cisco certification exam, SPOTO update all Cisco practice test at first time.
VIP Service Team Support
SPOTO is dedicated to help you pass your Cisco certification exam with an excellent service team on skype & WhatsApp.
Secure Shopping Experience
We guarantee full privacy of our Clients and will not share your information with any third party.
CCIEDUMP.SPOTO.NET Certified Safe Files
It is safe to use the materials we share after your purchase.
Basic Exam Information
CCIE Routing and Switching Exam (400-101)
Total Score:1000
Passing Score:804
Duration: 120 minutes
Volume :(90-110 questions)
Cisco CCIE Routing and Switching certification is an expert-level certification that demonstrates the skills required of expert-level network engineers in order to plan, operate, and troubleshoot complex, converged the network infrastructure. As an expert-level certification, CCIE R&S would have rare but highly sought after by the IT industry. This certification is going to provide a lasting foundation for both physical and virtual networks in enterprise environments
(2)Future Job Scope and Salary
Average Salary $78,909 - $144,110
Most Popular Job
Sr. Network Engineer Network Engineer
Network Architect Solutions Architect
Senior Systems Engineer (Computer Networking / IT)
Network Security Engineer Senior Solutions Architect
(3)Top Benefits of Joining SPOTO.
Fast Update
Based on candidate's feedback around the world and expert's fifteen-year research on Cisco exam, we update dump at first time. Our information keeps up with Cisco, therefore when the exam is ready, we will provide valid exam questions to candidates.
Simulated Exam Practice system
We not only provide the valid questions but also provide simulated real exam practice system for candidates to adapt yourselves to the real exam both on content and environment. 
Cost Less Time
Our dump with concise questions that you can finish it at least time around three to seven days. Practice dump at focus time, get your certification at short time.
Customer First
Contacting us, our course consultant will inform your valid information quickly. After buying our product, our service will have lost no time in updating the dump information, if the dump is updating, service will advise you reschedule or not schedule exam until it's stable. If you encountered difficult on practice dump, our teachers will assist you.
What Products SPOTO Offers?
We Offer all Cisco Practice tests / Dumps. It is the main line Product provided for Cisco certification Exam preparation. 100% Real and Valid Cisco exam Questions and Answers are provided in, 7/24 online customer support.
Direction: CCENT CCNA CCNP CCIE
Type: Routing and Switching, Security, Data Center, Service Provider, Collaboration, Wireless
Customers who want to buy more than 3 exams at a discounted price can request for "Custom Bundle". Forward such queries to support@spoto.net and do not forget to include the Exam codes you need access to. Our team will give you a discounted quotation depending on the Exams requested.
Can I Pass Exam with SPOTO Cisco Questions and Answers Product Only?
Certainly sure! Since all of cciedump.spoto.net Cisco products are of Latest version we feel confident about the quality of products. Just make sure that you study the Questions and Answers product of respective Exam for three to five days before you appear in actual Exam.
How to Verify my version of the Questions and Answers Product?
If there is an update on dumps, our service will inform you by email and the server also will warm you when you practice dump.
How often are your products updated?
There is NO FIXED DATE for the update of Exams. All cciedump.spoto.net Products are reviewed by Product Manager on weekly basis and if any certification vendor changes the question in the exam our product will be updated accordingly.
Is your update free?
We provide Free updates during the 7-day validity from date of use dump. We recommend you practice dump at least three days. 99.9% members passed the exam within 7 days, for an exceptional case we will update more than 7 days for free.
What Is the Dump Format?
All Cisco written dumps are VCE format and partly are PDF format. You can practice questions and answers on VCE. CCIE Lab workbooks and solutions are PDF format
I have paid for my Product when can I get my product?
If the payment was successful, we will send the access to your product via Email within eight hours after confirmation.
How Can I practice Dump
You can practice questions and answers of VCE dump on a remote server and view questions and answers of PDF dump on your PC / phone/ pad
What ways can I choose to pay for the order?
SPOTO is accepting payments in many ways. The most popular one is Paying instantly through PayPal and Western Union. We recommend PayPal for faster payment. Your purchase with SPOTO is safe and fast. Our SPOTO website is protected by 256-bit SSL from Cloudflare, the leader in online security.
How can I get Discount?
Special Discount is offered for popular certifications and exams. If you want to buy three or more products, please contact support@spoto.net for getting discount.
Can a third party see your customers' information from your website?
No, they cannot. Our system is fully secured, and we do not share any information with third partied.
I took the exam today and failed what can I do?
If you fail the exam at the first attempt, then you can claim free extend to prepare your exam. Service will extend your service after confirming your next exam date.
How to use the RDP Software-SPOTO
OTHER POPULAR CERTIFICATIONS!
---
---
---
---

Other Other Written

07.14, 2021

Other Other Written

07.14, 2021

Other Other Written

07.14, 2021

CISA/CISM Other Written

07.14, 2021

Other Other Written

07.14, 2021