This chapter focuses on some objectives under the CCNP routing principle. Understand that the basic open shortest path first (OSPF) routing principle applies not only to CCNP authentication but also to all Cisco-based authentication. A specific understanding of how OSPF routing works is the basis of any small or large network. OSPF is usually used in large service provider networks or large financial institutions. This chapter assumes the knowledge of the previous chapter, which conceptually deals with IP routing principles, especially link-state routing protocols.
This chapter first introduces the basic concept of OSPF. Then, by introducing how OSPF finds, selects, and maintains a routing table, a brief description of why OSPF is considered an improved routing protocol on the Routing Information Protocol (RIP).
Nonbroadcast multiaccess (NBMA) is a special challenge in any network environment. This this chapter describes how OSPF can overcome any restrictions imposed by the NBMA network the five practical scenarios included in this chapter can help you complete your understanding and ensure that you have all the basic OSPF routing skills, To supplement your understanding of how to configure and maintain OSPF on the Cisco Internet Operating System (IOS) router.
Basic OSPF
OSPF is a link-state routing protocol. The link-state protocol uses the shortest path first (SPF) algorithm to populate the routing table. OSPF shares information with each router in the network.
OSPF is considered a difficult protocol and requires a thorough understanding of common terms. Table 3-1 provides a brief description of the common OSPF terms used in this chapter.
Table 3-1 Common OSPF Terms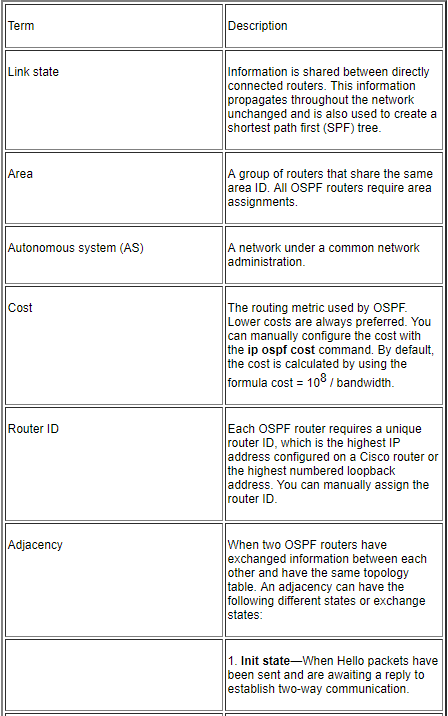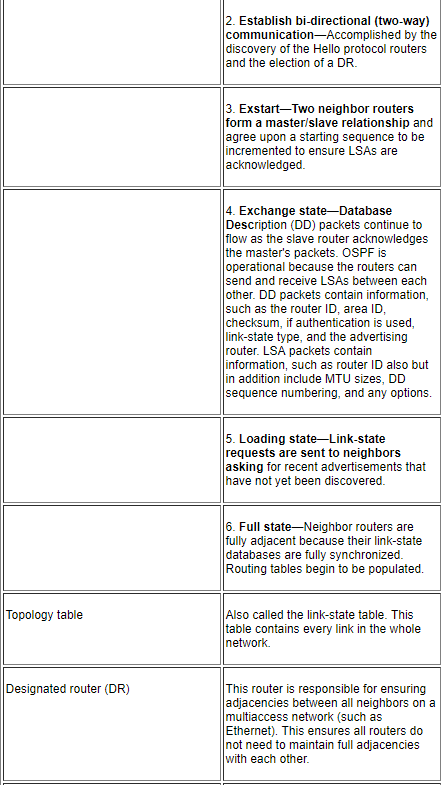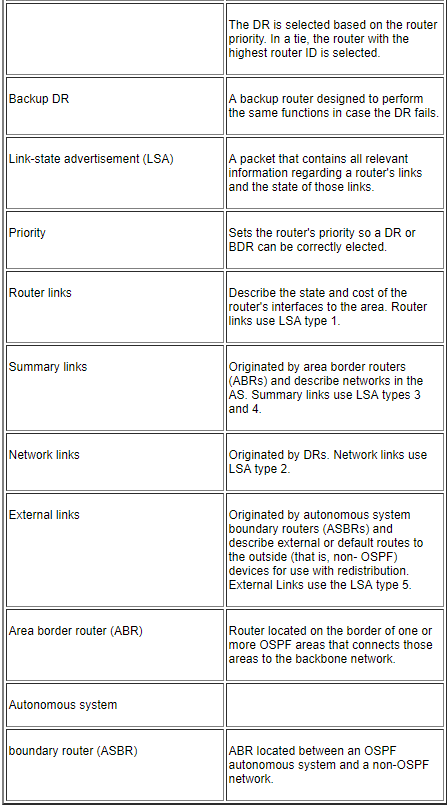 OSPF has so many functions, the most effective way is to enable OSPF on the router and observe how the router dynamically discovers the IP network.
Before introducing the various OSPF scenarios, this chapter describes how to configure OSPF. in a single and multiple OSPF regions
Configuring OSPF in a Single Area
When configuring any OSPF router, you must determine the area allocation where the interface is enabled. In terms of regional distribution, OSPF has some basic rules. The OSPF must be configured with an area. If you use multiple zone assignments, you must configure backbone areas 0 or 0. 0. 0. 0. 0. 0. 0. 0. 0. 0. 0. 0. 0. 0. You can configure OSPF; in one area. You can select any zone, although good OSPF design requires you to configure area 0. 0.
To enable OSPF on a Cisco router and advertise interfaces, the following tasks are required:

Example 3-1 shows the OSPF with process ID 1 and places all interfaces with IP addresses in zone 0. The network command network0.0.0.0255.255.255.255area0 means that you do not care about the(255.255.255.255.255)IP address is, but if the IP address is enabled on any interface, place it in zone 0.Example 3-1 Configuring OSPF in a Single Area
The folrouter ospf 1
network 0.0.0.0 255.255.255.255 area 0
lowing is a list of reasons OSPF is considered a better routing protocol than RIP:
OSPF has no hop count limitations. (RIP has 15 hops only.)
OSPF understands variable-length subnet masks (VLSMs) and allows for summarization.
OSPF uses multicasts (not broadcasts) to send updates.
OSPF converges much faster than RIP because OSPF propagates changes immediately.
OSPF allows for load balancing with up to six equal-cost paths.
OSPF has authentication available. (RIPv2 does also, but RIPv1 does not.)
OSPF allows for tagging of external routes injected by other autonomous systems.
OSPF configuration, monitoring, and troubleshooting have a far greater IOS tool base than RIP.
NOTE
OSPF does have some shortcomings, including the difficulty and understanding required to configure, monitor, and troubleshoot. The other two factors are memory and central processing unit (CPU) requirements, which may even affect the performance of high-end routers. You can configure multiple OSPF processes, but you must note that SPF calculations associated with multiple OSPF processes consume a lot of CPU and memory.
About SPOTO
SPOTO focus on online IT Certification training for 16 years. SPOTO offers 100% real and valid Cisco CCNA, CCNP, CCIE, ISC, Amazon AWS, Microsoft, and other IT exam practice tests. And we have many free online training courses of Cisco exam on YouTube. You can find many useful and helpful tips and suggestions. If you're still worried about to prepare and pass the Cisco exam, try SPOTO now. SPOTO tutors will help you get the CCIE number at the first try.

More you may be interested:
1. How Would I Enable MPLS on My Router?
2. OSPF Sham-Link Support for MPLS VPN
3. Disadvantages of a VPN You Are Keen on
4. How Does MPLS Routing Work? A Complete Guide and FAQ for MPLS Routing