Aruba HPE6-A44: Scalable WLAN Design and Implementation (SWDI) 8
This exam tests your skills through WLAN design, deployment, and troubleshooting of Aruba Mobile First network solutions in complex high availability campus and branch environments. It also tests your ability to configure dedicated applications, manage, and security requirements for WLAN, such as UCC voice and advanced security features.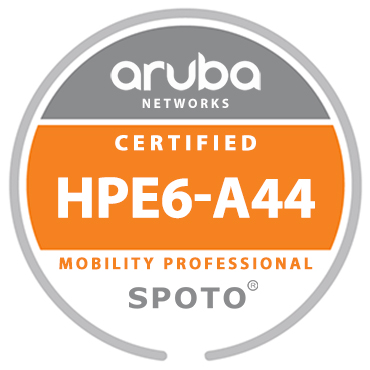 Valid Practice test & Accurate exam questions for HPE6-A44 Exam Pass
Exam Name: Scalable WLAN Design and Implementation (SWDI) 8
Exam Code: HPE6-A44 Update Date:Feb 25, 2021
Special Dicount
Get special offers
Latest Dump
Numbers of Question & Answers
Product Advantages
100% Passing Rate
Timely Updated Exam Dumps
Completely Coverage of Real Exam
Real Simulated Exam Environment
24h Professional Tutors Instruction
High-score Passing Guarantee
Free Study Tutorial Video
Professional Service Team
1.An administrator implements the MultiZone feature and uses two clusters that utilize CPSec. A primary and a data zone are created. MultiZone APs successfully build Sessions to the primary cluster but fail to establish sessions to the data zone cluster What must the administrator do to solve this problem?
A.Enable Multizone booting in the Multizone AP apboot configuration mode.
B.Use different AP Group names for the two zones.
C.Add the MultZone APs to the data zone's CPSec whitelist.
D.Enable CPSec in the Multizone profile for both the primary and data zone.
Answer: C
2.Which network components are tracked by Aruba Clarity? (Select two)
A.AP and controller health
B.Client health
C.WLAN health
D.DNS lookups
E.Wireless associations
Answer: D, E
3.An administrator configures Unified Communications and collaboration (UCC) heuristics mode on an Aruba Mobility Master (MM). What should be modified in order to send items such as VOIP sessions and monitored information about adds, updates, deletions, and periodic snapshots of those VoIP sessions on the MM or the Aruba Mobility Controller (MC)?
A.Mgmt Config profile
B.OpenFlow Controller profile
C.Skype ALG Configuration profile
D.OpenFlow profile
Answer: C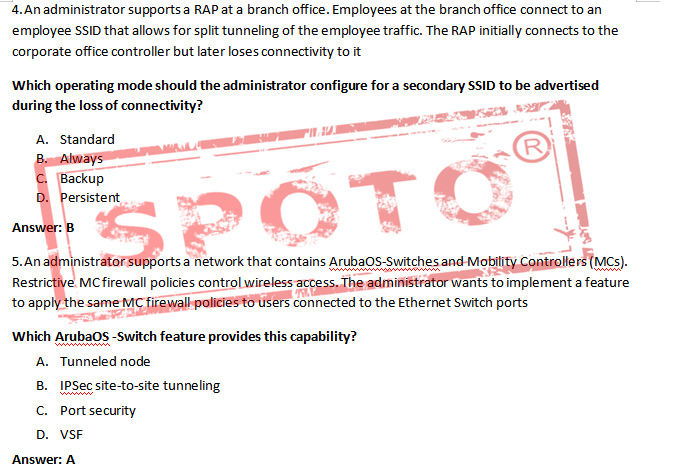 Introduction to Aruba Certification Exam
Aruba, a Hewlett Packard Enterprise Company, is integrating into HPE (Hewlett Packard Enterprise). AMFX considered being the highest level of achievement within the Aruba Certification Program. AMFX holders have proven expertise in network design, ClearPass, as well as WLAN mobility and they, would be representing the most elite network professionals in the world.
Most Popular Job For Employees With Aruba Certification
Network Engineer
Sr. Network Engineer
Network Administrator
Information Technology (IT) Manager
Systems Administrator
Information Technology (IT) Director
Systems Engineer (Computer Networking / IT)
1.How to Purchase Aruba Dump?
Please contact our service after you confirm our service policy, service will send the PayPal invoice or Western Union account to you to pay CISM Dump. Please remind service after you complete your payment, and the valid CISM dump materials will be sent to you.
2.What kind of Materials Can I Receive after Payment?
We will provide software and setup instructions, dump practice account, and study plan after we confirm your payment.
3.How long Is the Service?
The service length is 7 days. In case you failed at your first attempt within service time, we will provide 3 days for free after you share your failure screenshot (name, date, score). 
Please note: we will end the service three days after your exam date if we were not notified of your free extension request. We reserve the rights to terminate all the services in case we learned you shared our materials with others.
4.What happens if the exam becomes unstable?
We will keep you updated with the latest exam information. If there are any big changes in the exam during your service time, we will remain the left service time until dump is ready. Although we helped thousands of candidates passed the exam and share high pass rate, we do not guarantee 100% pass or refund.
5.How to Verify my version of the Questions and Answers Product?
If there is an update on dumps, our service will inform you by email and the server also will warm you when you practice dump.
6.How often are your products updated?
There is NO FIXED DATE for the update of Exams. All cciedump.spoto.net Products are reviewed by Product Manager on weekly basis and if any certification vendor changes the question in the exam our product will be updated accordingly.
7.I have paid for my Product when can I get my product?
If the payment was successful, we will send the access to your product via Email within eight hours after confirmation.
8.How Can I practice Dump?
You can practice questions and answers of VCE dump on a remote server and view questions and answers of PDF dump on your PC / phone/ pad.
9.What ways can I choose to pay for the order?
SPOTO is accepting payments in many ways. The most popular one is Paying instantly through PayPal and Western Union. We recommend PayPal for faster payment. Your purchase with SPOTO is safe and fast. Our SPOTO website is protected by 256-bit SSL from Cloudflare, the leader in online security. 
10.How can I get Discount?
Special Discount is offered for popular certifications and exams. If you want to buy three or more products, please contact support@spoto.net for getting discount.
11.Can a third party see your customers' information from your website?
No,they cannot. Our system is fully secured, and we do not share any information with third partied. 
12.I took the exam today and failed what can I do?
If you fail the exam at the first attempt, then you can claim free extend to prepare your exam. Service will extend your service after confirming your next exam date.
Other Other Written

02.25, 2021

CCNP Enterprise Written

02.25, 2021

CISA/CISM Other Written

02.25, 2021

CCNP Security Written

02.24, 2021

CCNA Other Written

02.24, 2021