Palo Alto Networks Certified Sec Eng (PCNSE)Practice Test
Palo Alto Networks Certified Network Security Engineer (PCNSE) is a formal third-party certification that demonstrates that those who are certified have the design, installation, configuration, and maintenance of most implementations based on the Palo Alto Networks platform And in-depth knowledge of troubleshooting.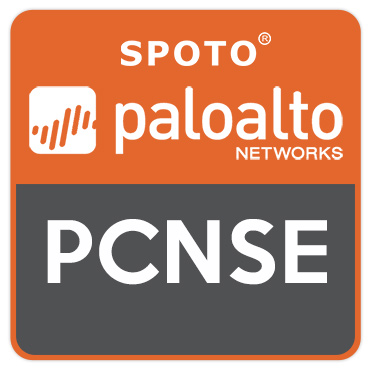 Valid Practice Tests & Accurate Exam Questions for PCNSE Exam Pass
Format: Multiple Choice, Scenarios with Graphics, and Matching
Exam Duration: 80 minutes
Number of Questions:75
Passing Score:70%

Special Dicount
Get special offers
Latest Solutions and feedback
Exam Answers & Questions
Product Advantages
100% Passing Rate
Timely Updated Exam Dumps
Completely Coverage of Real Exam
Real Simulated Exam Environment
24h Professional Tutors Instruction
High-score Passing Guarantee
Latest Passing Report Feedback
Professional Service Team
Q1:A security policy rule is configured with a vulnerability protection profile and an action of "Deny"
Which action will this configuration cause on the matched traffic?
A.The configuration is invalid it will cause the firewall to skip this security policy rule a warning will be displayed during a commit
B.The configuration is invalid. The profile settings section will be grayed out when the action is set to "Deny"
C.The configuration will allow the matched session unless a vulnerability signature is detected. The "Deny" action will supersede the per severity defined actions defined in the associated vulnerability protection profile
D.The configuration is valid. It will cause the firewall to deny the matched sessions. Any configured Security Profiles have no effect if the Security policy rule action is set to "Deny"
Answer: C
Q2:Which two methods can be configured to validate the revocation status of a certificate? (Choose two)
A.OCSP
B.SS/TLS Service profile
C.Cert- validation- profile
D.CRT
E.CRL
Answer: AE
Q3: An administrator has been asked to configure active/active HA for a pair of Palo Alto networks NGFWs. The firewalls use layer 3 interfaces to send traffic to a single gateway IP for the pair
Which configuration will enable this HA scenario?
A.The two firewalls sill share a single floating IP and will use gratuitous ARP to share the floating IP
B.The firewalls do not use floating IPs in active /active HA
C.The firewalls will share the same interface IP address and device 1 will use the floating IP if device 0 fails
D.Each firewall will have a separate floating IP and priority will determine which firewall has the primary IP
Answer: A
Q4:How does panorama prompt VMware NSX to quarantine an infected VM?
A.HTTP server profile
B.Email server profile
C.SNMP server profile
D.Syslog server profile
Answer: A
Q5: An administrator pushes a new configuration from panorama to a pair of firewalls that are configured as an active /passive ha pair.
Which NGFW receives the configuration from Panorama?
A.Both the active and passive firewalls independently, with no synchronization afterward
B.The active firewall which then synchronizes to the passive firewall
C.The passive firewall which then synchronizes to the active firewall
D.Both the active and passive firewalls ,which then synchronize with each other
Answer: A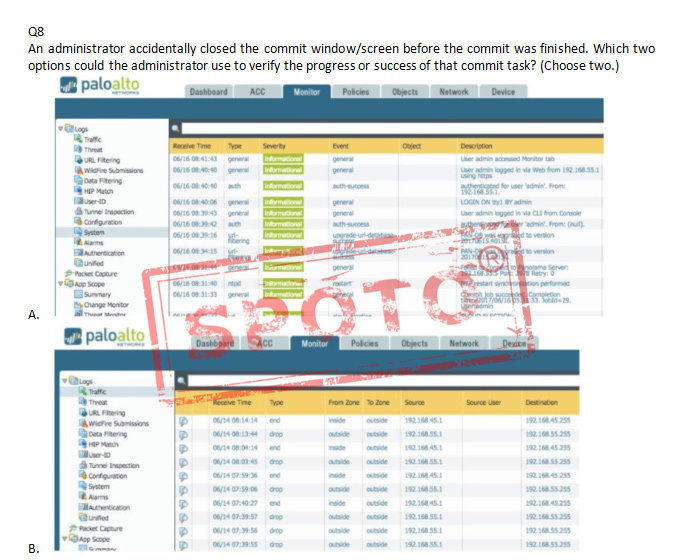 1.The exam covers the following topics:
Plan
Deploy and Configure
Operate
Configuration Troubleshooting
Core Concepts
2.Requirements
Basic knowledge in computer networking and hardware.
Basic understanding on any firewall is a plus.
Experience on PaloAlto is a bonus but not required
3.What we offer in our practice exam ?
Provide Explanation where applicable for easy understanding.
100 UNIQUE practice questions in four Exam. Format the same way which will reflect Real Exam.
100% verified answers and questions
4.Who this course is for:
Candidates can be anyone who uses Palo Alto Networks products, including customers and partners.
IT system engineers, systems integrator and support engineers.
The PCNSE exam should be taken by anyone who wishes to demonstrate a deep understanding of Palo Alto Networks technologies.
1.How to Purchase PCNSE Dump?
Please contact our service after you confirm our service policy, service will send the PayPal invoice or Western Union account to you to pay PCNSE Dump. Please remind service after you complete your payment, and the valid PCNSE dump materials will be sent to you.
2.What kind of Materials Can I Receive after Payment?
We will provide software and setup instructions, dump practice account, and study plan after we confirm your payment.
3.How long Is the Service?
The service length is 7 days. In case you failed at your first attempt within service time, we will provide 3 days for free after you share your failure screenshot (name, date, score). 
Please note: we will end the service three days after your exam date if we were not notified of your free extension request. We reserve the rights to terminate all the services in case we learned you shared our materials with others.
4.What happens if the exam becomes unstable?
We will keep you updated with the latest exam information. If there are any big changes in the exam during your service time, we will remain the left service time until dump is ready. Although we helped thousands of candidates passed the exam and share high pass rate, we do not guarantee 100% pass or refund.
5.How to Verify my version of the Questions and Answers Product?
If there is an update on dumps, our service will inform you by email and the server also will warm you when you practice dump.
6.How often are your products updated?
There is NO FIXED DATE for the update of Exams. All cciedump.spoto.net Products are reviewed by Product Manager on weekly basis and if any certification vendor changes the question in the exam our product will be updated accordingly.
7.I have paid for my Product when can I get my product?
If the payment was successful, we will send the access to your product via Email within eight hours after confirmation.
8.How Can I practice Dump?
You can practice questions and answers of VCE dump on a remote server and view questions and answers of PDF dump on your PC / phone/ pad.
9.What ways can I choose to pay for the order?
SPOTO is accepting payments in many ways. The most popular one is Paying instantly through PayPal and Western Union. We recommend PayPal for faster payment. Your purchase with SPOTO is safe and fast. Our SPOTO website is protected by 256-bit SSL from Cloudflare, the leader in online security. 
10.How can I get Discount?
Special Discount is offered for popular certifications and exams. If you want to buy three or more products, please contact support@spoto.net for getting discount.
11.Can a third party see your customers' information from your website?
No,they cannot. Our system is fully secured, and we do not share any information with third partied. 
12.I took the exam today and failed what can I do?
If you fail the exam at the first attempt, then you can claim free extend to prepare your exam. Service will extend your service after confirming your next exam date.
CCNP Enterprise Written

03.5, 2021

Other Other Written

03.5, 2021

CCNP Security Written

03.5, 2021

CCNP Enterprise Written

03.4, 2021

CCNP Collaboration Written

03.4, 2021