Huawei HCIE R&S Lab Certification Exam
Huawei HCIE R&S Lab Certification exam dump stands for the stepping stone to pass the certification exam successfully. SPOTO have helped many Huawei R&S Lab certificated candidates pass the exam at the first try. We provide 100% real exam answers and questions that are updated timely. Huawei HCIE R&S Lab exam dumps cover all topics of Huawei HCIE R&S Lab exam.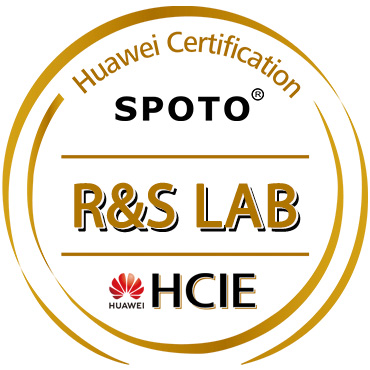 Valid Practice test & Accurate exam questions for Huawei HCIE R&S Lab Exam
Exam Code: Huawei HCIE
Certification Exam Name: Huawei HCIE Routing and Switching Lab Exam
Huawei HCIE R&S Lab Exam Duration: 8h

Special Dicount
Get special offers
Latest Solutions and feedback
Workbook & Solution & Feedbak
Product Advantages
100% Passing Rate
Timely Updated Exam Dumps
Completely Coverage of Real Exam
Real Simulated Exam Environment
24h Professional Tutors Instruction
High-score Passing Guarantee
Free Study Tutorial Video
Professional Service Team
Exam Process and Exam Fee

HCIE R&S LAB Exam only include CFG model

This is the material content that you need practice.
You will face one of them when you take exam.
CFG:LAB1、LAB2

Basic Exam Information
This is HCIE R&S v3.0 LAB study plan, it is a suggestion.
If you can spend 3-4 hours on lab practice per day, you can take exam after 2 months.
We provide 3 months service time, you can follow your time to practice, it is flexible.
How to Pass the Huawei HCIE RS Lab Exam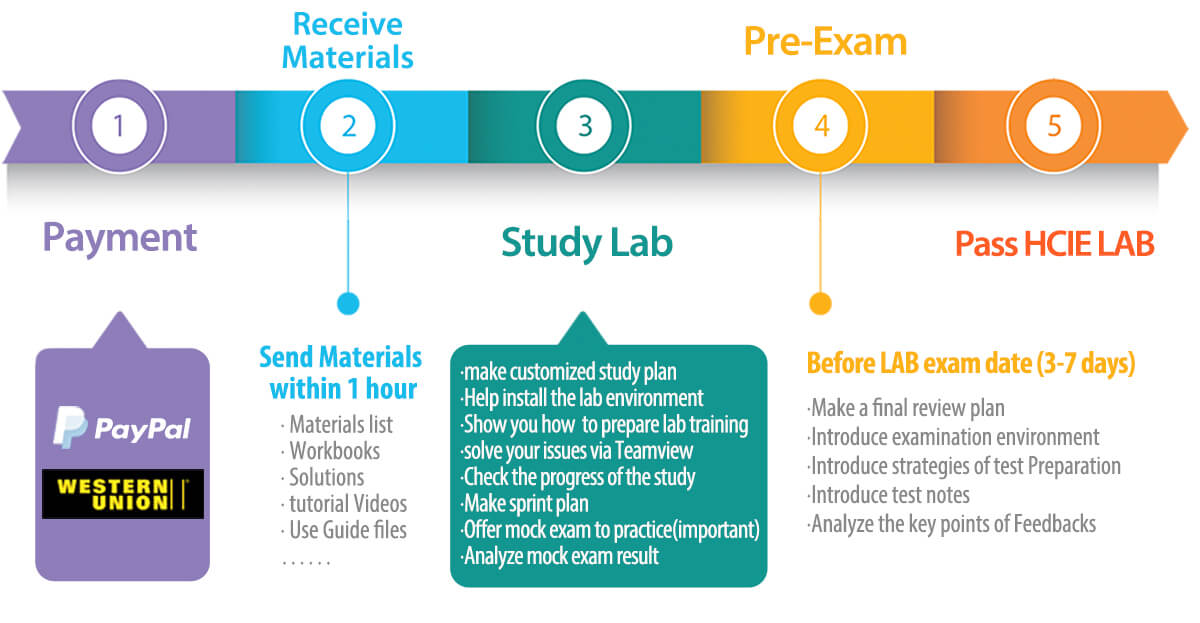 1.What are SPOTO's Huawei HCIE RS Lab Package included?
1.workbook and solution, all materials are same as exam, you will face it come from our materias when you take exam.
2.we provide the ENSP to practice,ENSP include IOS,init configuration and so on.
3.If you have any problem or difficulty during the practice, our tutor will help you to solve it through TeamViewer.
we provide tutorial video that explain workbook and solution, it also shows you how to config one section by one section.
2.How long is my service period? 
Our standard service period is 3 months.
3.What will you do if you failed?
In case you failed your first LAB-attempt within our standard 3 months, we will extend 1 month free of charge providing that you send us prove of your first failure, such as result screenshots with your full name on it.
Please note we will stop all your services 3 days after your exam date if we were not notified of your free extension request. 
We will stop providing services once you pass the exam in 3 months.
4.How to get the exam materials?
The followings will be sent to your email no later than 8 hours after verification of your payment.
1. Software and setup instructions
2. Materials including Workbook, Solutions
3. Study Plan
We reserve the rights to terminate all the services in case we learned you have been sharing our materials with others. Thank you for your understanding. 
We delivered materials stage by stage
stage 1:CFG(LAB1)
stage 2:CFG(LAB2)
we delivered stage 2 materials after your complete stage 1.
5.How to open workbook and solution?
All of the workbook and solution are encrypted documents,it only allow one pc to open it. We will send a guide to tell you how to open the workbook and solution. 
it supports windows operating system and mac operating system
6.What kind of PC do I need to prepare the exam?
Minimum PC Specification for HCIE LAB practice
CPU: 8 Core or More
RAM: 16 GB
Hard Drive: 100GB
Network: internet access
Software: Windows 7 or later
7.What happens if the exam becomes unstable?
We make sure you will receive updated information and materials as soon as we learned any changes to the exam. In case we learned any major changes happened during your service period, your remaining service period will be calculated from the date we learned the exam becomes stable again. 
8.How do I contact you for any issues and questions?
We highly recommend that you add our Tutor's WhatsApp: +86 152 5915 2519
so that we can follow up on your progress and help you with any questions. You may also email our tutor at tutor@spoto.cn 
Either WhatsApp or email we guarantee a response within 24 hours. 
If you have any problem or difficulty during the practice, our tutor will help you to solve it through TeamViewer.
9.What Products SPOTO Offers?
We Offer IT Certification exam practice tests / dumps. It is the main line Product provided for Cisco certification Exam preparation. Type: Cisco, CISSP, Huawei, AWS, CompTIA, VMware, F5 Networks Certification, Aruba, ITIL exams, ISACA exams, Veritas exams, VEEAM exams, Google exam, RedHat
10.Can I get special offers?
Customers who want to buy more than 3 exams at a discounted price can request for "Custom Bundle". Forward such queries to support@spoto.net and do not forget to include the Exam codes you need access to. Our team will give you a discounted quotation depending on the Exams requested.
Other Other Written

02.25, 2021

CCNP Enterprise Written

02.25, 2021

CISA/CISM Other Written

02.25, 2021

CCNP Security Written

02.24, 2021

CCNA Other Written

02.24, 2021