IT Training Leader for 18 Years
SPOTO, an outstanding IT training Institute with 18-year experience, has assisted thousands of candidates to pass their dream IT exams in first try. Our candidates speak highly of quality practice tests & outstanding service.
7/24 Professional Technical Support
To help SPOTO candidates well prepared exam, we have professional tutors to provide 7/24 online technical support to ensure candidates solve any problems at any time.
Latest & 100% Pass Exam Solutions
Our solutions cover 100% real pass exam answers and questions and exam practice tests. SPOTO will update the exam solutions timely and our product manager will ensure the accuracy and stability of exam solutions to help you 100% pass exam.
Latest Passing Feedbacks from SPOTO Candidates
CompTIA SY0-601 Exam Info-100% Pass With SPOTO
CompTIA Security + (SY0-501) English test will be retired on July 31, 2021. All other languages will retire in Q1 2022. The new Security+ (SY0-601) is now available. The CompTIA Security+ certification exam will verify whether the successful candidate has the knowledge and skills required to assess the security status of the corporate environment and recommend and implement appropriate security solutions; monitor and protect hybrid environments, including cloud, mobile, and the Internet of Things; in Operate under the premise of understanding applicable laws and policies (including governance, risk and compliance principles); identify, analyze and respond to security incidents.
SPOTO offers latest & updated CompTIA SY0-601 Exam questions for candidates to study and pass SY0-601 exam fast. Using SPOTO SY0-601 practice tests which cover 100% real CompTIA SY0-601 exam questions and answers can help you pass your CompTIA SY0-601 exam in the first attempt.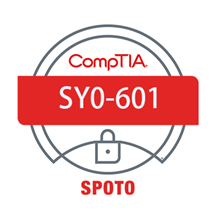 Exam Code: SY0-601
Exam Type: Multiple choice and performance-based
Number of Questions: maximum of 90 questions
Exam Fee: $370
Exam Duration: 90 minutes
Language: English, Japanese


Exam Domains of CompTIA SY0-601 Exam:
Attacks, Threats and Vulnerabilities (24%)
Architecture and Design (21%)
Implementation (25%)
Operations and Incident Response (16%)
Governance, Risk and Compliance (14%)
Why choose SPOTO CompTIA Security+ SY0-601 dumps?
SPOTO has the latest SY0-601 question dumps for the CompTIA A+ exam, which are based on study material compiled from the questions from the real CompTIA A+ exam. The CompTIA SY0-601 dumps are easy to download and understand. With these CompTIA Security+ SY0-601 real questions and answers preparatory materials, you won't have to spend a long time studying for the CompTIA A+ exam course.
Practice questions for the CompTIA SY0-601 exam are highly recommended. These questions are the best preparation for CompTIA Security+ SY0-601 exam.
What are the prerequisites for the CompTIA security+ SYO-601 Exam?
There are no prerequisites for the CompTIA Security+ SYO-601 certification exam. But, it is suggested to earn CompTIA A+ or CompTIA network+ certification.
How long does it take to study for the CompTIA Security+ 601 exam?
Your preparation depends upon your experience and the knowledge about exam domains you already have. It takes approximately 4-5 weeks to prepare and study for the exam.SPOTO CompTIA Security+ 601 dumps can help you pass the exam in 7 days.
CompTIA SY0-601 Certification Benefits
1. CompTIA SY0-601 Exam Does Not Meet All Requirements
CompTIA Security+ may be your first choice, given its specific criteria, if you've always wanted to start a career in cybersecurity.
2. CompTIA Security+ Is a Certification That Is Recognized Worldwide
Your job may benefit from the CompTIA Security+ certification because it is widely recognized. The potential employers will value you getting this option because CompTIA is renowned for its high-standard certification program, thus setting you apart from the competitors.
3. Has Excellent Salaries
According to CompTIA research, Security+ certified personnel are paid significantly more than their non-certified counterparts. A professional who has passed the CompTIA SY0-601 test may often expect to earn between $42,130 and $95,830 per year.
4. It Offers Fantastic Growth Prospects
Because cyber security risks are occurring more frequently, security occupations are among the most lucrative and gratifying over the long run. These accidents will increase the demand for cybersecurity expertise among enterprises. This indicates that having the CompTIA Security + certification will improve your future."
Helpful Hints and Techniques for Passing the CompTIA Security+ SY0-601 Exam
1.Learn the Security+ Exam Objectives First
Learning about the six Security+ syllabus subjects is the initial step. Which are:
Deficiencies, Attacks, and Threats (21 percent ), Tools and Technologies (22 percent ), Engineering and Design (15 percent ), Identification and Access Control (16 percent ), Management of Risk (14 percent ), Cryptanalysis and PKI (12 percent )
2. Produce A Successful Study Plan
It's time to make an efficient study schedule now that you are familiar with the domains and all the topics they cover. Make wise study plans and group everything that falls under the same category.
3. Complete the CompTIA SY0-601 practice exam.
Once you have done reviewing all of the exam objectives, take a CompTIA SY0-601 practice test to relieve your stress. Given that this is an entry-level exam, you might not be familiar with the regulations and procedures for taking exams. You may get a feel for the exam by using the CompTIA SY0-601 practice test. You can assess your weakest areas with these stimulating practice exams.
FAQ
1. What Products SPOTO offers? We offer 100% real exam answers& questions of Cisco CCNA, CCNP, CCIE, ISACA, PMP, AWS and other IT exams as well as CCIE Lab training courses.
2. Can I pass the CompTIA SY0-601 exam with SPOTO CompTIA SY0-601 Dumps only? Yes! Our dumps are same as the real exam questions & answers. SPOTO dumps 100% cover the real exam. If you practice our dumps, you will pass the exam successfully.
3. How can I know my product is the latest? All the products are updated fully and our CompTIA SY0-601 practice test are the latest on remote server. If there is an update on dumps, our service will inform you by email and the server also will warm you when you practice dump.
4. How often are your products updated? All our products are reviewed by Product Manager on weekly basis. If any certification vendor changes the question in the exam, our products will be updated accordingly.
5. Is your update free? We provide free updates during your service time. We recommend you practice dump at least three days.
6. How to extend my expired product? If your service period expires and you can pay the fee to extend your service period
7. What is the dump format? The CompTIA SY0-601 exam format is VCE, it is similar to real exam format; you can practice the written dumps on remote server.
8. How can I practice dump? The CompTIA SY0-601 dumps are practiced on remote server. Our remote servers offer 24 hours per day access for study/review. We will send account to login remote server after you pay it.
9. How can I get discount? There are always some special discounts in some special days. If you are interested and want to buy three or more products, please contact support@spoto.net for getting discount and check regularly of our site.
10. If I fail the exam, what should I do? If you fail unfortunately, you can ask the service to extend services for free. Furthermore, we support money-back guarantee. So, you don't need to worry about failure!
Get Limited Time Offer
Pass Your IT Certification Exams in the First Attempt With SPOTO!
SPOTO offers 100% real and valid IT exam dumps, 100% same with the real exam. SPOTO, the leader of IT certification online training for 17 years, has helped 2100+ candidates to get their Cisco CCIE certifications. Our products cover Cisco, PMP, ISACA, Amazon Aws, Palo Alto, Microsoft and other IT exams. With SPOTO real IT exam practice tests, you can boost salary and advance your IT networking career fast!
Yes! I passed the CompTIA SY0-601 exam with high scores. All the question from SPOTO dump, so you can trust on it!
This CompTIA SY0-601 material is very valid and efficient! Thank you for compiling such high-quality exam dumps! SPOTO professional tutors also helped me a lot! Thanks, guys.
Without SPOTO, I cannot pass the CompTIA exam so fast and easily!
Wonderful CompTIA SY0-601 dump! I have passed the exam by using this dump only half a month. I will share with my friend.