Cisco has evolved the 'Cisco Certification Program' which would be combining the Network Professionals as well as Software Developers into one community, thus creating an IT team of the future. The Next Level CCIE Certification is going to be able to assist Cisco to speed up the business and drive technological innovation. Network Automation is considered to be one of the biggest challenges faced by the IT Sector. Hence, if you wish to have the CCIE Certification, you should check out the SPOTO Club's CCIE Certification Training Program.
Why is CCIE changing?
Technology would be changing rapidly, as well as the requirement of skills and job roles would be also increasing day-by-day. The Expert Level is critical as professionals needed to know everything under the umbrella. It has been a challenge for Cisco for building up a program as it would be required, hence, now they would have built a certification program which would be a combination of technology and knowledge.
CCIE Version Replacement as per Domains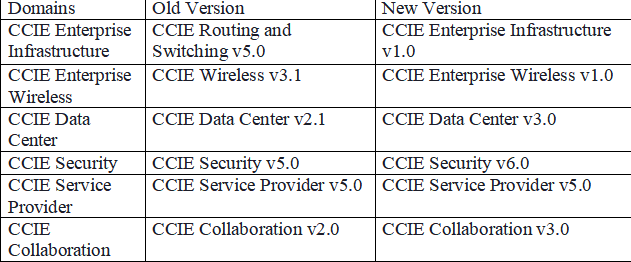 Major Changes in CCIE Certification That Will Affect in 2020:
1. End-to-end Life Cycle focused Certification
There are various phases in the Network Life Cycle. The initial phase would be designing and planning the network and then implementing the solutions developed in the network. After implementation, there would be optimization and troubleshooting if any. The new Certification Evolution would be focused precisely on the same path, which would be Designing, Deploying, Operating, and Optimizing.
2. Alignment with the Five Architectures
Enterprise, Data Center, Service Provider, Security, and Collaboration would be the five architectures of Cisco. CCIE Enterprise now has been branched into two sections, viz, CCIE Enterprise Infrastructure and CCIE Enterprise Wireless. CCIE Enterprise Infrastructure is namely Routing and Switching, but along with Software Defined Networking, Controller-Based Architecture and Automation. CCIE Enterprise Wireless would include a syllabus similar to the earlier CCIE Wireless but more in terms of automation and evolution in the Wireless Industry. Hence Automation will be an integral part of the entire curriculum.
3. Design Section is now an Integral Section
If you wish to specialize in designing the network at the CCNP level you could choose one between enterprise design and wireless design, but in CCIE there would be no choice but learning design skills in planning, deploying, as well as maintaining the network.
4. Effect on CCIE Certified Candidates
It won't be affecting already certified candidates as the certification structure would be remaining the same. Hence once a CCIE Certified would always be going to remain a CCIE Certified. But there are going to be some amount of transition. For example, if you would be a CCIE Routing and Switching Certified Candidate, then Cisco would transit you to be a CCIE Enterprise Personnel or If you are going to be a CCIE Wireless Certified then you would be transitioned to be a CCIE Wireless Enterprise Personnel.
5. Changes in the Lab
As daunting the CCIE Lab Exam might seem, it is one of the most fun exams and tests your skills to work under pressure. The structure of the exam is still the same. The only thing which would be changing is the delivery method. From February 2020 onwards, there would be only two modules, namely, The Design Module (3 hours) as well as The Deploy, Operate and Optimize Module (5 hours). It would be considered as a continuous process now onwards.

So, if you wish to gain this certification, your best bet would be to gain the study dumps, offered by the SPOTO Club. They are the best when it comes to CCIE Training.
More Recommended Articles
1. Looking Ahead: The Future of CCIE Lab in 2020
2. New CCIE Wireless lab: How to Prepare in 2020
3. If I Only Attempt CCIE lab, Would I Gain Cisco Number?
4. What Is CCIE Security Lab Eligibility?
5. Where I could find the CCIE Data Center Lab Workbook?