New Product Development Professional(NPDP )Certification Exam
The (NPDP) certification of new product development professionals developed and provided by (PDMA) is an internationally recognized knowledge system. When you get NPDP certification, companies that want to hire the best people will see your commitment to professionalism, knowing that you have first-class product development and management skills, as well as professional and successful track record. NPDP certification supports and formally recognizes your pursuit of process consistency and discipline.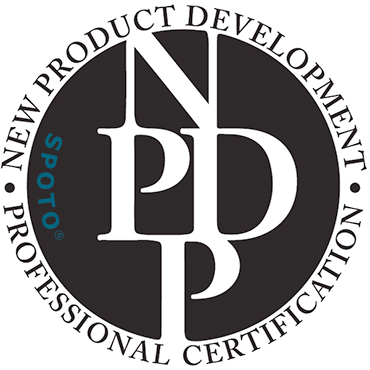 Valid Practice test & Accurate exam questions for NPDP Exam Pass
Vendor: PDMA
Exam Duration: 3.5 hour
Exam Format: 200 multiple-choice questions
Exam Fee: $250 for both PDMA members or non-members
Special Dicount
Get special offers
Latest Solutions and feedback
Workbook & Solution & Feedbak
Product Advantages
100% Passing Rate
Timely Updated Exam Dumps
Completely Coverage of Real Exam
Real Simulated Exam Environment
24h Professional Tutors Instruction
High-score Passing Guarantee
Free Study Tutorial Video
Professional Service Team
NPDP Practice Questions
1.__________ is the strategy defined by Miles and Snow for those companies that rapidly follow Prospector companies.
a.Responder
b.Defender
c.Analyzer
d.Reactor
2.What quantitative market research tool should be used to identify a gap in the products offered to a market?
a.Secondary research
b.Lead users
c.Any appropriate multivariate technique
d.On-line forums
3.Which pair of variables is NOT common in visual bubble chart displays of the balance of a portfolio?
a.Risk versus reward
b.Net present value versus return on investment
c.Cost versus benefit
d.Ease versus attractiveness
4.Gates are defined as decision points based on deliverables, criteria, and outputs. Outputs include __________.
a.Financial statements
b.Yes or no decisions
c.The highs and lows of impact and probability
d.Go, kill, hold, recycle decisions
5.Which of the following is the product life cycle stage when the company must make tough decisions about what to do with the product as sales decrease?
a.Introduction
b.Growth
c.Maturity
d.Decline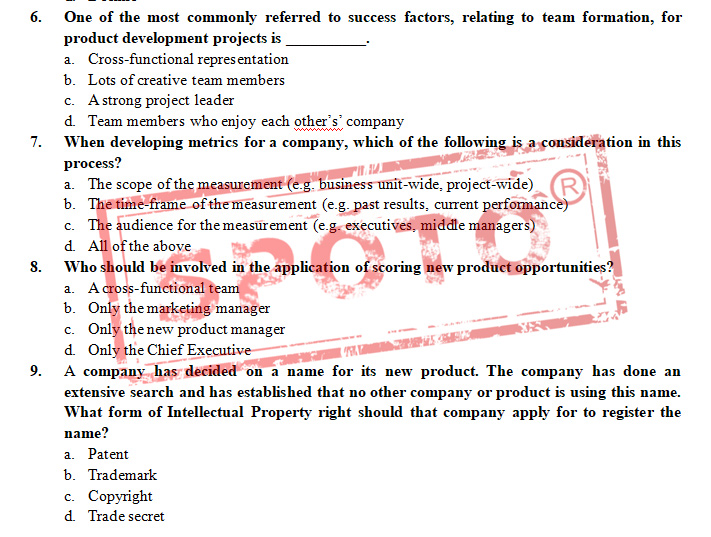 1.To qualify for this distinction, candidates must meet 3 criteria in education, experience, and knowledge: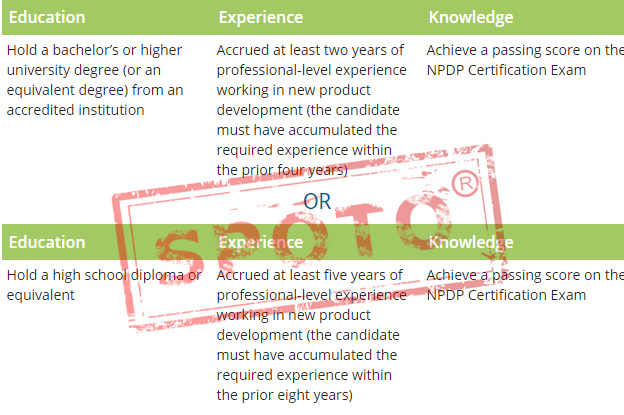 2.The NPDP exam is comprised of 200 multiple-choice questions that test product development knowledge in the following seven key areas:

3.Taking the Exam
You will have 3-1/2 hours to complete the 200-question exam. Each candidate will receive an NPD exam that is "unique" and pulls randomized questions from a larger question bank. The passing point is 75% (150 questions must be answered correctly). Your results will be provided to you immediately upon completion.
Note: If you are located in mainland China, you will need to take the NPDP exam through TCSAFEA. You will not be able to take the exam through Prometric.
4.Completing the Exam
Once you become fully NPDP certified, your NPDP certificate documents will be sent to you via email in PDF format and your lapel pin will be available at PDMA's Annual Conference in the fall. If you would like hard copies of your certificate documents and lapel pin mailed to you, please contact PDMA Headquarters at 651-290-6280 or certification@pdma.org. Individuals will be required to cover the cost of postage/shipping for these items, both domestically and internationally.
1.Why Hire NPDPs?
NPD Professional Certified Product Managers stand out from the crowd. They have certified experience and knowledge in seven critical areas required for product success.
2.What about the befits of holding NPDP certification?
The New Product Development Specialist (NPDP) certification helps you build an important contact in your product career. Use the credentials and credentials to contact the opportunity, promotion, and new job responsibilities.
3.How long Is the Service?
The service length is 7 days. In case you failed at your first attempt within service time, we will provide 3 days for free after you share your failure screenshot (name, date, score). 
Please note: we will end the service three days after your exam date if we were not notified of your free extension request. We reserve the rights to terminate all the services in case we learned you shared our materials with others.
4.What happens if the exam becomes unstable?
We will keep you updated with the latest exam information. If there are any big changes in the exam during your service time, we will remain the left service time until dump is ready. Although we helped thousands of candidates passed the exam and share high pass rate, we do not guarantee 100% pass or refund.
5.How to Verify my version of the Questions and Answers Product?
If there is an update on dumps, our service will inform you by email and the server also will warm you when you practice dump.
6.How often are your products updated?
There is NO FIXED DATE for the update of Exams. All cciedump.spoto.net Products are reviewed by Product Manager on weekly basis and if any certification vendor changes the question in the exam our product will be updated accordingly.
7.I have paid for my Product when can I get my product?
If the payment was successful, we will send the access to your product via Email within eight hours after confirmation.
8.How Can I practice Dump?
You can practice questions and answers of VCE dump on a remote server and view questions and answers of PDF dump on your PC / phone/ pad.
9.What ways can I choose to pay for the order?
SPOTO is accepting payments in many ways. The most popular one is Paying instantly through PayPal and Western Union. We recommend PayPal for faster payment. Your purchase with SPOTO is safe and fast. Our SPOTO website is protected by 256-bit SSL from Cloudflare, the leader in online security. 
10.How can I get Discount?
Special Discount is offered for popular certifications and exams. If you want to buy three or more products, please contact support@spoto.net for getting discount.
11.Can a third party see your customers' information from your website?
No,they cannot. Our system is fully secured, and we do not share any information with third partied. 
12.I took the exam today and failed what can I do?
If you fail the exam at the first attempt, then you can claim free extend to prepare your exam. Service will extend your service after confirming your next exam date.
CCNP Enterprise Written

03.5, 2021

Other Other Written

03.5, 2021

CCNP Security Written

03.5, 2021

CCNP Enterprise Written

03.4, 2021

CCNP Collaboration Written

03.4, 2021