18 Years of IT Training Experience
SPOTO is a brilliant leader in IT training experience for 17 years. We have helped thousands of candidates from the world to pass their exams in first try. We have gained many likes for our candidates.
7/24 Technicial Support
SPOTO has many professional tutors who have more many years tutorial training experience. They have aided thousands of candidates passing their exam in the first try. What's more, professionals will provide 7/24 technical support only you join us!
Latest Exam Soulations
SPOTO will update the exam solutions at the fastest speed. Our professionals will spare no efforts to resolve the solutions. What's more, our solutions cover all exam answers and questions, and 100% real exam practice tests.
Latest Passing Reports from SPOTO Candidates
CompTIA Security+ SY0-501 Certification Exam Information
The CompTIA Security+ exam will certify the successful candidate has the knowledge and skills required to install and configure systems to secure applications, networks, and devices; perform threat analysis and respond with appropriate mitigation techniques; participate in risk mitigation activities; and operate with an awareness of applicable policies, laws, and regulations. Getting SPOTO SY0-501 dumps (proxy service only) is the easiest way to become CompTIA Security+ certified in the shortest period of time.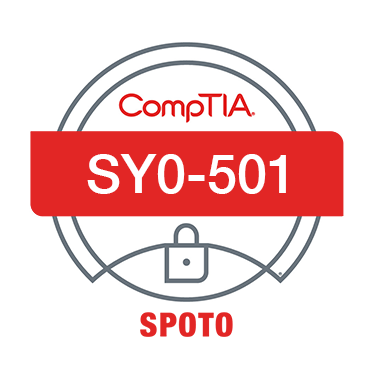 Exam Name:
CompTIA Security+
Exam Code:
SY0-501
Exam questions:
90 questions
Exam duration:
90 minutes
What is The CompTIA Security+ (SY0-501)?
The CompTIA Security+ (SY0-501) certification verifies the fundamental abilities required to carry out essential security tasks and pursue a career in IT security. The first security certification that IT workers should obtain is CompTIA Security+.
For those working in the following fields, the CompTIA Security+ (SY0-501) certification test is appropriate:
Information security
Network security
System administration
Security analysis
Penetration testing
IT auditing
Is the CompTIA Security+ (SY0-501) exam challenging?
The IT business has taken on new dimensions thanks to CompTIA Security+ SY0-501, which is also a foundation for future success. However, passing the CompTIA Security+ test SY0-501 needs a lot of effort because there is no other method to do so outside studying.
However, you do not need to worry about your SY0-501 exam preparation because SPOTO has simplified the process. SPOTO CompTIA SY0-501 dumps offer SY0-501 exam questions and answers, SPOTO CompTIA exam dumps are compiled from real exam questions, which are consistent with real exam questions.
Would SYO-501 certification still be valid?
CompTIA Security+ certificates are valid for three years starting from the date you pass the exam. If a candidate passes CompTIA Security+ Exam before the examination's retirement, his certificate will still be valid for three years.
CompTIA Security+ (SY0-501), English language exam, will be retiring on July 31, 2021. It will be replaced by the new Security+ exam (SY0-601).
"I Have a Few Questions..."
1. What Products SPOTO Offers?
We offer all CompTIA SY0-501 exam practice tests/dumps. 100% real and valid CompTIA SY0-501 exam questions and answers are provided, 7/24 online customer support.
2. Can I Pass CompTIA SY0-501 Exam with SPOTO CompTIA SY0-501 Dump Only?
Certainly sure! Since all of cciedump.spoto.net CompTIA SY0-501 products are of the latest version, we feel confident about the quality of products. Just make sure that you study the Questions and Answers product of respective Exam for three to five days before you appear in the actual Exam.
3. How to Verify My Dump Version Valid or Not?
If there is an update on dumps, our service will inform you by email, and the server also will warm you when you practice dump. You can also get the latest dump info on VUE, practice dump platform.
4. How Often Are Your CompTIA SY0-501 Dump Update?
There is NO FIXED DATE for the update of CompTIA SY0-501 Exams. All cciedump.spoto.net Products are reviewed by Product Manager on a weekly basis, and if any certification vendor changes the question in the exam, our product will be updated accordingly.
5. What If I Fail the CompTIA SY0-501 Exam?
If you fail the exam at the first attempt, then you can claim a free extended to prepare your exam. Service will continue your service after confirming your next exam date.
Limited Offer
Pass Your IT Certifications In First Attempt!
SPOTO offers 100% real and valid IT exam dumps, 100% same with the real exam. SPOTO, the leader of IT certification online training for 17 years, has helped 2100+ candidates to get their CISCO CCIE certifications. our products cover Cisco, ISC, AWS, CompTIA, PMP and other IT exams. SPOTO can help you boost your salary and advance your IT networking career fast.
This is the best SY0-501 study material I have used, and I will continue using it when I have exam. Believe me, you can trust on it.
This SY0-501 dump is useful and convenient, I think it will be your best choice. believe on it.
The SPOTO SY0-501 questions and answers are accurate. I got high score on it! Thanks a lot!
My colleague recommends me SPOTO dump for he also passed CCIE exam with SPOTO, hope I can pass CCIE Lab exam before 2020, although it takes time to prepare, at least it easy to pass.