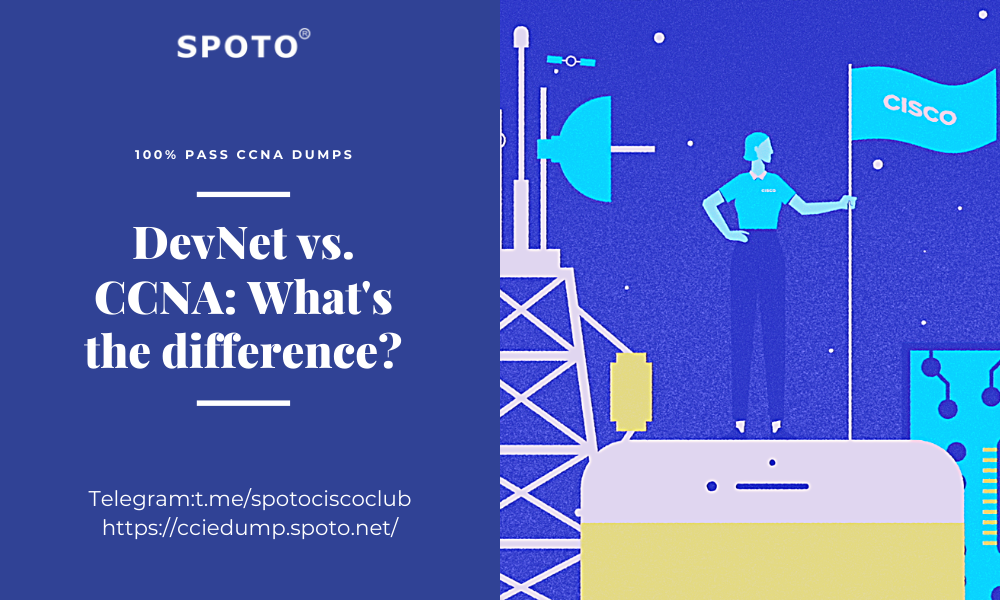 For years, the Cisco Certified Network Associate, or CCNA, the exam has been the gateway to a job as a network engineer for tens of thousands of people. The Cisco test path, which starts with CCNA and ends with the much-heralded Cisco Certified Internetwork Expert, has been so successful that a large percentage of network engineers have held one or more of these certifications at some point in their careers.
Cisco did not originate IT certification examinations, but it perfected them so that only Novell had previously done at a comparable level. Whether or not network practitioners possessed relevant certifications was frequently deciding whether or not they were hired, regardless of their other qualifications. While Cisco certification tracks have grown to include a wide range of specializations throughout time, the CCNA has remained the primary entry point until now, ignoring the Cisco Certified Entry Networking Technician.
Categories
Exam Code
100% Pass Dumps
CCNA
200-301
200-901 DevNet
200-201 Cyber Ops

The advancement of networking
Network automation and orchestration have been among the most significant shifts in the networking landscape in recent years. Simply put, networking changed to the notion that instead of repeatedly hammering commands into a command-line interface by hand, those and other chores should be performed programmatically.
However, this strategy alters the mindset of network engineers to the point where the CCNA does not thoroughly test important information. To be sure, networking principles are essential information for anyone working in the area, and they remain relevant even in light of this new technique. However, those fundamentals are only a part of the picture.
What is the CCNA certification?
In the Cisco environment, the CCNA is still the gold standard for network engineering knowledge. It puts network engineers to the test on topics they'll need to know for the remainder of their careers, regardless of how they work with networking gear. In other words, it assesses one's knowledge of network technologies rather than how to put them into practice. It's an excellent initial step for Cisco Networking Academy students and anyone with a basic understanding of networking.
The fundamentals of the CCNA exam are as follows:
The English and Japanese versions of the Cisco Certified Network Associate CCNA (200-301) test are available. There are a total of 120 questions on the exam. In addition, the candidate can register for the exam through Pearson VUE.
The exam will cost you USD 300.

Duration of the exam: 120 minutes

The three-year term of recertification
Also read: What is the CCNA 200-301 exam and how to pass it?
* Download free CCNA 200-301 Practice Test PDF Now
What exactly is DevNet?
The new DevNet Associate test, the first in the DevNet certification track, is a parallel track to CCNA that focuses on programming aspects of network engineering. While it does cover the topics covered in the CCNA curriculum, it is primarily concerned with ideas like Python, REST, model-driven programmability, containers, and other current aspects of network engineering.
Although the DevNet Associate exam covers network engineering fundamentals, it focuses on the growing programmatic paradigm of network administration. It assumes that network engineers have a basic understanding of networks and does not delve as deeply into networking as it does into other issues. This certification is an excellent place to start for current network engineers who want to transition into more automation-focused roles or study and confirm their understanding of modern network management approaches.
Also read: Cisco 200-901 DEVASC exam tips & tricks to achieving your target score

The Basics of Cisco DevNet
On February 24, 2020, the Cisco DevNet 200-901 DEVASC exam became available. You will receive a Cisco Certified DevNet Associate credential if you pass the exam. Beyond the associate level, the DevNet series of certs include professional and specialist groups, with an expert level (similar to the CCIE) expected in the future.
Here's a quick summary of the DevNet Associate Exam's fundamentals:
Prerequisites: There are no formal prerequisites for taking the DEVASC 200-901 test.
Cisco recommends a year or more of software development experience, with Python programming being specially mentioned.
Software Development and Design, API Understanding and Use, Cisco Platforms and Development, Application Deployment and Security, Infrastructure and Automation, and Network Fundamentals are exam topics (you can download a complete PDF list of topics and subtopics here).
The exam will cost you USD 300.

Duration of the exam: 120 minutes

Three-year term of recertification
How to Choose Between DevNet and CCNA
The question now is whether the DevNet certification becomes the clear path to Cisco certification or if the CCNA certification remains valid. Both credentials are helpful and have a place in the world. It is entirely up to you, your prior expertise, and the areas of your profession that you wish to concentrate on. Either way, you can't go wrong.
Next, obtain valuable study materials to assist you in passing the CCNA or DevNet exam on the first attempt!
Join SPOTO Cisco Study Group or subscribe to our channel for the updated exam news and tips! 

What is the most effective strategy to prepare for the exam?
For exam preparation, there are a variety of tools accessible. The following pointers will help you study effectively for the Cisco 200-301 and 200-901 exams.
Make Use of the Appropriate Study Tools
Even though the Cisco 200-301 and 200-901 exams are new, there are numerous preparation aids available to assist students in mastering the exam content. To begin, go to Cisco's official website and look over the study resources available. You can also look at SPOTO for video lessons, training courses, and practice exams made just for this certification exam.
Practice with Practice Tests
Practice exams allow you to assess the knowledge and abilities you've gained while studying for the exam. By taking them, you will become familiar with the format of the Cisco 200-301 or 200-901 exam and the kind of questions you may encounter on the test. It will also assist you in identifying any knowledge gaps you may have to address before taking the exam. For accessing relevant and up-to-date practice examinations, SPOTO is a highly recommended website. On this platform, you'll also find Cisco 200-301 and 200-901 test dumps. Latest Update-2021 Free CCNA 200-301 Exam Questions and Answers
* Download CCNA 200-901 Practice Test PDF Now
Conclusion
If you are in close contact with Cisco for the preparation of Cisco 200-301 exam questions or Cisco 200-901 exam and need to study for the CCNA certification exam in the shortest period possible, you should consider purchasing the best Cisco 200-301 exam dumps, and 200-901 exam dumps offered by SPOTO. SPOTO's 200-301 and 200-901 pdf questions might help you pass the exam on your first attempt!
Advantage of SPOTO Cisco exam dumps
• Exam Practice Tests that are 100% accurate
• Guaranteed passing rate of 100%
• Teams of Professional Tutors
• It takes an average of 7 days to prepare and pass the exam.
• Outstanding and professional tutoring teams
• Free Practice Test Updates
• 18 years of IT training experience
• Every day, on average, 32 CCNA exams are passed

Latest passing report-100% pass guarantee
Related Cisco exam study materials 
Please follow and like us: