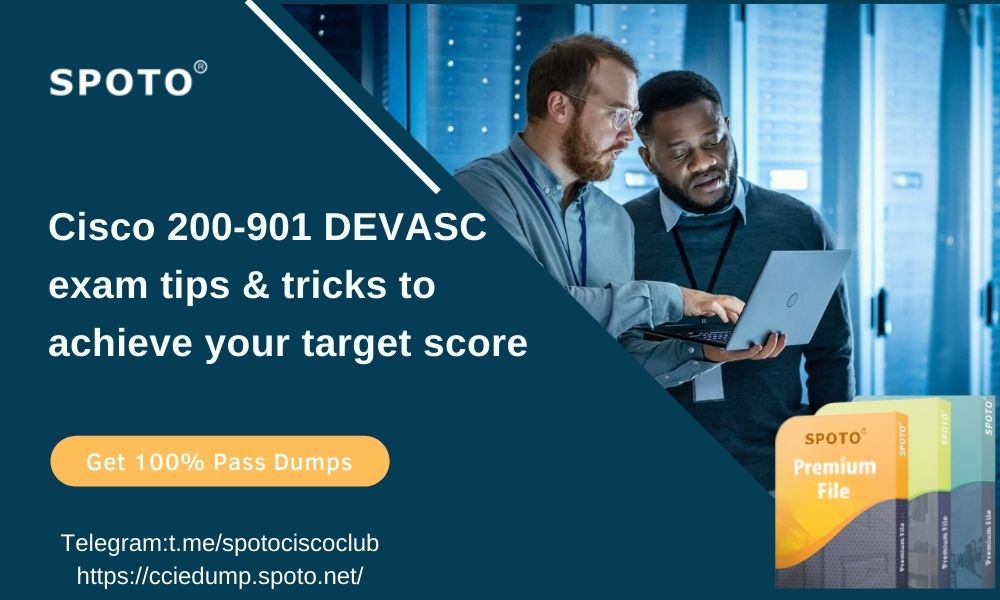 Cisco's cutting-edge technology provides you with the potential for a rewarding career. All you need to do is master the prerequisites that will allow you to begin your IT profession. One of the most recent technologies is software development, and it is expected that you will pass the Cisco 200-901 DEVASC exam. The Cisco DevNet Associate credential is obtained after passing this exam.
This post will teach you more about the Cisco 200-901 DEVASC exam and its accompanying certification. You'll also learn how to use practice exams to assess your progress. This post will also assist you in understanding your obligations as a software developer.

Cisco 200-901 DEVASC Exam Description
Cisco 200-901 is a 120-minute exam taken by applicants who want to demonstrate their ability to design and maintain applications on Cisco systems. You need to pass one exam to achieve the DevNet Associate certification, which is focused on software development fundamentals. It also evaluates your ability to design applications.
APIs, development, Cisco platforms, application development, security, architecture, and automation are studied topics. It is critical for any applicant to study the topics and use suitable exam materials to obtain the required pass score on the exam. This will also ensure that students get the necessary abilities to become competent software developers.
Following that, we'll look at the best resources for learning these critical Cisco 200-901 DEVASC exam topics.
What You Need to Know About 200-901 DEVASC
This DEVNET Associate course corresponds to the objectives of the Cisco 200-901 DEVASC exam and covers topics such as:
Design and development of software
Understanding and employing APIs
Cisco platforms and software development
Security and application deployment
Network infrastructure and automation Fundamentals
Who Should Take the DEVASC 200-901 Exam?
This DEVNET Associate program is classified as associate-level Cisco training, indicating that it was created for DevOps workers. This 200-901 DEVASC course is beneficial for new IT workers with at least a year of routing and switching experience and seasoned DevOps experts wishing to certify their Cisco abilities.
DevOps professionals who are new or striving to be. DEVNET Associate training is helpful for prospective DevOps practitioners, whether they are sysadmins or network admins with some Cisco routing and switching knowledge, in addition to DevOps professionals with even a small bit of experience. IT training managers may also employ 200-901 DEVASC training to onboard new DevOps professionals or a larger IT team training strategy.
IT experts with years of experience. DevOps and networking workers with a few years of experience will benefit from the 200-901 DEVASC course since it validates their knowledge of Cisco technologies, platforms, and software deployment techniques. The DEVNET Associate certification can help individuals enhance their careers as DevOps engineers, release engineers, or automation architects.
Cisco Study Guide for the Cisco 200-901 DEVASC Exam
Becoming an expert in the field you want to specialize in necessitates deliberate steps that confirm what you want to achieve. This includes focusing your efforts on studying and learning the test topics.
The "Developing Applications and Automating Workflows Using Cisco Core Platforms (DEVASC)" course is one of the top study materials for Cisco 200-901 DEVASC exam preparation.
Read this: What are the available resources for learning CCNA?
This Cisco official training course is intended to assist you in passing the exam and preparing you for a software developer or network automation engineer role. This training course will provide you with knowledge and abilities for leveraging Cisco platforms to execute critical network and apps workflow automation via networks. You'll also need to understand computing infrastructure and security.
Join SPOTO Cisco Study Group for the updated exam news and tips! 

Practice Tests can help you prepare for the Cisco 200-901 DEVASC exam
After you've finished studying the entire course, it's time to assess your progress. Cisco 200-901 dumps are an excellent way to identify and revise your weaker parts of the syllabus. These tests are pretty helpful in determining your preparation technique, allowing you to adjust your plan based on your needs. You will get a taste of the genuine certification exam by taking these practice tests.
SPOTO 200-901 practice tests offer 100% accurate 200-901 exam questions and answers, allowing you to pass the 200-901 exam on the first try!
(
SPOTO Free CCNA 200-901 Practice Test PDF. 100% Valid CCNA Exam Questions and Answers from Real Exam).
More Helpful Hints for the Cisco 200-901 DEVASC Exam
Before you begin using the study mentioned above aids, you must first build a learning technique and CCNA cheat sheet that includes creating a study schedule and adhering to it meticulously. Do not begin your exam preparation without first developing a study plan to take you through the topic material. Make sure that you are also committed to the whole procedure. Put in the time and effort to ensure that you understand all Cisco DevNet Associate exam subjects.
Also Read: Top 25 Most Popular CCNA Interview Questions and Answers
You'll be ready to pass the exam and prepare for a career as a software developer if you study hard and use these exam 200-901 tools. Let's take a look at this professional's tasks.
Software Developer Responsibilities
Here are the duties you'll be responsible for as a software developer working with Cisco systems. You'll need to:
• Software program analysis, design, implementation, and maintenance
• Evaluate and test new programs;
• Create and put into action efficient code;
• Identify areas in existing programs that require transformation and then implement these changes;
• Implement software tools, measurements, and methodologies;
• Keep existing systems in good working order and keep them up to date.
A software engineer can expect to earn up to $71,128 per year on average in terms of compensation. According to Payscale.com, this is the figure.
Conclusion
One field that is constantly expanding is software development. The Cisco DevNet Associate 200-901 exam will assist you in developing exceptional skills that will allow you to establish yourself in the field. They include, among other things, employment placement, higher pay, and more prospects for advancement.
To guide you through this procedure, approved training courses, dependable and actual practice tests, and other exam study tools have been outlined. When you perform your part, the exam will fall into place wonderfully! Using SPOTO 200-901 exam dumps with real 200-901 exam questions and answers to help you pass the exam and obtain your Cisco DevNet Associate certification on the very first try.

Latest passing report-100% pass guarantee
Related Cisco exam study materials 
Please follow and like us: