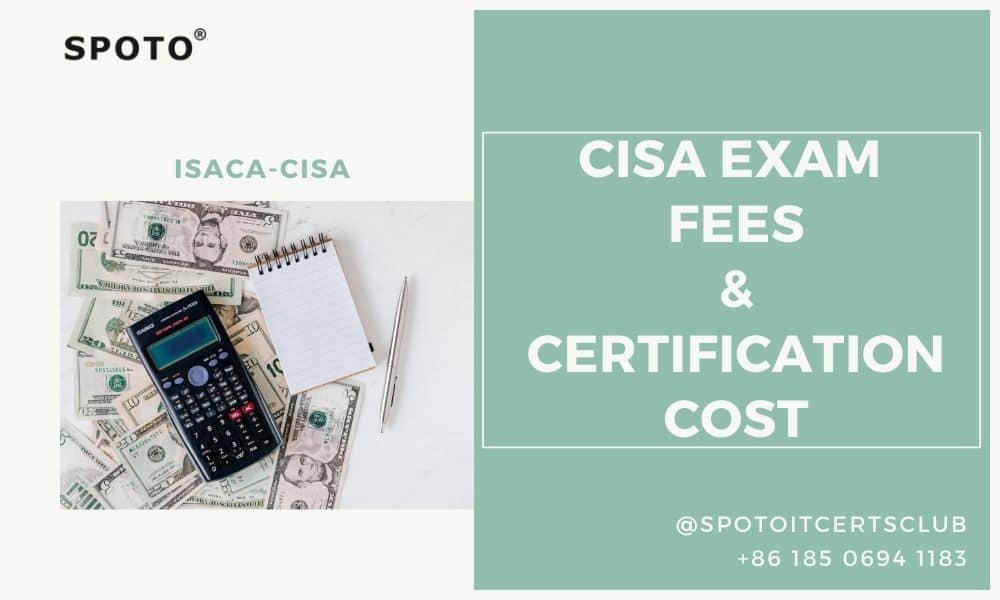 When you realize how valuable the Certified Information Systems Auditor (CISA) certification can be to your career, you'll know it's well worth the time and money it takes to obtain it. However, you're undoubtedly still curious about the cost of the CISA certification. Earning the CISA, for example, necessitates passing the CISA test and, as a result, paying the CISA exam fees. So, before you start your CISA adventure, you'll need to figure out how much each CISA certification and test costs. After all, just as you must prepare your intellect to pass the CISA test, you must also prepare your pocket to pay the CISA costs. You'll also want to know what is covered by the certification fees. Fortunately, you may utilize this information to determine the actual cost of CISA.
| Categories | Exam Code | 100% Pass Dumps |
| --- | --- | --- |
| ISACA | CISA | |
| | CISM | |
| | CISA/CISM/CRISC proxy service | |

Costs of CISA Certification
You must know what you will pay for and when you will pay for the CISA certification. The sooner you get this knowledge, the better since you will plan for each cost and avoid missing a payment deadline. As a result, pay attention to and plan for each of these CISA cost components.
1. The cost of ISACA membership (Optional)
You do not need to be a member of ISACA to take the CISA test, but you will receive a discount on the exam expenses if you are. Professional networking, volunteer opportunities, online forums, professional and industry lobbying, and more are all available to you. Finally, you may take advantage of free webinars, audit programs, and CPE opportunities. So, if you want to be a CISA, becoming a member of ISACA will help you.
You will, however, have to pay for this membership. You'll need to pay the new member fee, worldwide dues, and local chapter dues in that order. The following are the different membership types:
Professionals: those interested in or work in the disciplines of IT audit, information security risk, and IT governance.
Recent graduates have recently completed their studies at a college or university within the previous two years.
Individuals presently enrolled in authorized undergraduate, and graduate programs are referred to as students.
The following are the sums of these fees:
ISACA Membership Fees
| | | | |
| --- | --- | --- | --- |
| Membership Type | Professional | Student | Recent Graduate |
| New Membership Fee | $10 if paid online; $30 if paid via mail or fax | $0 | $0 |
| International Dues | $135 | $25 | $68 |
| Local Dues | $0-140 | $0-30 | $0-70 |
2.Exam Fees for CISA
You do not have to pay for ISACA membership, but you will need to pay for the CISA test. Though the CISA exam fees are not inexpensive, they must ensure that applicants take the test. The organizations participating can cover costs such as testing facility use, exam proctors, and the scoring procedure.
                                                     CISA Exam Fees
| | | |
| --- | --- | --- |
| Exam Fee | Member | Non-Member |
| U.S. Dollars | $575 | $760 |
Examination costs are non-refundable and non-transferable. Additionally, you will begin a 12-month term of exam eligibility (365 days). Your exam costs will be forfeited if you do not arrange and take the exam during this time.
3.CISA Certifications Fees
You can submit your CISA certification application and pay the application processing fee at the same time after passing the CISA test and gaining the required full-time job experience. ISACA members and non-members alike must pay a $50 application processing fee.
4.Maintenance Fee (Annual)
After you've earned your CISA, you'll need to keep it up to date by following the procedures below. The CISA maintenance fee must be paid annually, as well as CPE hours must be reported. The following is the cost of annual maintenance:
                                   CISA Certification Maintenance Fees
| | | |
| --- | --- | --- |
| Certification Maintenance Fee | Member | Non-Member |
| U.S. | $45 | $85 |
5.Additional CISA Certification Fees
The registration price for the CISA test does not include any study resources. As a result, study resources range in price from $40 for a study guide to more than $300 for the official CISA review manual and question database. In this assessment of some of the most acceptable alternatives, you may discover more about CISA review courses.
Comparison of CISA Certification Fees (Members vs. Non-Members)
So, how much will your CISA certification set you back? This table shows the total cost for members and non-members.
                                             CISA Certification Costs
Member
Regular
Non-member
Regular
Membership fee (median)*
$175
–
Exam Registration
$575
$760
Mail-in application charge
$75
$75
Deferral charge
$200
$200
Certificate application fee
$50
$50
Certificate maintenance fee
$45
$85
Review materials
$450
$450
Total
$1,570
$1,620
We used the average of local chapter dues ($40) as a starting point. The total membership price is $135 + $40, which is $175. A $10 membership fee is required for new members.
Breakeven for CISA
If the idea that the CISA could be the proper certification for you isn't enough to make you forget about the CISA exam fees, you should think about the CISA breakeven rate. The average pay for a CISA certified professional ranges from $52,459 to $122,326. So, while the CISA may cost you up to $1,600 in fees plus the cost of study materials, you will recover those expenditures in your first year as a certified CISA.
Furthermore, if you consider getting a certification, you must understand that you are investing in your profession and, as a result, your future. Without the CISA, you won't be able to acquire a top-level position in information systems auditing. And if you've already worked in the business for a while, obtaining the CISA won't be too tricky, as the CISA experience requirement is five years of experience in information systems auditing, control, or security. You also have ten years to complete the experience requirement before applying or five years after passing the test, so you have plenty of time.
And, if you were intending on investing this much time in information systems auditing anyhow, the CISA certification allows you to demonstrate your knowledge in the subject conclusively. You'll have what it takes to pass the exam and earn the certification, so don't allow the CISA exam costs to deter you from pursuing this valuable credential.
Conclusions
At the end of the day, if you want to sit for the CISA test, you'll have to pay for it. Exam fees, registration fees, and other costs are associated with all certification examinations. However, these costs do not have to prevent you from earning your CISA. Instead, you can be prepared to manage this aspect of the CISA certification procedure if you utilize this information about each price you'll have to pay to construct your CISA budget and save your money. You may also save money on your CISA test preparation by taking advantage of my CISA review course offers.
Let us know what you think: ↓click to join our IT Study Group.↓

Latest passing report-100% pass guarantee
Related ISACA Articles
2021 New Changes of CISA Exam Dates
How to study the ISACA CISA Exam Easily?
Please follow and like us: