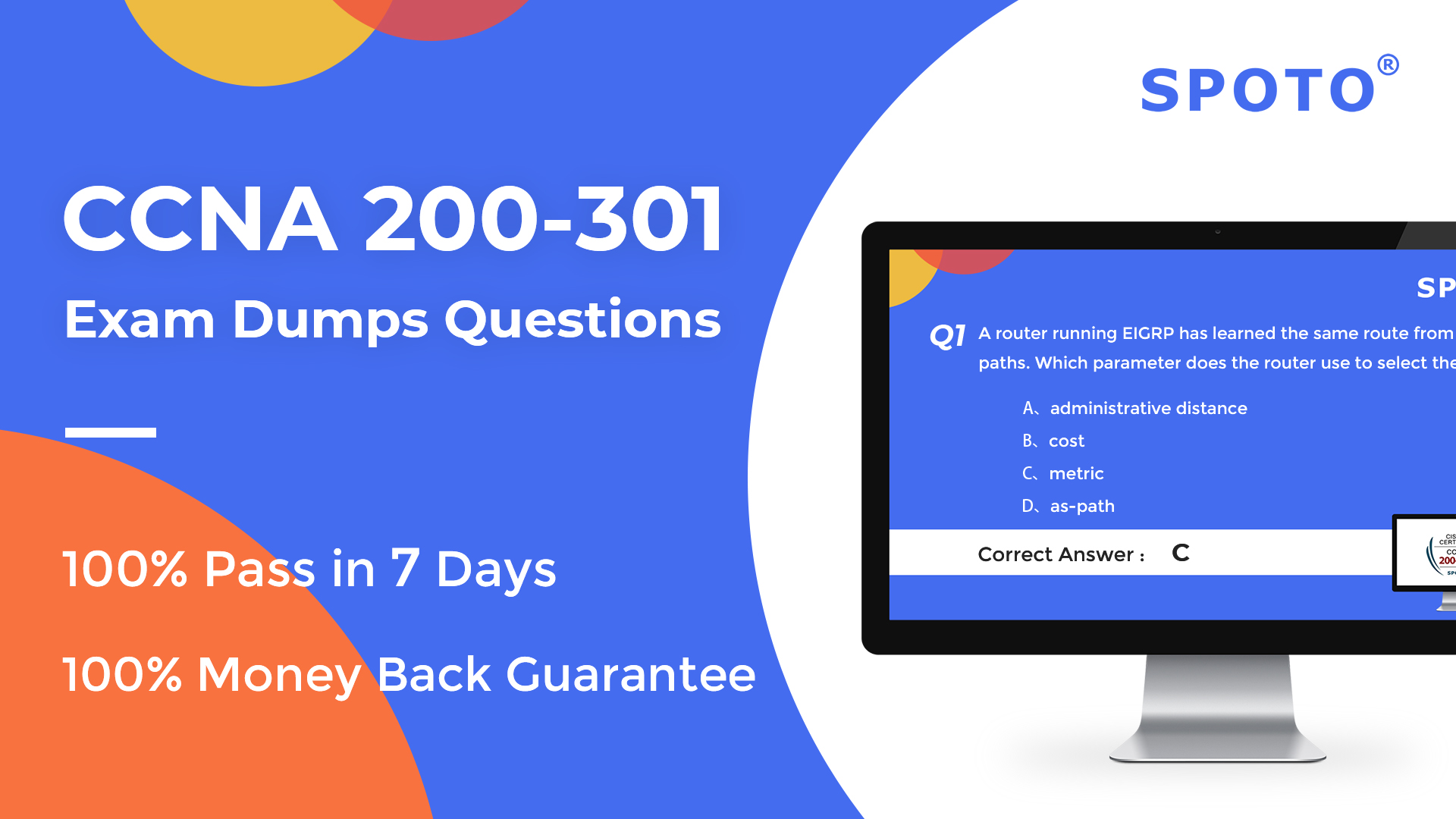 CCNA 200-301 exam changes recently. SPOTO IT experts compiled this latest CCNA 200-301 exam questions, which is 100% real as the real 200-301 exam, to help you grasp the most updated exam topics!  
Try the 10 CCNA 200-301 exam demo below to assess yourself! If you are interested in more real questions, get CCNA 200-301 exam dump or CCNA theory training for a single success. Join our WhatsApp study group for the latest news!

QUESTION 1
What are two reasons that cause late collisions to increment on an Ethernet interface? (Choose two.)
A., when a collision occurs after the 32nd byte of a frame, has been transmitted
B. when one side of the connection is configured for half-duplex
C. when the sending device waits 15 seconds before sending the frame again
D. when Carrier Sense Multiple Access/Collision Detection is used
E. when the cable length limits are exceeded
Correct Answer: BE
QUESTION 2
How are VLAN hopping attacks mitigated?
A. manually implement trunk ports and disable DTP
B. configure extended VLANs
C. enable dynamic ARP inspection
D. activate all ports and place them in the default VLAN
Correct Answer: A
QUESTION 3
How does QoS optimize voice traffic?
A. by differentiating voice and video traffic
B. by reducing packet loss
C. by reducing bandwidth usage
D. by increasing jitter
Correct Answer: B
QUESTION 4
Why was the RFC 1918 address space defined?
A. preserve public IPv6 address space
B. support the NAT protocol
C. reduce instances of overlapping IP addresses
D. conserve public IPv4 addressing
Correct Answer: D
QUESTION 5
Which set of actions satisfy the requirement for multifactor authentication?
A. The user enters a user name and password and then re-enters the credentials on a second screen.
B. The user enters a PIN into an RSA token and then enters the displayed RSA key on a login screen
C. The user swipes a key fob, then clicks through an email ink
D. The user enters a user name and password and then clicks a notification an authentication app on a mobile device.
Correct Answer: D
QUESTION 6
Which protocol does an access point use to draw power from a connected switch?
A. Cisco Discovery Protocol
B. Adaptive Wireless Path Protocol
C. Internet Group Management Protocol
Neighbor Discovery Protocol
Correct Answer: A
QUESTION 7
When a WPA2-PSK WLAN is configured in the Wireless LAN Controller, what is the minimum number of characters that are required in ASCII format?
A. 6
B. 8
C. 12
D. 18
Correct Answer: B
QUESTION 8
An office has eight floors with approximately 30-40 users per floor. What command must be configured on the router Switched Virtual Interface to use address space efficiently?
A. ip address 192.168.0.0 255.255.0.0
B. ip address 192.168.0.0 255.255.254.0
C. ip address 192.168.0.0 255.255.255.128
D. ip address 192.168.0.0 255.255.255.224
Correct Answer: B
QUESTION 9
R1 has learned route 192.168.12.0/24 via IS-IS, OSPF, RIP, and Internal EIGRP. Under normal operating conditions, which routing protocol is installed in the routing table?
A. OSPF
B. IS-IS
C. RIP
D. Internal EIGRP
Correct Answer: D
QUESTION 10
Which statement identifies the functionality of virtual machines?
A. Each hypervisor can support a single virtual machine and a single software switch.
B. The hypervisor can virtualize physical components, including CPU, memory, and storage.
C. Virtualized servers run most efficiently when they are physically connected to a switch that is separate from the hypervisor.
D. The hypervisor communicates on Layer 3 without the need for additional resources.
Correct Answer: B
Conclusion 
If you want to ace the CCNA exam on the 1st try, try SPOTO 100% real CCNA dumps or enroll in the CCNA training course! SPOTO CCNA exam practice tests cover 100% real CCNA exam questions and answers to help you pass the CCNA exam easily! Our CCIE instructors will give a detailed explanation of all skills required for CCNA to help you learn about the latest networking skills necessary for an IT job!

Latest passing report-100% pass guarantee
Please follow and like us: