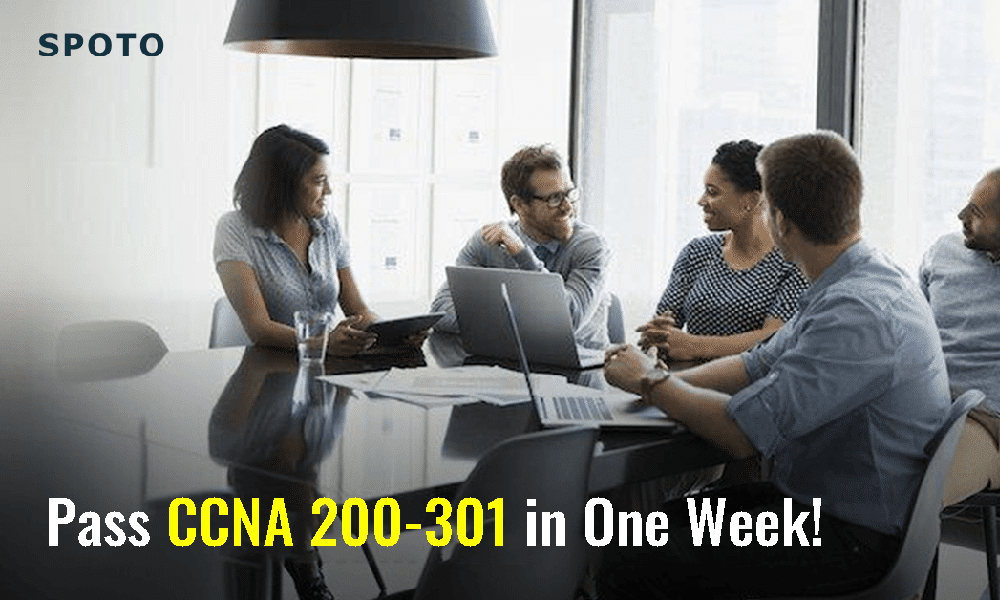 The Cisco Certified Network Associate (CCNA 200-301) exam is a 120-minute exam related to the CCNA certification. It is an assistant-level, principles-based exam covering technical areas, namely, networking, security, and automation.
Basic information of CCNA
| | |
| --- | --- |
| Exam Name Cisco Certified Network Associate CCNA | Exam Code 200-301 |
| Duration 120 mins | Format Multiple Choice and Multi-Response Questions |
| Exam Type Associate | Number of Questions 40-60 Questions |
| Eligibility/Pre-Requisite NIL | Exam Fee $300 USD |
| Exam Language English, Japanese | Register Pearson VUE |
Who should Enroll in CCNA certification? 
No prerequisites are required for CCNA certification. And also CCNA is no longer a step for CCNP certification. You can either choose CCNA, CCNP, or CCIE certification based on your experience and networking skills.
Categories
Exam Code
100% Pass Dumps
CCNA
200-301
200-901 DevNet
200-201 Cyber Ops

What are the CCNA exam topics:
The following topics are a general guide to what may be included in the exam:
Domain 1: Network basics (20%)
Domain 2: Internet access (20%)
Domain 3: IP connectivity (25%)
Domain 4: IP services (10%)
Domain 5: Security Basics (15%)
Domain 6: Automation and programmability (10%)
For a complete CCNA course outline, please chat with us!  https://t.me/SPOTOCiscogroup
Preparation Guide for the Cisco CCNA (200-301) Exam
Having understood the exam details and course syllabus, we will now move on to the most critical path that will take you to your destination. You will be sitting for an exam that will require persistent hard work and constant motivation over time. Therefore, you must know in which area you need to work harder to succeed. In addition, having a proper study plan will help you a lot in getting certified.
First, it is best to revise your IT courses/concepts regularly and practice your soft skills like networking, IP basics, services, etc. Subsequently, review your soft skills using Cisco and seek help from experts and experienced IT professionals.
If followed with utmost dedication and honesty, the following CCNA quick study guide will surely help you in the long run.
Books – your best friend
Books are the primary source of knowledge whenever you have any doubts and queries.
The two books included in this set, CCNA 200-301 Official Certification Guide Volume 1 and CCNA 200-301 Official Certification Guide Volume 2, present a complete review and a more challenging and realistic preparation experience.-
CCNA Official Certification Guide 200-301 by Wendell Odom – CCNA 200-301 Official Certification Guide Library is a comprehensive review and practice package for the latest CCNA exam and is the only self-study resource approved by Cisco. It is fully updated to provide the latest CCNA exam topics that are essential to exam success.
.
Subscribe to https://t.me/spotociscodumps to get a free CCNA 200-301 official certification guide bank!
Join a Cisco Study Group
Joining an online study group is always beneficial, no matter where it takes place. When more people are involved, the prospect of getting a problem solved increases steeply. And multiple viewpoints make things more dynamic. These discussions make for more comprehensive research. Introverts have the opportunity to express themselves when they might otherwise prefer not to participate in the debate. The forum does a great job of building community, which is essential to getting to know others.
Join us for latest Cisco exam news!
Cisco group:  https://t.me/spotociscoclub 
CCNA group: https://t.me/ciscoccnademo
Online training courses
CCNA online training is also a beneficial way to help you grasp the CCNA exam topics and skills. With instructor-led CCIE experts, you can consult with experts to solve all your problems and queries. At the same time, you can get a comprehensive understanding of the skills and knowledge needed to get certified quickly with this CCNA course or start your IT career.
What will you get from this course? 
Align with the latest 2021 cisco exam course content
Gain real-world experience through hands-on projects
Get instructional videos aligned with 100% real exam questions
Who can take this course?
*Anyone who wants to prepare for the Cisco CCNA 200-301 (new CCNA) exam or want to enter in the networking career!

Practice Tests
In addition to reading lengthy essays, taking practice tests is a great way to diversify your study strategies and ensure the best results in real-life situations. SPOTO CCNA DUMPS 200-301, covered 100% real CCNA exam questions. Analyzing your answers will help you identify areas that need special attention and let you know how well you are aligned with your exam objectives.
Conclusion 
SPOTO provides 100% real CCNA exam questions and answers to help you master the real CCNA exam! So, start practicing for your Cisco Certified Network Associate CCNA (200-301) exam now!

Latest passing report-100% pass guarantee
Recommend exam study materials:
Please follow and like us: