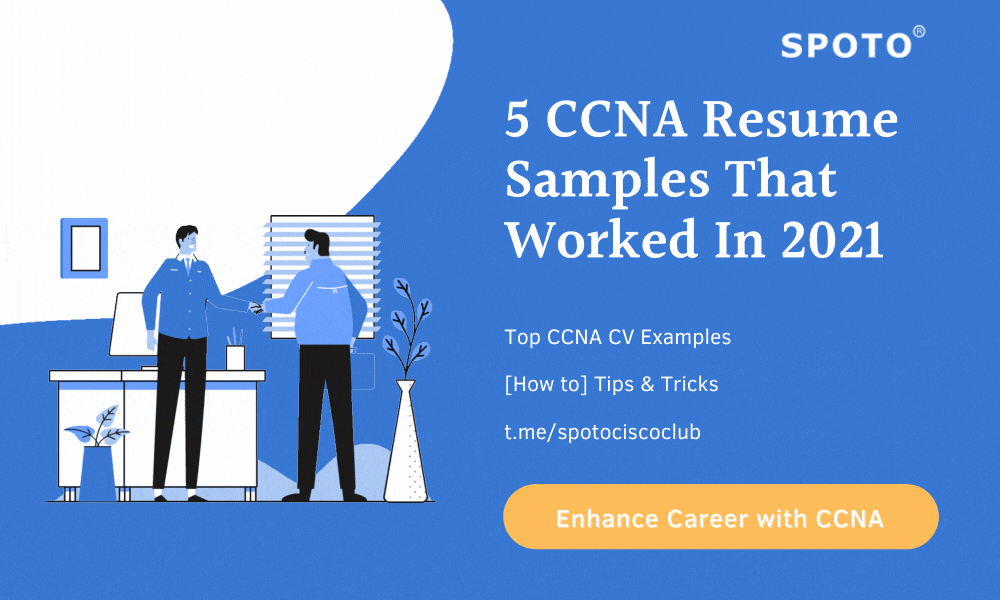 Cisco offers a certified networking education called CCNA. It is one of the most popular networking branches available around the world. Installing, configuring, and even testing the firm's networks is the responsibility of a CCNA specialist. The CCNA is the entry-level networking certification. A CCNA expert has the option of choosing between the roles of Network Engineer and IT Administrator.
Specific Skills and Knowledge for the CCNA Certification: To pass the CCNA exam, candidates must demonstrate an in-depth knowledge of networking fundamentals such as TCP/IP protocols, subnetting and network troubleshooting. Furthermore, proficiency in configuring and managing Cisco devices as well as understanding VLANs, routing protocols such as OSPF or EIGRP as well as network security concepts is necessary for passing this certification exam.
Because CCNA is the first step toward networking, a well-written resume is crucial during the interview process.  Check Updated CCNA Networking Interview Questions and Answers.  You've come to the right place if you're looking for CCNA resume samples to help you write an outstanding resume. 
Categories
Exam Code
100% Pass Dumps
CCNA
200-301
200-901 DevNet
200-201 Cyber Ops

Why is it so crucial to have a resume?
Your resume gives the interviewer the first impression of your strength or qualifications, allowing you to stand out for the position they are hiring for. A resume is a type of summary of yourself, including your schooling, achievements, talents, and other information. More than 90% of candidates copy and paste content from other people's resumes.
A CV is you; it's a piece of paper that represents you.
Showcase Your Accomplishments and Projects: Demonstrating practical application of CCNA skills can greatly boost a resume. Accomplishments may include successfully implementing network infrastructure projects, resolving critical network issues or designing and configuring complex network architectures – these achievements may all count toward building credibility for any CCNA-related endeavors that you undertake.
Crafting an Effective CCNA Resume: When crafting an effective CCNA resume, it is vital to highlight pertinent keywords and tailor the content specifically to each job requirement. Details regarding hands-on experience with Cisco technologies, troubleshooting skills and industry standard tools will ensure your resume stands out. Furthermore, emphasize any certifications, educational background or teamwork experiences which demonstrate your ability to contribute towards network infrastructures.
For various profiles, the resume functions differently. The format of a resume for working professionals differs from that of a resume for starters or freshmen. Before sending your CV to anyone, it's a good idea to go over it twice or three times.
In this post, we'll show you how to write an outstanding resume for the CCNA level. Freshmen and working professionals alike can benefit from these templates.
HR Professionals' Suggestions:
• Keep things simple and straightforward.
• Include some positives. Strong words such as "drove," "implemented," "attracted," "developed," "launched," "increased," and "doubled" will elicit positive emotions in the interviewer's mind.
• Explain your experience with bullet points.
• Double-check your resume's grammar and spelling.
•The font used in the text should be standard.
Your CV should clearly demonstrate your Cisco Network technical competence if you are applying for technical positions. That's because of CCNA Skills and Current Networking Trends: Its The networking landscape continues to transform thanks to innovative technologies like software-defined networking (SDN), network automation, cloud computing, and Internet of Things (IoT), all reshaping landscapes that could give CCNA professionals an advantage in today's job market. SDN professionals should adapt their skills accordingly so as not to fall behind these developments in knowledge of these trends and remain competitive. SDN, cloud computing and IoT developments offer strategic advantages when applying CCNA skills with regard to these developments that would give an advantage on these developments can provide them an advantage on job markets that require professionals with such credentials CCNA professionals are already present: software-defined networking (SDN) is rapidly developing within networking landscapes while cloud computing and Internet of Things (IoT). Understanding these developments provides strategic advantages when applying them CCNA professionals can remain aware of these trends can provide them a competitive edge in job markets that demand them: SDN is being redefined with cloud computing reshaping networking landscapes while understanding where CCNA skills align with these developments can provide them a strategic edge when searching job market competition; therefore understanding where these developments can provide you an advantage. At the CCNA level, you should be familiar with the following topics, which you can include in your resume under the Technical Expertise Head.
CCNA Topics to include in your resume:
Cisco IOS (Internetwork Operating System)

• Access points, three-tier designs, and network topologies (Star, Mesh, Hybrid)

• OSI and TCP/IP models, TCP and UDP protocols

• Configure, validate, and troubleshoot IPv4 addressing and subnetting

• Unicast, Broadcast, and Multicast IPv4 address types

• The IPv6 addressing scheme in a LAN/WAN context

• Supernetting, ARP, Frame Relay, HDLC, PPP, Route Summarization, and Hsrp vrrp glbp

• IPv6 addressing configuration

• VLAN configuration and troubleshooting

• Interswitch connectivity configuration and troubleshooting

• Trunk ports, DTP, VTP (v1&v2), Native VLAN

• STP protocols configuration and debugging, PVST+ and RPVST+

• Cisco Discovery Protocol, LLDP, EtherChannel

• Troubleshoot single area and multi-area OSPFv2 for IPv4

• Troubleshoot EIGRP for IPv4, troubleshoot RIPv2 for IPv4

• PPP and MLPPP on WAN, PPPoE, GRE tunnel connectivity

• DNS lookup, DHCP, TFTP, DNS, HSRP, NAT, PAT, NTP operation

• port-security DHCP snooping

• Configuration of DHCP snoop
The topics listed above are only for your information. Verify what you already know and what you don't. You can also add more topics based on your knowledge and expertise.
Job Market and Career Prospects: A CCNA certification opens up numerous job opportunities for network administrators, network engineers and technical support specialists alike. Demand for certified individuals remains strong with an expected job growth rate projected within networking. Salaries depend on factors like experience, location and job role – though average ranges for certified individuals within competitive levels have been noted.
Avoiding Common CCNA Resume Mistakes:
In order to ensure your CCNA resume stands out, it's vital to avoid common mistakes. These include providing insufficient details about technical skills or failing to quantify accomplishments; using vague or generic language; or failing to tailor it specifically to job requirements. Creating an effective resume takes meticulous attention to detail, clarity and concise presentation of information – these three qualities must all come together seamlessly for a powerful application.
Studies of Successful CCNA Resumes and Applications: Reviewing successful CCNA resumes can provide valuable insights into how applicants presented their skills and experiences effectively. Study these examples carefully in terms of structure, formatting and language used; adapt these samples as much as possible to highlight your own qualifications while remembering to incorporate industry-specific keywords and customize each application for which your submit.
So, here are the top 5 ready-made CCNA resume samples. You may save them, change them, and utilize them.
You may also like: Top 10 Tips for Successful CCNA Exam Prep
CCNA Resume Template 1:
Use this template if you are a recent graduate with no prior experience.
There are nine categories on the resume:
• CCNA Certifications Logo 
• Header (should contain)Your Full Name Your Email Address 
• Your Phone Number 
• Career Objective
• Summary of your profile: Provide a summary of yourself in 4-5 bullet points.
• Technical Proficiency and Knowledge:
– Include all technical topics in this section.
• Academic credentials
• Internships/Projects/Industrial Training (If any)
• Personal Information • Extra-Curricular Activities
• Footer:
– CCNA Resume Template 2: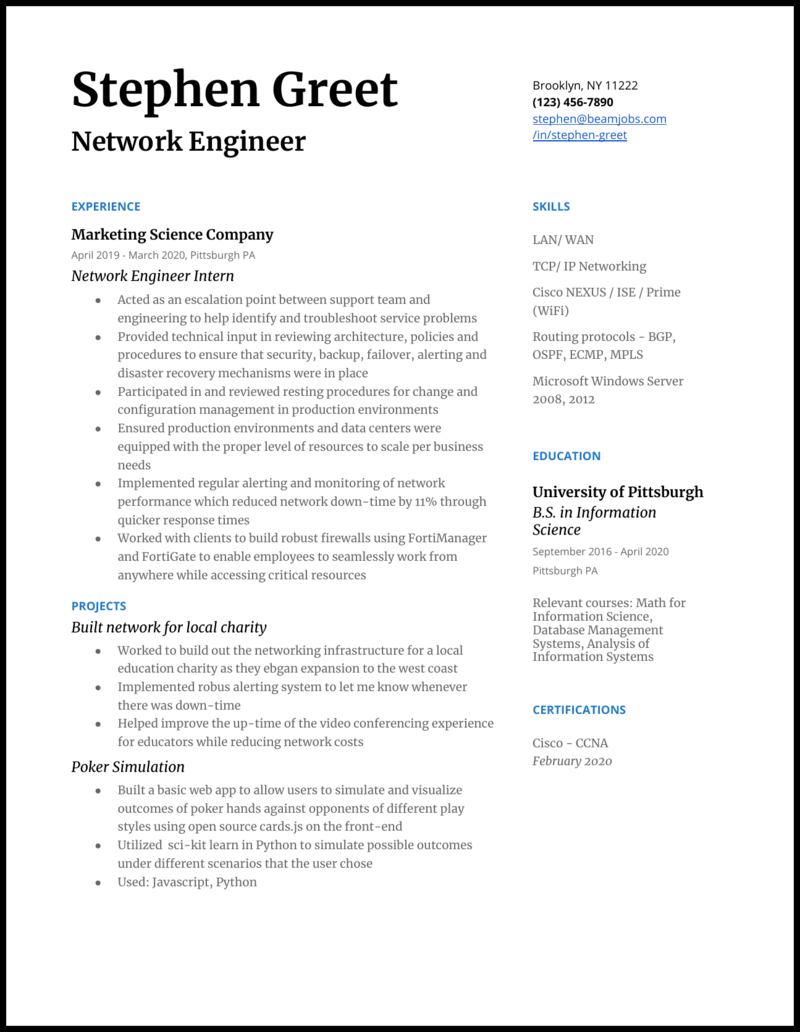 Why this resume works
Without a long work history, entry-level network engineer must communicate their qualifications.

Because this is a junior network engineer position, any relevant college classes that qualify them for the position should be included. On your resume, you should always lead with your strongest suit, and for an entry-level network engineer, it can be their schooling.

This applicant listed relevant undertakings they completed outside of the classroom. This demonstrates that they are self-motivated and have strived to get a deeper grasp of what it takes to be a successful network engineer on their own.
CCNA Network Engineer Resume 3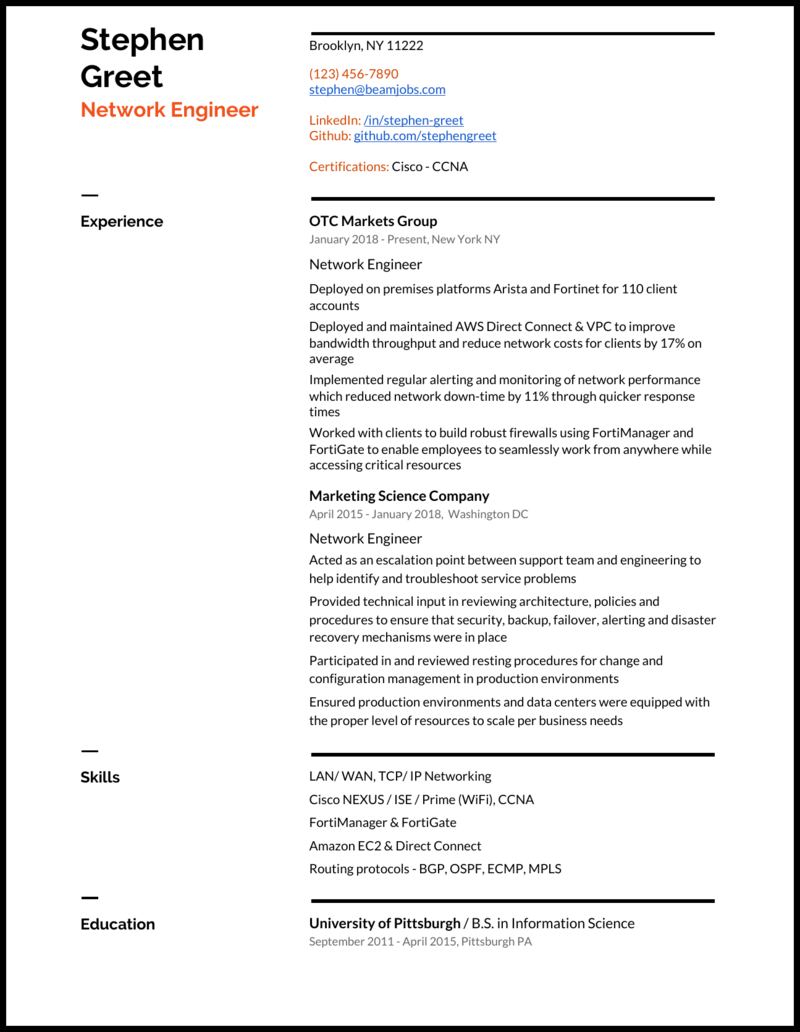 Why this resume works
Because this is a Cisco position, the candidate should have lead with their "CCNA" qualification; Certifications, on the other hand, can help you stand out from the crowd when applying for a more specialized position.

Because this network engineer has a lot of experience, the schooling component of the resume is only a small part of the total CV.

When it comes to resume objectives, only include one if it is extremely relevant to the job you're going for. It's preferable not to have a resume aim than to have one that is generic and adds no value to your resume.
Senior Network Engineer Resume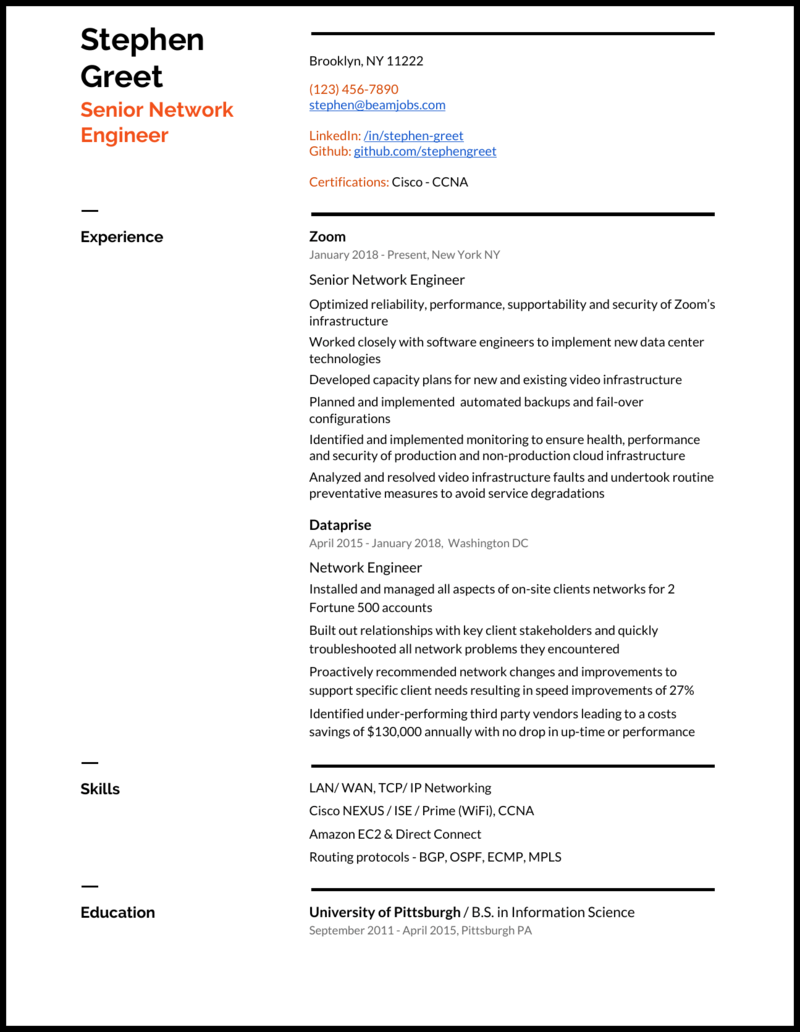 Why this resume works
• From Dataprise to Zoom, there is a clear succession of duties. As a senior network engineer, you want to make it apparent that as your career advanced, you've taken on greater tasks.
• This network engineer demonstrates that they have worked on a wide range of projects, from security to support to planning, demonstrating that they can contribute to a variety of businesses.
• The work experience portion of the resume takes up the majority of the resume because this is a senior network engineer. This is just how it ought to be. When you have a few years of experience, hiring supervisors are more interested in what you've done in previous positions.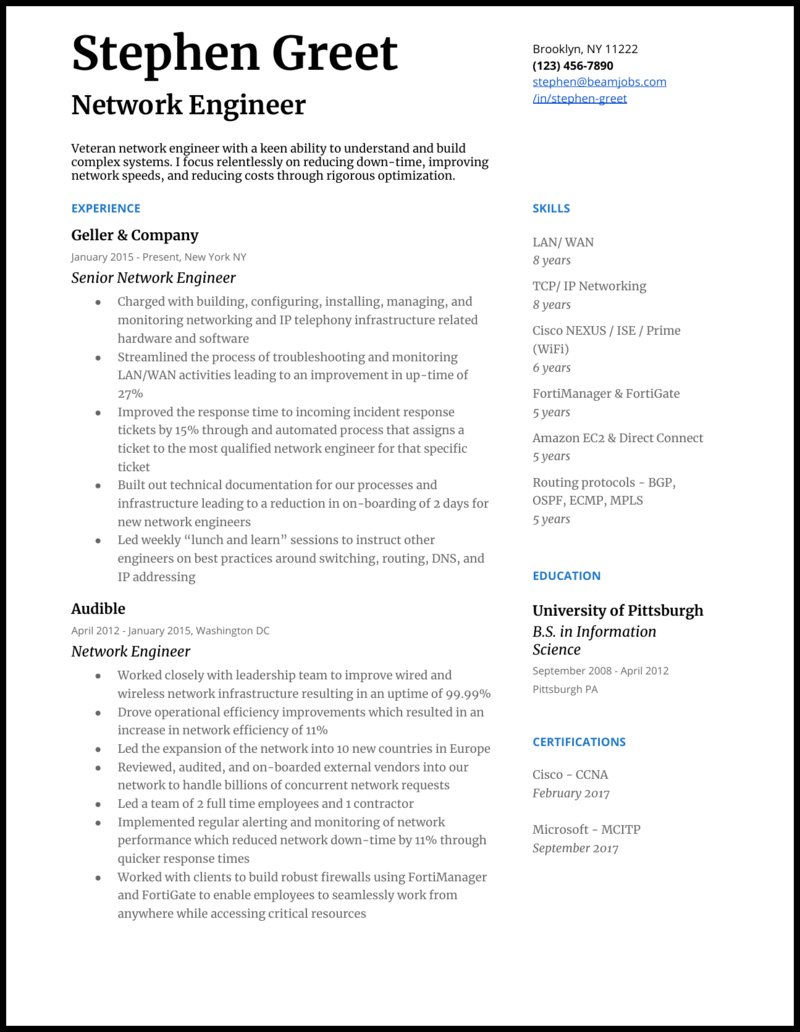 Why this resume works
• This network engineer's job experience displays project ownership. The impact of the efforts is quantified whenever possible.
•When evaluating a resume, a hiring manager must quickly determine whether or not you will have a significant influence on their company. You'll make a compelling case for an interview if you can show you've had a meaningful influence in previous employment.
• Action verbs such as "drove," "lead," and "implemented" are frequently used. These action verbs suggest that you are capable of taking charge of your responsibilities.
• The section on "skills" is thorough but not exhaustive. You don't want your resume to read like a laundry list of talents. It's preferable to show mastery of a few talents rather than a broad knowledge of a variety of techniques and technology.
Conclusion
These 5 resume samples can help you build up a general view of how to write a networking engineer resume with CCNA certification! If you want more CCNA certification info or if you want to get more higher-level certification to polish your resume with CCNP, CCIE certifications!  Trusted by 2100+ CCIE certification holders, you can join our CCIE lab study group to know the secrets of passing CCIE lab after the big change!

Download Free Cisco CCNA practice tests
Latest passing report-100% pass guarantee
Related Cisco exam study materials 
Please follow and like us: