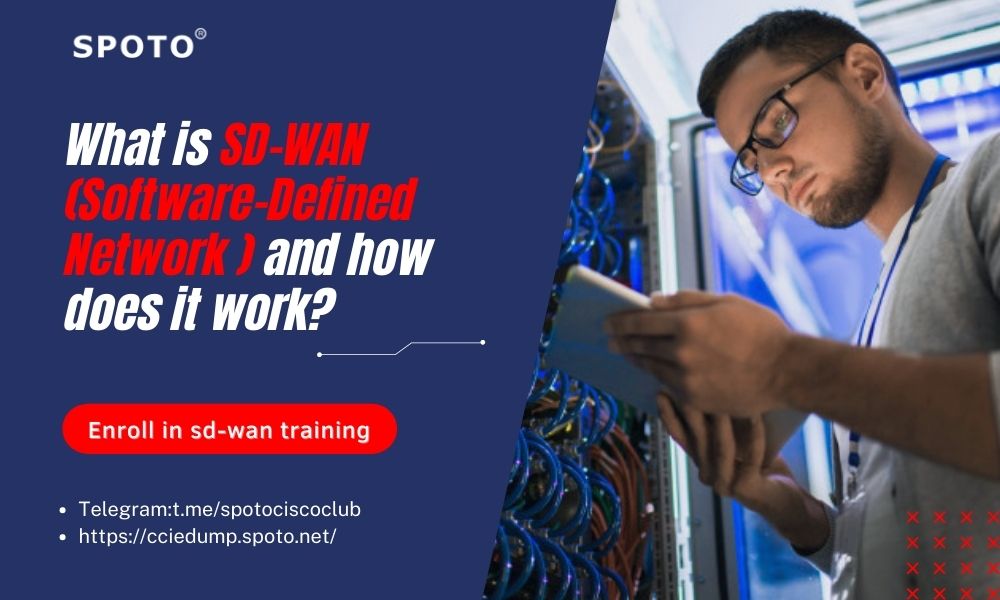 SD-WAN stands for Software-Defined Wide Area Networking. We will discover what SD-WAN is, how it differs from MPLS/legacy WAN, why we need SD-WAN, and what the distinctions and similarities between SD-WAN and SDN are in this post. Let's get this party started.
A Software-defined Wide Area Network (SD-WAN) is a virtual WAN architecture that allows businesses to securely link users to applications using any mix of transport services, such as MPLS, LTE, and broadband internet services.
To safely and intelligently route traffic across the WAN, an SD-WAN employs a centralized control function. This improves application performance and provides a high-quality user experience, resulting in more business productivity, greater agility, and lower IT expenses.
Categories
Exam Code
100% Pass Dumps
CCNA Dump
200-301/200-901/200-201
CCNP Dump
CCNP Core
CCNP Concentration
CCIE Lab Dump
CCIE EI/DC/SP/Col/Dev
PMI Dump
PMP/RMP/PgMP/ACP/CAPM
ISACA Dump
CISA/CISM/CRISC/CGEIT
Other IT Dump
AWS/Microsoft/Aruba/Comptia/F5/Juniper
Proxy Service
PMI-PMP, ACP, CAPM
PCNSC/ITIL V4/AWS/VMware
ISACA-CISA/CISM/CRISC

What sets SD-WAN apart from traditional WAN?
Traditional WANs, which rely on traditional routers, were never intended for cloud use. They usually necessitate backhauling all traffic from branch offices/spokes to a hub or headquarters data center, where advanced security inspection services can be implemented. Backhaul delays impact application performance, resulting in a bad user experience and decreased productivity.
Unlike traditional router-centric WAN architecture, the SD-WAN model is built to fully support applications hosted in on-premise data centers, public or private clouds, and SaaS services like Salesforce.com, Workday, Office 365, and Dropbox, all while delivering the highest levels of application performance.
What is the purpose of SD-WAN?
Enterprises can employ a Software-Defined Network to optimize their connectivity usage. It intelligently distributes traffic across the WAN, allowing users to connect to any application from the data center to the cloud, no matter where it resides, by providing a dynamic path among transportation alternatives – FTTH, MPLS, 4G/5G, or broadband.
SD-WAN comes with a plethora of useful functions.
1. Remotely setup and provide devices from anywhere in the WAN, lowering costs while enhancing productivity; manual provisioning is required in legacy WANs. Zero-touch provisioning is available in most basic SD-WAN solutions. On the other hand, basic SD-WAN systems do not necessarily provide complete end-to-end orchestration of all WAN edge operations like routing, security services (including service chaining to advanced third-party security services), and WAN optimization. When businesses need to deploy new applications or make changes to their QoS or security policies, a business-driven SD-WAN supports a centralized setup, allowing changes to be made in minutes rather than weeks or months.
2. Load balancing across numerous ISP links without the use of redundant external routers and switches. The ability to actively use several forms of WAN transport is a fundamental benefit of an SD-WAN solution. A primary key can guide traffic along a single way on an application-by-application basis. If that path fails or performs poorly, it can dynamically redirect traffic to a better-performing link. On the other hand, many essential solutions have failover periods in the tens of seconds or more significantly, resulting in unpleasant application disruption. All underlay transport services are intelligently monitored and managed by a business-driven SD-WAN. Even when WAN transport services are disrupted, it can overcome packet loss, latency, and jitter to provide the most significant application performance levels and QoEX to consumers. Unlike a standard SD-WAN, a business-driven SD-WAN effortlessly handles a whole transport loss and provides sub-second failover that doesn't disrupt business-critical services like voice and video communications.
3. Intelligent Routing: For the best class of experience, prioritize network traffic based on performance factors.
4. Centralized Management: Increased control and visibility by managing many branch office connections from a single management panel.
5. Security: SD-WAN provides cutting-edge security capabilities (p2p tunnels, access control, intrusion prevention, botnet prevention, VPN, network anti-virus, and so on) to protect critical infrastructure.
6. Scalability: Can be scaled horizontally and vertically to meet needs.
7. Self-Healing constantly: A basic SD-WAN system directs traffic based on pre-defined rules, often programmed through templates. When any network circumstance or change occurs, such as congestion or impairments, a business-driven SD-WAN ensures optimal application performance. A business-driven SD-WAN responds immediately in real-time to any changes in the status of the network through continuous monitoring and self-learning. A business-driven SD-WAN adapts to real-time changes in real-time, automatically adapting to any changes that could affect application performance, such as network congestion, brownout, and blackout conditions, allowing users to always connect to applications without the need for manual IT intervention. If a WAN transport service or a cloud security service, for example, experiences a performance issue, the network automatically changes to keep traffic flowing while adhering to business standards.
Also read: How to prepare for the Cisco 300-415 ENSDWI Exam? Complete Guide
What is the difference between SD-WAN and VPN?
On the other hand, a business-driven SD-WAN delivers more extensive, end-to-end security features than a standard SD-WAN. The SD-WAN platform should orchestrate and enforce end-to-end micro-segmentation across the LAN-WAN-Data center and the LAN-WAN-Cloud, in addition to enabling a stateful zone-based firewall. Compared to a device-centric WAN model or a basic SD-WAN model, which sometimes requires configuring policies on a device-by-device basis, centrally established security policies are considerably more consistent due to fewer human errors. If a procedure needs to be changed, it is programmed centrally with a business-driven SD-WAN and sent to 1000s of nodes across the network, resulting in a considerable gain in operational efficiency while minimizing the entire attack surface and averting security breaches.
What is the difference between an SDWAN and a Software Defined Network (SDN)?
The primary difference between SDWAN and SDN is how they are used, but there are other differences as well, which are listed below.
| | |
| --- | --- |
| SDWAN | SDN |
| Deployed in branch offices and data centers | Mainly used in data centers |
| Centralized orchestration, control and zero-touch provisioning | Centralized orchestration and control |
| Off-the-shelf x86 appliances – physical, virtual, cloud | Variations of commodity and specialized switching hardware |
| Savings come from leveraging lower WAN transport and infrastructure costs and improved operational efficiencies | Savings come from improved operational efficiencies |
Both SDN and SD-WAN use the same concept to make networking more intelligent by separating the control plane from the data plane. In many ways, they are architecturally similar:
Control plane — centralized management or orchestration
Data plane — distributed data forwarding function
Traffic routing strategies based on applications
SPOTO SD-WAN Training Course
Conclusion
In this article, we have learned about SD-WAN, how it is different from MPLS / legacy WAN, Why we need SD-WAN & what are differences & similarities between SD-WAN & SDN. I hope you found this information. Like our Telegram channel if you enjoyed the article. Or if you need more details about SD-WAN technology, subscribe to our channel or join our study group to get more informative study materials!

Latest passing report-100% pass guarantee
Related Cisco exam study materials 
Please follow and like us: