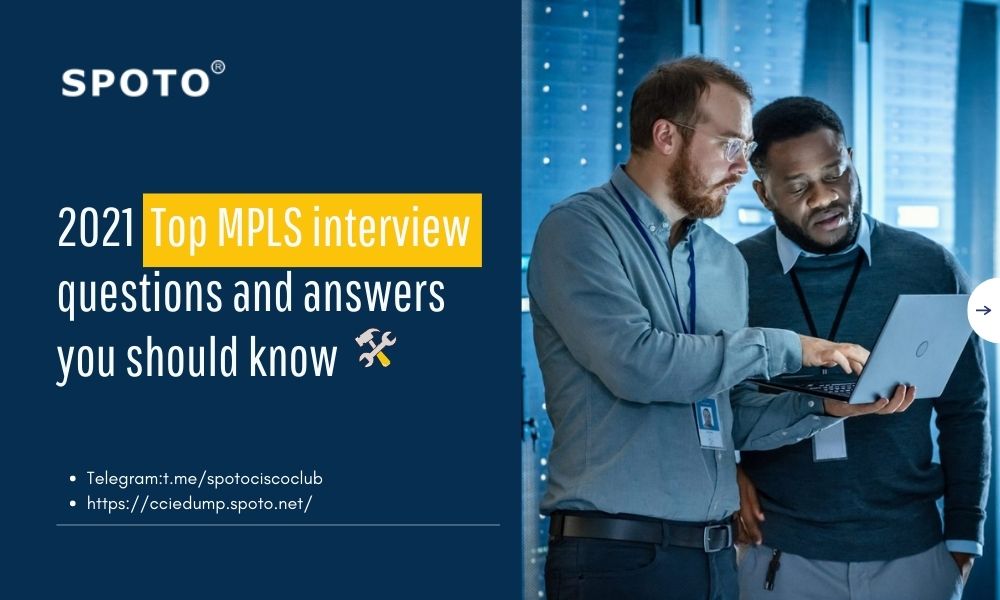 Do you seek work as a professional MPLS network? Or do you want to quit your current position with a new organization in an "MPLS Network Domain?" This article is a must-read for you if you responded yes to either of those question(s), and any of the technologies and questions listed could be asked during the interview!
You have to bring your brilliance out for the most successful existence in this technical profession. The job is based on high-performance telecommunications network data transport technology. There are many offers and different jobs for your career. Read these top interview questions and answers regarding Multiprotocol Label Switching (MPLS) jobs.
Categories
Exam Code
100% Pass Dumps
CCNA Dump
200-301/200-901/200-201
CCNP Dump
CCNP Core
CCNP Concentration
CCIE Lab Dump
CCIE EI/DC/SP/Col/Dev
PMI Dump
PMP/RMP/PgMP/ACP/CAPM
ISACA Dump
CISA/CISM/CRISC/CGEIT
Other IT Dump
AWS/Microsoft/Aruba/Comptia/F5/Juniper
Proxy Service
PMI-PMP, ACP, CAPM
PCNSC/ITIL V4/AWS/VMware
ISACA-CISA/CISM/CRISC

Q1. What is MPLS?
MPLS stands for "Label Switching Multiprotocol." The inbound packets are allocated a label in an MPLS network via a "Label Edge (LER) router." Packets are transmitted through a 'label changer path' in which the transmission choice is made based on the contents of each 'label switch router (LSR).' The LSR strips the present label at every hop and applies a new label to show how the packet will be redirected to the next hop.
Network operators are setting up Label Switch Paths (LSPs) for various purposes, for example, to ensure a specific level of performance, route around network congestion, or build IP tunnels for Network-based virtual private networks. In many respects, LSPs in ATM or Frame Relay networks are no different from circuit-switched pathways except that they are not dependent on a particular layer two technology.
An LSP traverses numerous layer two transports, like ATM, Frame Relay, or Ethernet can be constructed. One of the real promises of MPLS is, therefore, the ability, across any type of transport media, to establish end-to-end circuits with precise performance characteristics eliminating the need for overlay networks or Layer 2 controls solely. Also read: Cisco Knowledge Point Analysis: MPLS L2VPN Implementation
Q2. What has been the development of MPLS?
Many of the earlier technologies were evolved, such as the "Tag Switching" by Cisco, the "RIS" by IBM, and the "Cell Switched Router" by Toshiba. Further information can be found at http://www.watersprings.org/links/mlr/ on each of these technologies.
The Working Group on MPLS was established in 1997 by the IETF.
Q3. What are the issues solved by MPLS?
The initial objective of the label-based change was to move layer 2 to layer three speeds. Label-based switching approaches allow routers to choose the forwarding content of a simple label instead of a complicated route search using the target IP address. This initial rationale is no longer considered the key benefit for technologies like MPLS because Layer 3 switches (ASIC-based routers) allow route surveys at enough speeds to handle most interface types.
However, MPLS provides IP-based networks with numerous more features, including:
Traffic Engineering: The Network's capacity to determine routing traffic and the ability to define performance for a traffic class
VPNs – Without encryption or end-user apps, service providers can construct IP Tunnels across their Network.
Layer 2 Transport – New standards created by the working groups IETF PWE3 and PPVPN permit Layer 2, including Ethernet, Frame Relay, and ATM services to be delivered to IP/MPLS core service providers.
Multiple layer elimination – In general, the majority of carrier networks use the overlay model with the deployment of SONET/SDH in layer 1, ATM in layer two, and IP in layer 3. By using MPLS, carriers can shift many of the SONET/SDH and ATM control operations to Layer 3, lowering the complexity of network administration and Network. Carriers networks may eventually transition away altogether from SONET/SDH and ATM, which implies that the cell charges of ATM inherent in transporting IP traffic are removed.
Q4: How do VPNs and MPLS differ? 
Ans:- VPN is usually a virtual private network that can be set up utilizing GRE tunnels. This requires you to set up n*n-1 tunnels if you want a full mesh as an admin. However, with MPLS VPN, CPE works completely as a mesh by default due to the routing objective.
You may also like: How can you compare SD-WAN vs. MPLS?
Q5: What is MPLS, and why is it so popular soon?
Answer:- the MPLS is a technique for moving the label to the next-hop address. MPLS does not work. It is popular because CPN needs to be utilized (Converge Packet Network).
Q6: How does the MPLS protocol work?
Answer:- TDP or LDP is used by MPLS.
Q7: What layer does MPLS function on?
Answer: Works from layer 2 to layer 3.
Q8: How does the P router differ? 
Answer: P router does not have customer network routes, where customer network routes are available in the PE router. The router P does not need MP-iBGP, but it must be for PE.
Q9: Could I use P to create my PE router?
Answer:- You must remove the BGP configurations and do not use the customer network to make your PE router as P.
Q10: There are four identical cost lines between two routers; how many LDP sessions are set?
Answer:- One sitting
Q11: My LDP, OSPF, and BGP router ID are different; are they going to help customer traffic move forward or not?
Answer:- If SP is utilizing labels for loopback exclusively, then the LDP router-id and BGP router-id should be identical. There would be no problem if labels were generated for each route.
Q12: How does Penultimate Hop Popping look, and why is it necessary? Which PHP function router performs?
Answers:- Last-second router is used to delete the top-most label of the Penultimate Hop Popping.
Q13: What are the various label types?
Answer:- Zero, Explicit zero, Label Aggregate, etc.
Summary
From the perspective of clearing an interview in the network environment in MPLS, the aforementioned questions are quite collective and crucial.
A candidate should consider the following points before being confronted with an interview:
• A rapid revision of the technology concerned
• Read your CV all over and describe your strengths/weaknesses, achievements, and former roles and duties
• Professional credentials enable the interviewer to understand your degree of knowledge (if you have any)
• An updated LinkedIn profile will help you receive job advice and references for the tasks you want.
You can follow @ https://t.me/spotociscodumps and consider joining our Cisco Exam Group to get updates on new posts and technologies if you are interested to know more about your MPLS interview questions and answers or other Cisco CCNP interview questions.

Also, if you want to differentiate yourself from competitors, it is best to gain Cisco certification! With SPOTO Cisco exam dumps and real Cisco exam questions and answers, you can pass the Cisco exam in the first attempt to improve your career! Get CCNA interview questions and answers pdf download.

Latest passing report-100% pass guarantee
Related Cisco exam study materials 
Please follow and like us: