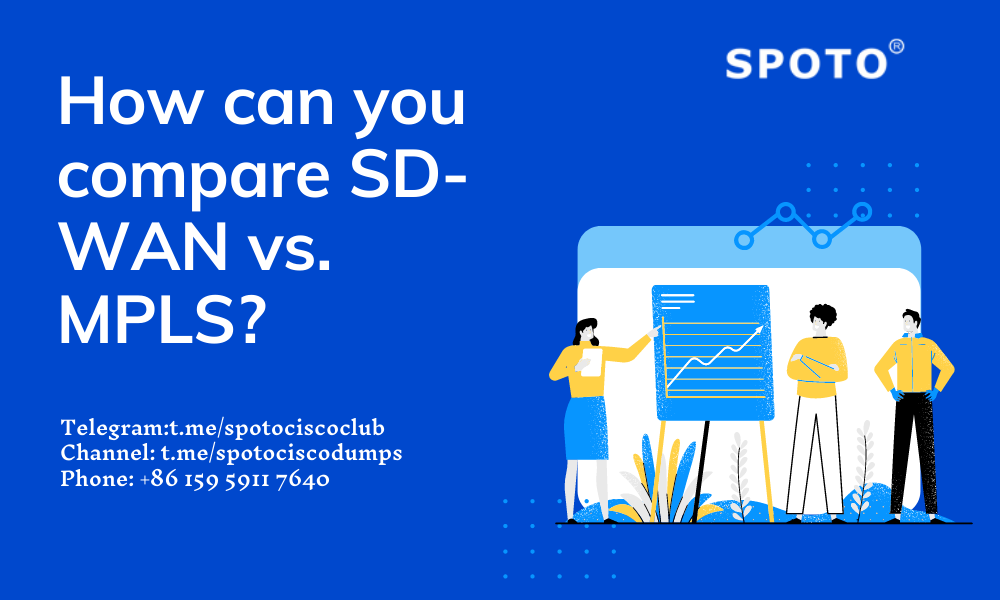 MPLS was once the only way to implement a reliable, high-performance vast area network (WAN). Unfortunately, this is not the case anymore. Software-defined wide-area networks (SDWAN) are an alternative that can be used to build modern networks.
Let's discuss a common issue among network engineers and IT leaders regarding traditional WAN technology such as Multiprotocol Label Switching (MPLS) over Software-Defined Wide Area Networking. Is it worth replacing your MPLS with SDWAN? Many IT leaders are enthusiastic about the benefits of SDWAN, such as cost reductions, flexibility, speed of deployment, and ease of use. This article will provide details about both and compare them in terms of four aspects.
If you want to know about SD-WAN theory and skills, you can enroll in SPOTO SD-WAN training course for the latest  updated technology.
Definition of MPLS vs. SD-WAN
Multiprotocol Label Switching (MPLS) directs network traffic and data along a path using labels. It does not require complex routing table lookups at every point. MPLS technology is a proprietary technology that works much like routers and switches. MPLS technology uses packet-forwarding technology (which can virtually isolate packets) to make data forwarding decisions.
MPLS can be deployed on distributed, high-performance networks. It delivers packets reliably and with high QoS (Quality of Service). As a result, MPLS minimizes packet loss in more increased priority traffic and keeps the organization's most critical traffic flowing. High-level QoS is crucial for VoIP and other real-time protocols.
Software-Defined Wide Area Network is an automated software solution for managing branch connections. This solution expands software-defined networks (SDNs) to allow enterprises to quickly create an intelligent hybrid WLAN network, which includes Internet (either broadband (or DIA).
In the past, MPLS channels were used to provide secure and reliable connections. However, they are not suitable for today's rapidly expanding cloud environment. Today, WANs have to deal with the increased demand for video streaming and data sharing.
Hybrid WAN architectures enable companies to manage a growing number of applications, mainly when they use the cloud. Unlike traditional WAN architectures, the SD-WAN model is designed to fully support applications in local data centers or public or private clouds. It also provides the best application performance.
If you are interesed in SD-WAN technology and want to pass 300-415 ENSDWI exam, you can Try SPOTO Free CCNP 300-410 and 300-415 Practice Tests to Prep Your Exam 

Or join our Cisco study group to download the free SD-WAN guide!

Comparing MPLS vs. SDWAN focuses on four areas.
Packet loss and availability
Quality of Service (QoS).
Security
Connectivity
Pros and cons of SD-WAN and MPLS
Packet Loss and Availability
MPLS' most significant strength is its ability to deliver data packets quickly and provide high-quality service. MPLS excels in this area while managing packet loss. This is a valuable asset for anyone interested in real-time protocols like Voice Over IP (VOIP), video conferencing, and virtual desktops. In addition, MPLS networks, even though they are part of shared infrastructure, provide reliable packet delivery.
Service quality
SD-WAN has made it possible to improve packet delivery over the Internet significantly. Networks must manage packet loss issues before QoS can be considered. The idea is that QoS prioritized traffic over the Internet does not make it effective. Customers use two links to prevent packet loss: broadband and Cellular. This is a common practice. This is where SD-WAN's advantage comes in. Two access routes to the Internet provide the customer with the identical resilience as MPLS, but at half the cost.
Security
MPLS runs on a shared network. However, security is quite substantial due to the unique design of MPLS. Every MPLS network is set up as a Closed User Group. An MPLS solution allows only the network's nodes to access and read data. The Internet, however, does not have such a mechanism. It also can't protect data, which could lead to security holes and breaches.
Connectivity
Here are the cons to MPLS data. First, MPLS data is not encrypted by default and can pose a problem for users who need additional steps. This requires staff to be familiar with Open Shortest Path First (OSPF), Border Gateway Protocol (BGP), and other related terms. Second, SD-WAN provides extra security by using the Internet to transport data. It also offers a simple solution to secure data transmitted over the Internet via secure Virtual Private Networks. Finally, although internet configurations can be complicated, SD-WAN simplifies them by using tunneling. This allows for faster processing than MPLS.
| | |
| --- | --- |
| MPLS | SD-WAN |
| Hardware and network dependent | Software-defined WAN with Virtual Network Functions (VNF) |
| Lengthy provisioning of high cost, dedicated circuits | Short provisioning times leverages Broadband |
| Complex on-site provisioning | Zero-touch provisioning |
| Major purpose-built hardware investments | Integrated multifunctional appliances |
| Costly implementation and operation | Up to ~50% cheaper total cost of ownership (TCO) |
| Complex WAN management | Unified WAN & appliance management |
| Complicated enterprise security and no encryption | Simple and tailored branch security (NGFW, VPN,SIEM services, Encryption) |
| Murky visibility and control | Clear transparency with visibility and control |
| Carrier dependent | Carrier agnostic |
| Strong network resiliency | Agile resiliency (automated failover) |
| High QoS and Packet Loss avoidance | Conditional QoS (redundant links needed to prevent packet loss) |
| Best for mission critical links between two locations | Best for distributed enterprises with failover needs like Cellular |
What if you can combine both?
Yes. Companies can combine MPLS and SD-WAN to get the best of both. While less critical data can be transmitted via the Internet, sensitive real-time information can automatically be routed to the MPLS.
Due to their high cost, MPLS is not always reliable and fast enough for all connectivity. SD-WAN, however, is more affordable and less complicated. Companies with multiple locations can choose which branches require MPLS by using a hybrid approach. A combination of SD-WAN and networking options can be used to maintain reliability and speed in companies without connectivity options.
MPLS is still used for many SD-WAN deployments in organizations to connect branch offices to their data center. SD-WAN manages the data flows of those circuits and the commodity internet lines used to connect branch offices to the Internet.
SD-WAN vs. MPLS shouldn't be viewed as an either-or but rather as a complementing solution.
Why SD-WAN is gaining popularity
Cloud applications and other services are increasingly being integrated into organizations' networks as their attack surface expands to meet the needs of a changing workforce. Because today's internet lines work faster than traditional MPLS, this shift is combined with the need for security controls to make SD-WAN more popular. As a result, redundancy and improved connectivity are now more possible.
SD-WAN not only lowers IT costs for organizations but also increases productivity and improves user experience.
Despite all the benefits, SD-WAN solutions are often unable to keep up with modern security challenges. As a result, security must be integrated into any SD-WAN solution's networking functionality.
SD-WAN solutions must provide a cloud backbone network that includes multiple tenants and regions. This will improve the delivery of networking between SD-WAN edge devices. Every company may not require this type of network architecture. Companies with multiple divisions or those who seek to separate and apply the different rule set based upon traffic types (e.g., a manufacturer separating IT traffic from OT traffic) are likely to reap the most significant benefits.
To grasp SD-WAN technologies, you need to enroll in the SPOTO SDWAN theory course. This will keep you up to date with technological developments. You should also be familiar with SD-WAN technology if you are planning to take the Cisco exam. Start today, and you will be an IT professional tomorrow!
THE BOTTOM LINE
MPLS allows you to manage your play with no knowledge or flexibility from other players. SD-WAN acts as a quarterback. It will enable you to read the play being called by the defense and reach an audible change. While a defensive end is not meant to replace the quarterback, it can give you some options to better your situation.

Latest passing report-100% pass guarantee
Related Cisco exam study materials 
Please follow and like us: