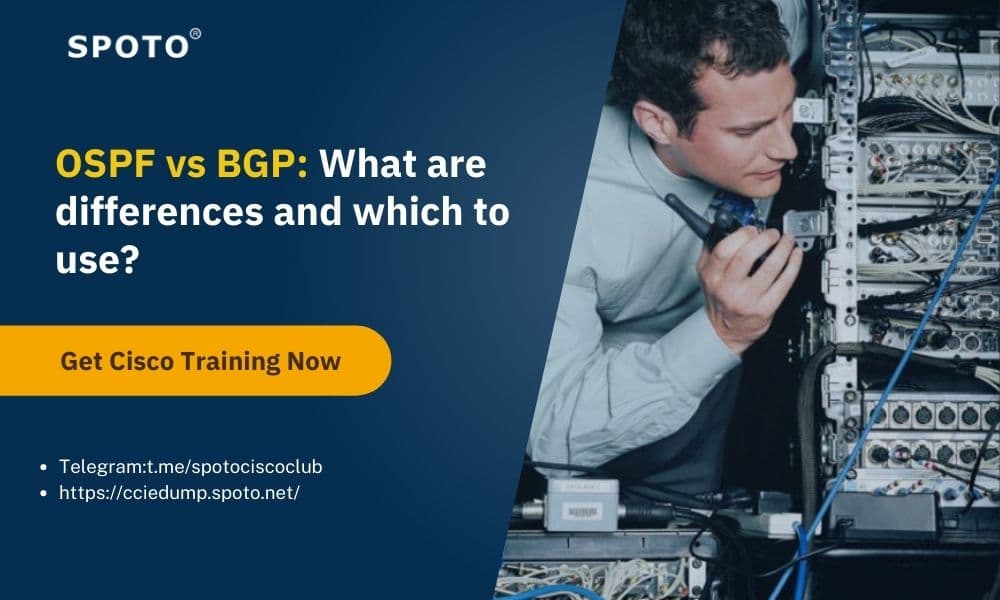 Both OSPF (Open Shortest Path First) and BGP (Border Gateway Protocol) are routing technologies that govern Internet routing. They are rules or algorithms that advise network routers on how to communicate with one another to be routed to the best path. What are the distinctions between OSPF and BGP? What should I do if I can't decide between the two?
Categories
Exam Code
100% Pass Dumps
CCNA Dump
200-301/200-901/200-201
CCNP Dump
CCNP Core
CCNP Concentration
CCIE Lab Dump
CCIE EI/DC/SP/Col/Dev
PMI Dump
PMP/RMP/PgMP/ACP/CAPM
ISACA Dump
CISA/CISM/CRISC/CGEIT
Other IT Dump
AWS/Microsoft/Aruba/Comptia/F5/Juniper
Proxy Service
PMI-PMP, ACP, CAPM
PCNSC/ITIL V4/AWS/VMware
ISACA-CISA/CISM/CRISC

OSPF: Only for Internal Use Link-State Routing
OSPF stands for Interior Gateway Protocol (IGP). These are used for internal network routing, as the name implies. Typically, this would be between switches and routers on the same site. OSPF has also utilized Layer 2 connections between offices on occasion. Although OSPF is the most extensively used, it is not the only one. It is the most standardized IGP, allowing for optimal vendor interoperability. Because OSPF is a link-state routing protocol, it is mainly utilized for internal routing.
OSPF is built on Dijkstra's method for determining the shortest path between two places. OSPF is based on the concept of "areas." Most networks combine all OSPF prefixes within an autonomous system into a single region named 0 for backbone, ensuring that each node has a complete view of the topology. As a result, each device can determine the best next hop for any given destination. This comprehensive view does have certain drawbacks, including the need for more memory and CPU resources. As a result, OSPF is typically utilized for internal rather than external routing.
Use BGP for Exterior Routing: Your Internet Gateway
BGP stands for Border Gateway Protocol (EGP). Not to be confused with the "Exterior Gateway Protocol," which was utilized for internet routing before BGP. Protocols like BGP are commonly used for external network routing at the network's edge. This could include internet edge routing or MPLS/private network routing between facilities/organizations. An EGP is often implemented where your network interfaces with another provider. Today, BGP is the standardized EGP.
What Are the Differences Between OSPF and BGP?
The primary distinction between OSPF and BGP is that OSPF is an intra-domain routing protocol that uses link-state routing and performs routing operations within an autonomous system. In contrast, BGP is an inter-domain routing protocol that uses path-vector routing and performs routing operations between two independent systems. Other differences between OSPF and BGP include:
• Configuration: OSPF is simple to configure; however, BGP configuration is much more complicated.
• Convergence rate: OSPF can achieve faster convergence (when it takes a router to share and update the most recent routing information). The BGP, on the other hand, has a slow convergence rate.
• Network topology or design: OSPF is a hierarchical network topology or design, whereas BGP is a mesh topology or design.
• Requirements for resources: OSPF necessitates extensive usage of memory and CPU resources. The size of the routing table, on the other hand, dictates the needed device resources in BGP.
• Scalability: BGP is more versatile and scalable than OSPF and is utilized on bigger networks.
• Preferred path: OSPF determines the fastest route, whereas BGP focuses on selecting the best path.
• Protocol: The internet protocol is employed in OSPF. The transmission control protocol is utilized in BGP.
Here is a table that summarizes the differences between OSPF and BGP:
Here is a chart summarizing the differences of OSPF vs BGP:
| | OSPF | BGP |
| --- | --- | --- |
| Gateway Protocol | Internal gateway protocol | External gateway protocol |
| Implementation | Easy | Complex |
| Convergence | Fast | Slow |
| Design | Hierarchical network possible | Meshed |
| Need for device resources | Memory and CPU Intensive | Scaling is better in BGP although it relies on the size of the routing table |
| Size of the networks | Used on primarily smaller scale network which could be administered centrally | Mostly used on large scale networks such as the internet |
| Function | The fastest route is preferred over shortest | Best path is determined for the datagram |
| Algorithm Used | Dijkstra algorithm | Best path algorithm |
| Protocol | IP | TCP |
How to Choose Between OSPF and BGP
Now that you have a basic grasp of OSPF and BGP, you may be wondering when and how to use or use them. On the one hand, if you are doing internal routings, such as routing within a site, company, or campus, you should utilize OSPF because it is designed for internal network routing. Typically, this would operate across switches and routers in the same location. If, on the other hand, you plan to build on-site with many dwellings, you should think about BGP. In general, most service providers would use BGP to carry customer routes.
One thing to keep in mind is that they do not always compete with one another; in most circumstances, they are employed in tandem. OSPF is the most commonly used protocol in data centers for internal routing between network switches and/or routers. When the traffic needs to move to another organization, whether it's to another site on an MPLS network or the internet, BGP frequently comes into play.
Three prominent network switches that handle both BGP and OSPF are listed below.
N5860-48SCS
5850-48T4Q
Ports
48 x 10Gb SFP+; 8 x 100Gb QSFP28
48 x 10G BASE-T; 4 x 40Gb QSFP+
20 x 10G SFP+; 4 x 25G SFP28; 2 x 40G QSFP+
OSPF
✔
✔
✔
BGP
✔
✔
✔
Key Features
MLAG, Stack, VXLAN, EVPN, OSPFV2/V3, BGPV4/V6, Netconf, PFC, ECN, GR
VLAN, QoS, IGMP Snooping, Link Aggregation, Static Routing, RIP, OSPF, IPv6 support, VxLAN/MPLS/EVPN, Advanced Routing Protocol (BGP/ISIS), MLAG
QoS, IGMP Snooping, Link Aggregation, IPv6, L3 Static Routing, RIP, OSPF, Advanced Routing Protocol (BGP/ISIS), Advanced Security, Stack
Application Scenario
Small-sized data centers and cloud computer services
The next generation Metro and enterprise network
SMB or campus networks requiring low latency and high-density backbone architectures with basic routing capability.
Although BGP is utilized as an external routing protocol between various autonomous systems, many network behemoths such as Microsoft and Facebook would employ it internally — in this instance, BGP is often suitable for very massive networks that OSPF cannot handle. One of the numerous reasons why BGP does not work well as an internal gateway protocol is its poor convergence.
Conclusion
Now that you have known the OSPF and BGP technologies, if you want to learn more about Cisco technologies, SPOTO Cisco CCNA, CCNP, CCIE exam dumps, and Cisco training programs will help you get the latest trended technologies and get Cisco certifications to boost your salary to a higher level!

Latest passing report-100% pass guarantee
Related Cisco exam study materials 
Please follow and like us: