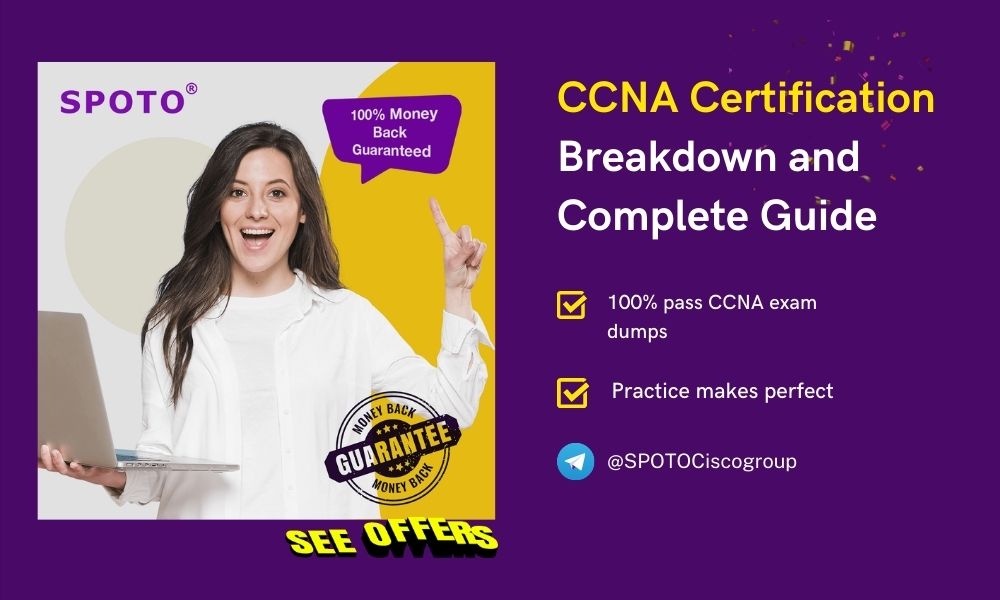 The CCNA, which stands for Cisco Certified Network Associate, is Cisco's entry-level networking qualification. Cisco Certified Network Associate is an associate-level certification demonstrating a candidate's understanding of networking essentials such as network access, IP connectivity, security basics, and automation and programmability.
The CCNA is a frequent prerequisite for associate-level networking occupations like network engineer, network administrator, network support technician, or help desk technician. There used to be ten CCNA concentrations, each focusing on cloud, collaboration, security, data centers, wireless, and other topics. After a reform in February 2020, Cisco CCNA certification only requires one exam-200-301 exam.
Categories
Exam Code
100% Pass Dumps
CCNA
200-301
200-901 DevNet
200-201 Cyber Ops

Why do you require a CCNA?
The CCNA is one of the top 15 technology certificates sought by businesses, according to a Robert Half poll of more than 3,000 senior managers. It also serves as the foundation for two additional Cisco certifications on the list of in-demand IT credentials: Cisco Certified Network Professional (CCNP) and Cisco Certified Internetwork Expert (CCIE).
"Having a CCNA demonstrates the candidate has the aptitude for learning as well as the aggressiveness to pursue a goal," says Rob Parsons, practice director for network-integrated security at Tempe, Arizona-based Insight, a consulting business that frequently employs networking specialists.
What you'll need to get started with the CCNA
There are no formal requirements for obtaining the CCNA certification. However, according to Cisco, CCNA candidates are better have one or more years of experience installing and operating Cisco products and fundamental IP addressing expertise. According to Cisco, the CCNA certification validates a person's abilities and knowledge in network foundations, network access, IP connectivity, IP services, security fundamentals, and automation and programmability.
While some of the information is exclusive to Cisco gear, most of it applies to other vendors. The way you set up a Cisco router may differ significantly from how another vendor does it. However, once you grasp the technology, you just learn someone else's command set and apply the same notions.
What does the CCNA entail?
The CCNA is divided into three sections: networking, security, and automation.
Cisco provides general guidance for the subject that will most likely be included in the CCNA exam. Network basics questions may ask candidates to explain the purpose and function of network components and describe the characteristics of various network topology architectures. Test-takers may be expected to configure and verify VLANs or arrange the components of a wireless LAN access for client connectivity to demonstrate their comprehension of network access.
Defining essential security concepts; setting device access control using local passwords; configuring Layer 2 security capabilities such as DHCP snooping, dynamic ARP inspection, and port security; configuring and verifying access control lists are all covered in the security basics section.
Candidates should be able to compare traditional networks with controller-based networking, for example, to demonstrate an understanding of automation and programmability. Test-takers may be asked to define REST-based APIs' properties and recognize the capabilities of configuration management mechanisms such as Puppet, Chef, and Ansible.
How much do CCNA certified individuals earn?
The average pay for a CCNA is $80,206, according to Payscale.
When do most individuals acquire their CCNA?
According to Goreflo, technology professionals can obtain the CCNA at any stage in their careers. They could be in college or have recently graduated, have begun their jobs, or be working in other fields of technology and want to transition to networking. "I don't believe there is a bad time," he says. It can help someone start a job, change careers, or advance their career, he explains.
How do you get ready for the CCNA?
Preparing for the CCNA exam might take anywhere from a month to six months, depending on experience and how actively one learns.
There are other intensive boot camps, he says, for those who are 50 to 75 percent of the way there because they've already worked in the field and have on-the-job experience. "A typical boot camp lasts a week," Parsons explains. "However, if someone is beginning from scratch, they will most likely need to locate a longer program."
Cisco sells official study resources through its Cisco Press online store for people who prefer self-study. The "31 Days Before Your CCNA Exam: A Day-By-Day Review Guide for the CCNA 200-301 Certification Exam," for example, costs $40 ($26 for the ebook version).
You may also like:  Top 10 Tips for Successful CCNA Exam Prep
Training sessions and study materials are also available from hundreds of other organizations in addition to Cisco. SPOTO, for example, provides 100 % genuine CCNA practice exams and CCNA exam dumps, which have assisted hundreds of candidates in passing the CCNA exam on the first try!
There are no official prerequisites for taking the CCNA exam – or the study courses – but test-takers often have a year or more of experience with Cisco products and grasp the fundamental concepts of networking and IP addresses.
To see if you're ready, take these free practice questions to check your preparation right now!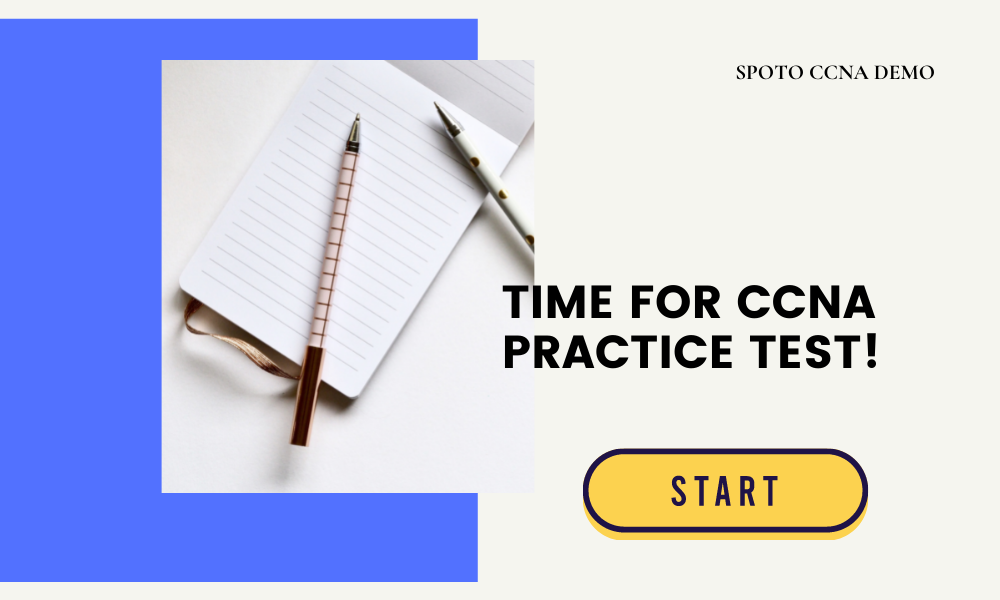 How does the exam work, and how much does it cost?
Pearson is in charge of the CCNA exam testing. The CCNA exam is known as the "200-301 CCNA," which costs $300. The exams are proctored and can be taken in person, in a physical place, or online. Learn how to take the CCNA exam online.
What comes next after obtaining a CCNA?
According to Carl Fugate, leading enterprise architect at Capgemini's North American Cloud and Edge Center of Excellence, technology is developing exponentially, and networking, in particular, is undergoing a tremendous transition. "The tools and platforms that are entering the market are fundamentally transforming the way we think about implanting and managing networks," he says.
This means that networking experts must consistently invest in their education. For example, Fugate claims that he possessed a CCNA early in his career, but it is no longer sufficient. "Today's networking has become so broad that you need to specialize in particular areas."
Cisco provides several advanced certifications.
Following the CCNA is the Cisco Certified Network Professional (CCNP). There are a few specialization possibilities at this level, including CCNP Enterprise, CCNP Security, CCNP Data Center, CCNP Collaboration, and CCNP Service Provider. There were eight different certifications at this level before 2020, but Cisco merged the CCDP, CCNP Routing and Switching, and CCNP Wireless certifications into a single CCNP Enterprise certification last year.
According to Payscale, the average pay for someone with a CCNP certification is $96,552, which is almost $15,000 higher than the salary for someone with a CCNA certification alone.
The Cisco Certified Internetwork Expert is the next step up from the CCNP. CCIE Enterprise Infrastructure, CCIE Enterprise Wireless, CCIE Collaboration, CCIE Data Center, CCIE Security, and CCIE Service Provider are the six specializations available.
It's essentially the same set of certifications as before 2020, with the exception that CCIE Routing and Switching has been renamed CCIE Enterprise Infrastructure and CCIE Wireless has been renamed CCIE Enterprise Wireless.
According to Payscale, the average compensation for someone holding a CCIE certification is $128,410.
What are the CCNA alternatives?
Competing vendors provide their networking certifications as well. Juniper Networks, for example, offers Certified Internet Specialist (JNCIS) qualifications. In contrast, VMware offers five certification tracks about data center virtualization, network virtualization, cloud management and automation, desktop and mobility, and digital workplace. There are other vendor-neutral credentials available, such as CompTIA's Network+.
Cloud qualifications, according to Fugate, should also be considered by experts. The majority of big cloud providers provide cloud certifications for their systems. Two common examples are AWS Certified Solutions Architect Professional and Microsoft Certified Azure Solutions Architect.
"With the migration to the cloud, networking skills are more important than ever," Fugate says.
Conclusion
If you want to give your IT career a lift and would like to enter the networking field, you should get CCNA certification with SPOTO 100% pass CCNA exam dumps and real CCNA exam questions and answers!

Latest passing report-100% pass guarantee
Related Cisco exam study materials 
Please follow and like us: