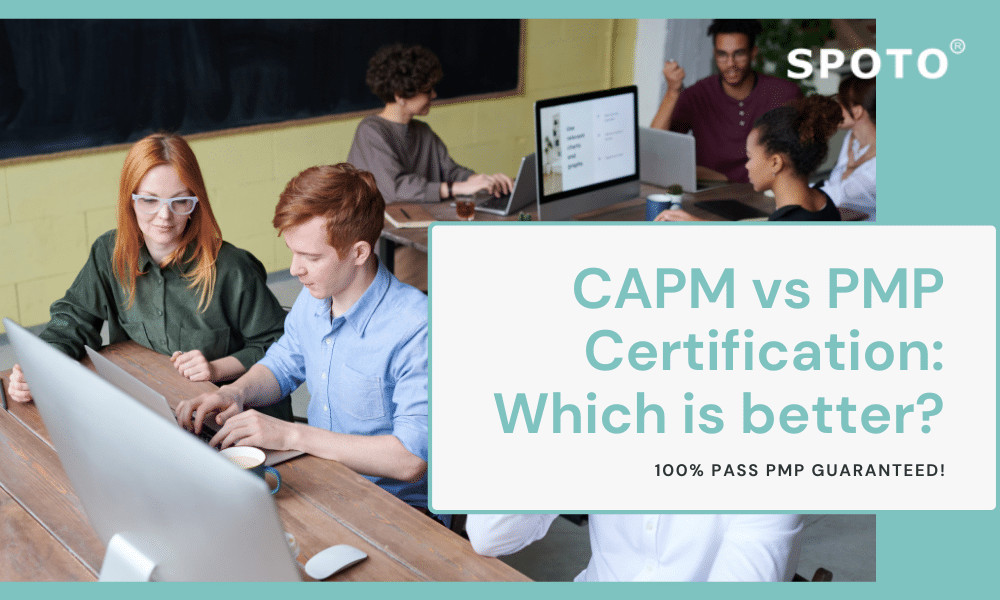 Project management is one of the fastest-growing occupations, with more than 15 million jobs expected to be created by 2020. To fill these positions, companies in many industries are looking to hire new project managers with the necessary qualifications and expertise to impact their organizations positively.
Both the Certified Associate in Project Management (CAPM)® and the Project Management Professional (PMP)® are professional certifications issued by Project Management Institute (PMI) that enhance credibility and provide professionals with the opportunity to improve their skills, lead large projects and advance their careers. It is essential to know about the differences between the CAPM and  PMP certifications (project management certification)attached to one's desired career goals. Such differences lie in prerequisites, cost, difficulty, and industry-wide perceptions.
Categories
Exam Code
100% Pass Dumps
PMI
PMP
RMP
CAPM
PgMP
ACP
PMP proxy service
PMI-ACP proxy service
PMI-PBA proxy service

CAPM and PMP Certification Requirements
The prerequisites for the CAPM exam are listed below.
– Secondary education (high school diploma, associate's degree, or global equivalent)
– 1,500 hours of project experience
OR
– 23 hours of project management education completed before the exam
As CAPM certification candidates do not need to have project management experience or a four-year degree, the CAPM is suitable for college graduates or even current students who want a certificate to support their resume and enter a project management career.
Since the CAPM is suitable for those just starting in the workforce, candidates must have 23 hours of project management education before taking the exam. Project management education can be completed online, allowing candidates to meet this requirement without putting their professional or college obligations on hold. Some universities may also offer this level of project management education as part of a degree program.
The prerequisites for the PMP certification exam are listed below:
– A secondary school degree (high school diploma, associate's degree, or global equivalent)
– 7,500 hours leading and directing projects
– 35 hours of project management education
OR
– Four-year degree
– 4,500 hours leading and directing projects
– 35 hours of project management education
While a bachelor's degree is not required for PMP certification, candidates with a four-year degree are more advantageous. Unlike CAPM requiring 1,500 hours of general work experience – PMP candidates with a four-year degree need 3,000 fewer hours of experience leading and directing projects than those with a secondary degree. 
In addition, the PMP certification requires 35 hours of project management education, while the minimum requirement for the CAPM is 23 hours. SPOTO online PMP training course can help you obtain the 35-hour project management education requirements. 
CAPM and PMP Certification Exam Fees
CAPM exam fee: $225 for PMI members and $300 for non-members
PMP exam fee: $405 for PMI members and $555 for non-members.
PMP exam fee is more expensive than that of CAPM exam as the PMP exam is more complicated and valuable. The good news is that many companies would cover the cost of employee education and professional credentialing. 
What is the difficulty level of the CAPM and PMP certification exams?
As the CAPM is best for candidates who want to enter the project manager career, the CAPM exam is much easier than the PMP exam. 
CAPM exam questions almost come from the PMBOK® Guide, namely, studying PMBOK® guide is enough to prepare CAPM certification aspirants. 
On the other side, the PMP certification exam is more challenging, as it is suitable for mature professionals with specific project management experience. The PMP exam is also derived from the PMBOK® Guide, but it contains questions designed to test whether candidates know how to handle real-world project management scenarios. Therefore, to pass the PMP exam, PMI recommends studying the PMBOK® Guide, the PMP exam content outline, and the PMP Handbook and attending a PMP online training course like that offered at SPOTO.
CAPM vs. PMP certification. Benefits to the Industry
As the CAPM is more accessible to obtain than PMP certification, you may ask why not get CAPM certification only? The answer is obvious. PMP certification is the most recognized and well-known certification in the project management area all over the world.  
PMP certifications are widely accepted in nearly every country. Many employers use PMP certification as criteria when hiring project managers because PMPs verify the knowledge and skills needed to lead complex projects and guide project teams. Organizations complete more projects on time and budget when more than a third of their project managers are PMP certified. However, PMPs don't just bring value to their organizations: according to PMI's "Salary Survey," project managers with PMP certifications earn 20% more than those without.
While the CAPM certification is not as widely recognized as the PMP certification, it demonstrates an understanding of PMI's project management framework and project management processes, which can undoubtedly benefit candidates when applying for jobs compared to those without any certification. In addition, CAPM-certified employees have some knowledge of the PMBOK® guidelines, which can be the first step toward eventual PMP certification.
SPOTO PMP Online Training Course
Whether you're starting your project management career or have years of experience in the field, SPOTO's online project management program can help you gain the knowledge and skills necessary to excel in your industry and effectively plan, coordinate and control complex projects.
This course is a video lecture that explains the concepts from an exam perspective and how these concepts interrelate throughout project management.
This will help you understand project management from both a micro and macro perspective, enabling you to connect these concepts and pass the exam with ease.
The course fulfills the 35 educational hours required by PMI for you to take both the CAPM and PMI exams. PME instructors will give a detailed explanation on the 3 Project Management Process Domain one by one:
• People 42%
• Process 50%
• Business Environment 8%
Also, if you want to learn the PMP exam, you need to read the PMBOK, also known as the management body of knowledge, and project management body. If you want to manage projects well in the future, getting PMP certification is a good way to enhance your management skills.
Besides, you can choose SPOTO PMP exam dumps which cover 100% real PMP exam questions and answers to help you pass the PMP exam on the first try.  Or we also have CAPM exam dumps to help you ace the CAPM exam with flying colors.

Latest passing report-100% pass guarantee
Recommended PMP exam study resources: 
Please follow and like us: