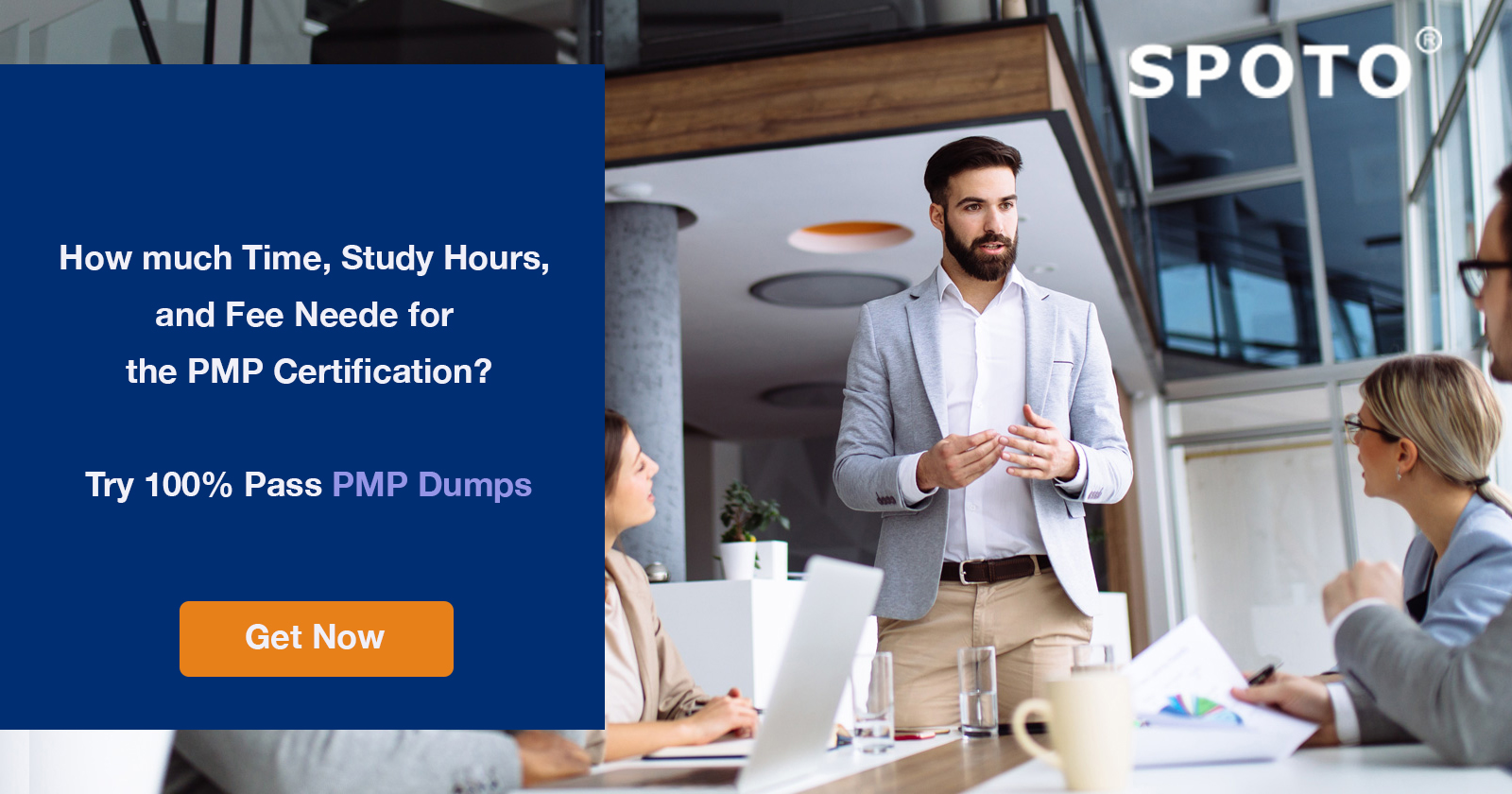 Obtaining the PMP® Certification can cost you a lot of money, time, and effort. It is imperative to estimate whether your budget and study time will allow you to make the PMP® your next career achievement.
This article gives you some rough numbers to write about the money, time, and effort required to take the PMP® exam and maintain your PMP® Certification to help you estimate the availability of resources.
Just like the projects we manage every day, a good plan is half the battle. With the information presented here on the PMP® exam, hopefully, aspirants will develop a plan for success that best suits their needs.
Categories
Exam Code
100% Pass Dumps
PMI
PMP
RMP
CAPM
PgMP
ACP
PMP proxy service
PMI-ACP proxy service
PMI-PBA proxy service

Time and Study Effort Commitment for the PMP®
It is often said that the PMP® exam is complex and requires a lot of preparation (this is why the PMP® certification is such a valuable professional recognition).
But as someone who has never prepared for the PMP® exam, how do you know how long it will take to prepare thoroughly? The actual learning time required will usually not be determined until halfway through your studies (this is my own experience).
Fortunately, the latest survey of 100 PMP® who successfully passed the PMP® exam would give us some ideas about the time required. The survey asked 100 PMP® who recently passed the PMP® exam. It shows that candidates may need as quickly as a week of study or more than six months of preparation to pass the PMP® exam. The average time required is approximately two months and 3 hours of study time per day.
On average, aspirants need about 180 hours of study time to obtain PMP® Certification successfully.
Is 180 hours a long time and not easy to afford? Let's do some mathematical operations.
Assuming that you can devote 8 hours a day to prepare, you can complete it in about 23 days (less than one month).

Assuming you can spend 4 hours a day for preparation, you can do it in 45 days (less than two months).
However, please note that the time required for the PMP® exam depends on personal abilities and learning styles. The average figure here is just a reference. It would help if you considered your past exam preparation time to make a more accurate estimate.
"SPOTO candidates passed the PMP exam with SPOTO PMP exam dumps within 14 days! Check out here for the details of PMP exam dumps."
Money needed to be invested-cost of PMP® Certification 
For most aspirants, the minimum payment items required for the PMP® certification exam are as follows.
 To become a PMI member (US$139

)-you will get savings on PMP® exam fees and a free downloadable PMBOK® guide (this is usually regarded as the textbook for the PMP® exam).

 PMP® Certification Exam Fee (US$405)

-only applicable to PMI members, the PMP ® Certification Exam Fee for non-members is US$555.

35 hours of project management education (depending on the course)

-even if you have received project management education before, it is best to participate once, because the exam preparation course will help you prepare and pass the PMP® exam

PMP® Exam Simulator

(the cost depends on the situation)-This is a practice exam taken before the real PMP® exam to see if you are ready to take the actual exam (try free PMP quiz 

here

to test yourself).

PMP® Exam Preparation Study Guide

 (~$100)-Your review textbook
Adding the above items, the minimum PMP® certification fee is approximately US$1,000.
You can choose to study in the classroom with your teacher (this will cost about $1,000, not to mention travel expenses and rest days).
In addition, depending on the location of your test center, some candidates may need to fly to the city where the test center is located the night before and stay in a nearby hotel.
These additional costs vary from person to person, so they are not considered in our simple calculations. However, you should know whether this applies to you.
Input for PMP® recertification 
Acing the PMP® exam and obtaining PMP® Certification is not the end of your PMP® certification trip. The PMP® certification is valid for three years from the date of passing the PMP® exam. If you intend to maintain your PMP® certification status, there will be costs involved for the rest of your life.
PMI requires each PMP® to obtain at least 60 PDUs (1 PDU equals 1 hour of project management education/services) during each 3-year recertification period. You need to set aside at least 60 hours every three years to collect, record, and report the PDUs you get during the recertification cycle (luckily, this is not a lot compared to the 180 or more hours you spend on preparation Time) PMP® exam).
In addition, some PDUs may cost money, but there are many ways to get PDUs for free.
For example, as a PMI member, you get enough free PDUs every three years (essentially, this is not free because you have to pay a membership fee of 129 X 3 USD every three years, or 387 USD).
Of course, if you are willing to take a more suitable course for your professional or personal needs, the cost of the course must take into account the cost of recertification.
After you successfully collect the required PDUs, you will be required to pay the PMP® recertification fee (or PMP® renewal fee).
PMI membership: 60 USD (again, this means that the annual fee to maintain PMI membership is $129 to save PMP® renewal fees and provide free PDUs).

Non-PMI member: 150 USD
What's the next step?
Suppose PMP® is your next career goal and you can set aside the money (about $1,000) and time (about 180 hours) to prepare for the PMP® exam. In that case, it's time to start the PMP® journey – get started with SPOTO 100% pass PMP exam dumps with real PMP exam questions and answers as your study materials and chooses the proper SPOTO PMP® training which gives 35 hours of PDUs and instructor-led professional training with the latest PMP exam theory!

Latest passing report-100% pass guarantee
Please follow and like us: