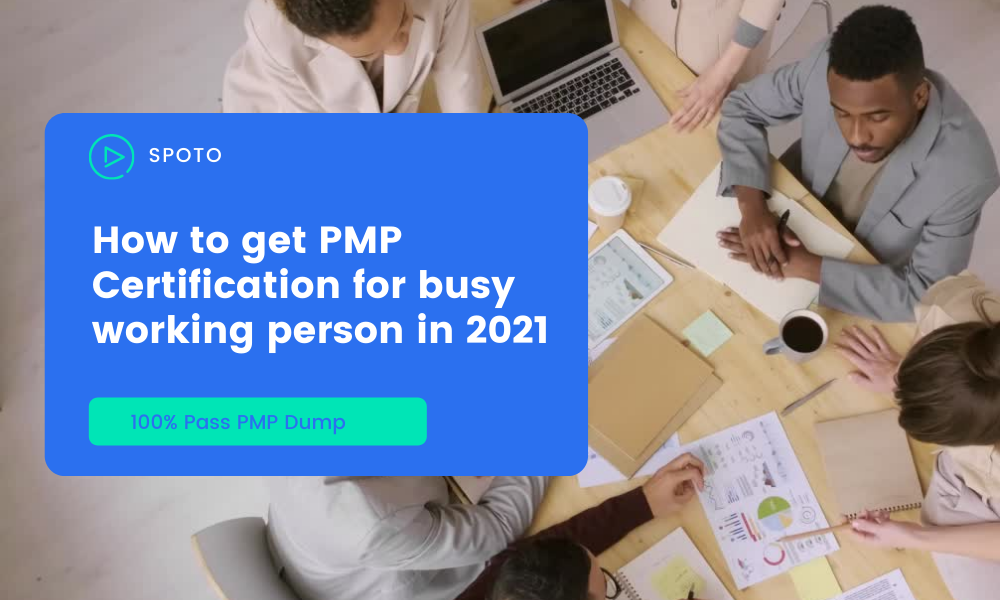 As PMP updated on Jan 2. 2021, the difficulty level is essentially the same as the former PMP® Exam. This post will give guides on how to balance your work and family during PMP exam preparation. I hope you will find something beneficial for your PMP® practice!
Not enough time to earn PMP® certification?
Are you a busy working professional and don't have enough time to prepare for the PMP exam? This guide was written specifically for busy professionals like you. It's packed with information on how to get certified in the shortest amount of time!
Categories
Exam Code
100% Pass Dumps
PMI
PMP
RMP
CAPM
PgMP
ACP
PMP proxy service
PMI-ACP proxy service
PMI-PBA proxy service

Step 1 – Check if you are eligible to take the Exam
Determine if you are eligible to apply for the certification based on the following two criteria
Degree + 3 years (at least 4,500 hours) of project management experience or

High school diploma + 5 years (at least 7,500 hours) of project management experience

35 contact hours of formal project management training obtained through

As part of your college/university project management education

Project management lectures/exam preparation courses/boot camps

Online project management/exam preparation courses (more on this option later)
Note: You are not required to count the experience as a "project manager," but your job should primarily plan and lead projects throughout their lifecycle.
Step 2:
 Verify that you have the required information.
Before applying for certification, make sure you have all the necessary documents/certificates to verify your education and experience, including.
College/high school diploma

Certificate of 35 contact hours (don't worry if you don't have the contact hours at this step)
Details and proof of your project management experience – you can also ask your supervisor (the person who will sign your professional experience verification form if you are asked to review it) to agree to your project management experience to save you the hassle later.
Step 3 – Take an Exam Preparation Course 
If you currently hold a CAPM® certification, you will be granted a 35-contact hour project management education requirement waiver.
If you have not yet earned the 35 contact hours, you may take an exam preparation course to earn a certificate and help you prepare for the Exam.
If you have a 35-contact hour certificate, we also strongly recommend that you take this course, as your 35 contact hours are likely not based on the PMBOK® guidelines – which make up a large portion of the exam syllabus. In addition, as long as you complete the course after the Exam, you will earn a minimum of 35 PDUs for your recertification.
Contrary to popular belief, PMP® exam preparation courses do not have to be time-consuming or expensive. In addition, there are online distance learning options.
However, starting in 2021, PMI does not allow its registered educational institutions (PMI Authorized Training Partners (A.T.P.)) to offer the option of the least expensive pre-recorded online courses. However, people can still use the training and shared experience from these courses to help them prepare for the PMP® Exam, although these courses are no longer considered "pre-approved" by PMI – you need to add a step to gather all the course outlines/content/certificates that show you have at least 35 hours of project management study to qualify.
"SPOTO PMP training is an excellent example of such a cost-effective online PMP® course. "
What will you get from the course? 
1. Theory Training Aligned With PMBOK 
2. 35 PDUs Included 
3. Obtain PMI Approval 
4. Certified Instructors
5. Access to Training Video Anytime Anywhere 
Well, the PMBOK® Guides are not an exam syllabus! Instead, these guides will provide you with the information missing from the PMBOK® Guide that you will test in the Exam.
Step 4 – Join PMI as a member ($139)
The PMP® exam fee for non-members is $555, while the exam fee for members is $405. Thus, the exam fee savings for members is $150, which is higher than the first-year PMI membership fee of $139 (if you do not join a regional PMI chapter; $129 per year after that). Plus, you can download the PMBOK® Guide for free (a $47.98 value). Plus, you can get free PDUs after you are certified at …….
Step 5 – Apply to take the PMP® Exam ($405)
You can apply for the Exam in the member's area of your PMI member account. At this stage, you only need to enter your personal, educational, and work experience details and do not need to provide any proof (if you are selected for an audit, you will need to show your certificates, etc.).
It is highly recommended that you apply as soon as you get your 35 contact hours certificate. I made the mistake of using it for the Exam too late. Since all applicants are audited, this will take you an extra month. I was selected for the audit, which was unexpected at the time of application.
Therefore, it is highly recommended to apply for the Exam as early as possible to plan your exam date.
During this step, you must pay the exam fee. Don't worry if you are not fully prepared for the Exam because once approved; you have up to 1 year to schedule and take the Exam.
Note: If you are selected for the audit, passing the audit is relatively easy as long as you provide all the required documents on time. 
Step 6 — Schedule the Exam Time Slot
After successfully passing the exam application stage, you will be given an exam code for you to book the exam time slot online through Prometric at http://prometric.com/PMI. PMI will send an email to you with detailed instructions
Note: Book the exam time slot earlier: 
PMP® is a popular certification; exam time slots fill up fast; even now, online PMP® Exam is available 24/7. However, the available proctored exam timeslot is still limited; After choosing the exam date, you need to invest more time study. The good news is that you can postpone the Exam if you are not ready by the scheduled time for FREE provided that you make the arrangement 30 days before your exam date (otherwise, you need to pay a small fee for the change within 30 days).
Step 7 – Prepare for the Exam
Besides taking a PMP training course, it is recommended that you develop a study plan that works best for you to grasp more details and essentials about PMP® Exam.
Here is the study plan based on my personal experience:
l Going through an online exam preparation course and

l Reading the PMBOK® Guide with the online exam preparation course. [3 weeks].

l Read the exam preparation book you purchased in step 4 and complete all the sample questions in it. One week]

l Attempt 1 sample exam to check your current status. One day

l Re-read the PMBOK® Guide and Exam Preparation Book. 1 week]

l Attempt as many sample exams as you can find, record your results and understand your mistakes. 2 weeks]
In total, I spent about seven weeks studying while handling my professional and family duties…… with just a few interruptions to my everyday daily life.
Step 8 – Are you ready to take the Exam?
How to know if you are well prepared for the PMP exam? The quickest way is to do the PMP practice tests to assess yourself and check out how much you will get on the first attempt.
Here SPOTO provides you actual PMP® practice exams that you can use for free! Try now!
It is recommended to complete the full 200 question sample exam within 4 hours to simulate the actual exam circumstance. Therefore, you can well be prepared on the exam day, knowing when to have a break and how to adjust your mentality. 
Step 9 — Take and Pass the PMP® Exam
Remember to go to the exam center at least 1/2 hours earlier than the scheduled time to allow traffic congestion or relaxation time.
Do bring your printed email confirmation of the exam appointment from Prometric.
Stay calm during the Exam as you may find some more difficult questions first. However, believe me, that the questions are going to be easier later on. 
After 4 hours, you will be awarded "PMP®"! Congratulations!
Conclusion
The PMP® Exam is difficult, but you can pass it in the first attempt with suitable study materials for preparation like SPOTO. I hope this guide has pointed you in the right direction with the right mindset for getting certified. Try to get SPOTO 100% authentic PMP dumps and PMP training course to 100% pass the PMP exam.  

Latest passing report-100% pass guarantee
Please follow and like us: