Best Online Project Management Training Courses of 2021
PMP Training Recognized by PMI
PMP Course Aligned with PMBOK
100% Pass PMP Exam
35 Contact Hours Included
Latest PMP Practice Exams
Certified Top PMP Expert Trainer
Latest PMP Exam Feed backs
100% Money Back Guarantee
Overview
Course Outline
PMP Tutors
What you'll learn
Demo
The Project Management Professional (PMP)® credential is a widely recognized and renowned certification that demonstrates project management proficiency, adeptness, efficacy, and professionalism. Below we list the Top 8 reasons to get PMP® Certified:
Stand Out from the Crowd Globally Recognition Certification Better Job Opportunities Increases Salary Potential Handle Challenging Projects Upgrade Your Leadership Skills More Weight to your Resume Personal Accomplishment
Skills You will Gain
Project Leadership Skills

Influencing and negotiation Skills

Budget and Schedules Management

Risk Management Skills

Critical and Problem-solving Thinking

Successfully Deliver Projects On-time

Quality and Task Management

Meetings Management
Average Salary Per Annul

Expected Job Growth Rate

I want to know about

Details & Prices

of PMP Certification in

United States
The course is covered in video lectures that explain the concepts from an exam perspective as well as how the concepts tie into each other across the whole of project management. This will help you understand project management both from a micro and macro perspective so that you may tie the concepts together and pass the exam easily. The course covers the 3 Project Management Process Domain : • People 42% • Process 50% • Business Environment 8%
All these process groups will be covered as we discuss the knowledge areas one by one. Course Introduction
Lesson 01:Domain 1 People(14 hours) • Task 1:Manage conflict • Task 2:Lead a team • Task 3:Support team performance • Task 4:Empower team members and stakeholders • Task 5:Ensure team members/stakeholders are adequately trained • Task 6:Build a team • Task 7:Address and remove impediments, obstacles, and blockers for the team • Task 8:Negotiate project agreements • Task 9:Collaborate with stakeholders • Task 10:Build shared understanding • Task 11:Engage and support virtual teams • Task 12:Define team ground rules • Task 13:Mentor relevant stakeholders • Task 14:Promote team performance through the application of emotional intelligence
Lesson 02:Domain 2 Process(17 hours) • Task 1:Execute project with the urgency required to deliver business value • Task 2:Manage communications • Task 3:Assess and manage risks • Task 4:Engage stakeholders • Task 5:Plan and manage budget and resources • Task 6:Plan and manage schedule • Task 7:Plan and manage quality of products/deliverable • Task 8:Plan and manage scope • Task 9:Integrate project planning activities • Task 10:Manage project changes • Task 11:Plan and manage procurement • Task 12:Manage project artifacts • Task 13:Determine appropriate project methodology/methods and practices • Task 14:Establish project governance structure • Task 15:Manage project issues • Task 16:Ensure knowledge transfer for project continuity • Task 17:Plan and manage project/phase closure or transitions
Lesson 03:Business Environment(4 hours) • Task 1:Plan and manage project compliance • Task 2:Evaluate and deliver project benefits and value • Task 3:Evaluate and address external business environment changes for impact on scope • Task 4:Support organizational change
Mr. Ammar Kahia is a PMP®, SMC™ and ITIL certified experienced IT Professional with over 20 years of rich and insightful experience in managing projects for different sectors.
During his career, he has managed multiple IT projects for education sectors, involving analysis, design, customization, deployment and Support of Business Solutions along with IT Service Delivery for various clients. Mr. Ammar Kahia is one of the pioneers of Agile PMO and helped thousands of agile coaches and project managers and organizations to set up the Agile Project Management Office.
As Professional Certification Trainer, Mr. Ammar Kahia is an International Agile & PMP Trainer and delivered over 2000 hours of training sessions for many regional organizations in different sectors including Government, Engineering, Information Technology, Systems Integration and New Product Development.
Agile Practitioner
Mr. Ammar Kahia has been an agile Practitioner of last 12 years and managed many agile projects using XP, Scrum and DSDM. He is also a SCRUM Master Certified (SMC™) from SCRUMstudy.com
EDUCATION & CERTIFICATION
| S.L | Particulars | License Number | Date |
| --- | --- | --- | --- |
| 01 | Bachelor Degree in Mechanical Engineering | 202 - 1797 | 1999 |
| 02 | Project Management Professional (PMP®) from PMI | 1254085 | 2009 |
| 03 | ITIL FOUNDATION V3 | 654332 | 2009 |
| 04 | Microsoft Innovative Educator (MIE) | 763124 | 2017 |
| 05 | SCRUM Master Certified (SMC™) from SCRUMstudy | 793443 | 2020 |
| 06 | Authorized Training Provider – PMP Instructor from PMI | | 2020 |
• Learn to create WBS, the project is half the success! • Project management regulations and flowcharts on cost/resource/duration optimization • Why should a project be planned and controlled based on schedule? • How to effectively track, review and report the progress of a project for the project manager? • Do you know the tools and techniques used by project managers to collect requirements? • Network diagram, PDM, CPM. CCM and other technical explanations; • An important tool for cost control—earned value management • Do you know the common methods of project cost estimation management? • 7 kinds of control tools for project quality management • Faced with project risks, what measures should project managers take to deal with them? • 5 methods of performance appraisal make you more flexible in team management • How does the project manager manage each stakeholder and stakeholder group?
Project Management Professional (PMP) Certification Training Courses
PMP training assess the practitioner's competence, and determine the levels of salience, criminality, and frequency of each of the knowledge, tasks and skills required to perform to the industry-wide standard in the role of a project manager.The PMP course covers new trends, emerging practices, tailoring considerations, and core competencies required of a Project Management professional.
3 Steps to Become PMP Certified Easily
>>>

Step 1:Enroll SPOTO PMP Training Course

SPOTO PMP Certification Training - Aligned With The 2021 Latest Exam Course Content:

• Domain 1:People 42% • Domain 2:Process 50% • Domain 3:Business Environment 8%

35 Contact Hours/PDUs Unlimited Access to Online PMP Training Courses for 12 Months

12 Years Experienced PMP-certified Instructor

>>>

Step 2:Apply to Take Your Exam

Comprehensive knowledge of concepts, techniques, and tools for ensuring project success.

Step by Step Guide to PMP application

You will soon get PMI approval.

Step Three: Take Your PMP Exam

PMP Dumps: SPOTO will offer 100% Real Exam Questions and Answer Free and Fast Update:What you practice in SPOTO dumps will show in real exam. Service Period:You will get 30-day unlimited access to latest PMP dumps.

100% Pass Exam Guarantee 100% Money Back Guarantee

Be a Project Leader in your team with PMP Certification Get Now
Latest Passing Reports from SPOTO Candidates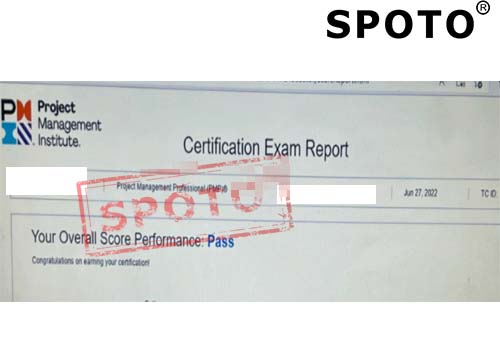 PMP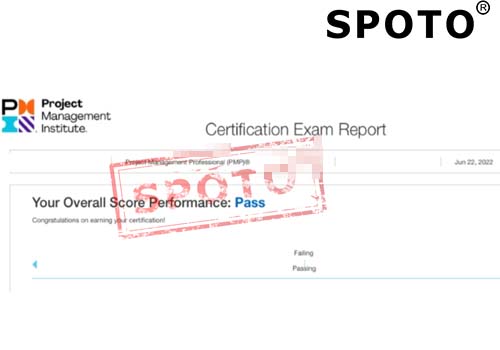 PMP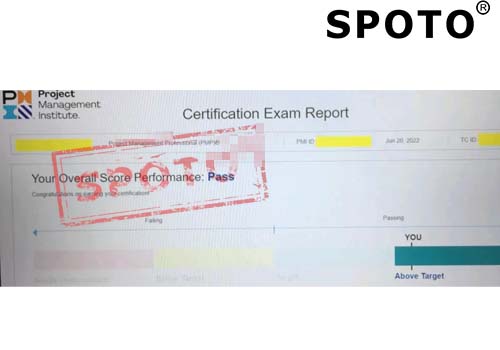 PMP
PMP
PMP
PMP
Why choose SPOTO?
SPOTO, founded in 2003, concentrates on online training course, included Cisco, PMP, AWS exam, Microsoft, CISA and others. Over 18 years, SPOTO helped tens of thousands of candidates achieve their Cisco CCNA, CCNP, CCIE, PMP,AWS, Microsoft certification, conveying numerous IT employees to Fortune 500 companies.
100% Exam Pass Guarantee

SPOTO offers 100% real exam questions and answers to help all candidates to prepare and pass the exam easily.

Best Price Guarantee

You won't find a better value in the marketplace. We can help you pass the PMP exam easily at the best price.

Professional Tutors Support

Our tutors will help you to pass the PMP online application step-by-step. And we can offer the latest exam feedbacks to guarantee you get the PMP certification at the first try.
Latest Testimonials of SPOTO Candidates
This PMP course was very well designed and the trainer owing to his vast experience could help us understand the topic in a very simplified manner. The support provided by the Grey campus team was very helpful since they helped to reschedule the session. I am really thankful to SPOTO Tutors for providing a helping hand.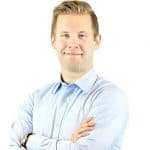 Chris Harris Project Coordinator
I'm very happy that i passed my PMP exam at the first try. I was a freshman who completely unfamiliar with all the terms of PMP exams but thanks to SPOTO tutors. They helped me understand the materials with the PMP exam perspective. I will recommend SPOTO PMP training course to those who mainly want to pass the PMP exam fast.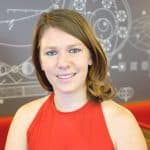 Tyler H. Dempsey Project Analyst
I have went through the PMP training and found SPOTO course material is very useful to increase my Project Management skills. The course has been prepared to the point which needs to be remembered while writing your exam. I would recommend SPOTO PMP course to all who are seeking for the PMP certification. Good Luck to all!!!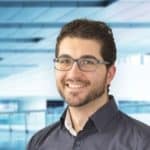 Mridul Putatunda IT Preject Manager

FAQs

1.What are the PMP certification eligibility requirements?

if you have a four-year degree, you'll need 36 months of experience leading projects AND 35 hours of project management training. if you have a high school diploma or an associate's degree, you'll need 60 months of experience leading projects AND 35 hours of project management training.

2. How long will it take to pass the PMP certification exam?

Step 1:Learn SPOTO PMP certification training course(1~2 weeks) it includes 35 hours of PMP course training and 7 hours of dumps training. Step 2:Apply to take your exam(5-7 days) our teacher will teach you how to apply for and meet the PMP exam requirements. we will help to optimize your resume to better obtain PMI exam approval/qualification.PMI Processes audit materials in 5-7 days. Step 3:Take Your PMP EXAM(1-3 days) we provide a PMP proxy service, our teacher take the exam for you. if you spend 2-3 hours on SPOTO PMP training, we will help you pass after 20-30 days

3. What are the PMP Certifiction Exam fees?

The PMP® certification exam fees for PMI® members and nonmembers are: PMP® Certification Exam fee with PMI® Membership $405 PMP® Certification Exam fee without PMI® Membership $555 PMI® Membership fee $129 PMI® Membership renewal fee $129 per year Reexamination fee for PMI® members $275 Reexamination fee for non-members $375