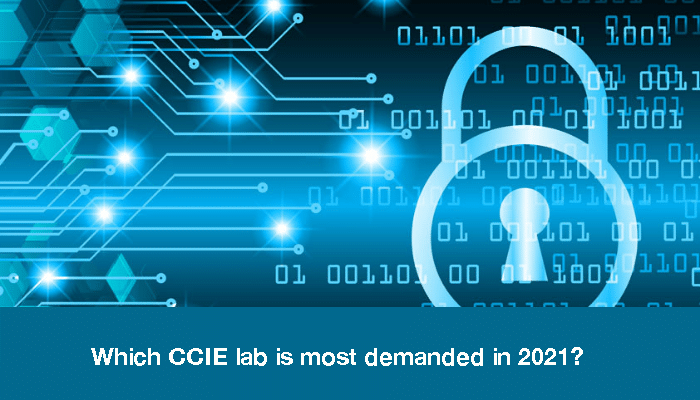 CCIE has numerous certifications available for network engineers to upgrade themselves and authenticate their expertise. Then how many CCIE in the world 2020? The courses would be covering a variety of categories that the candidates could be specialized in, such as Enterprise infrastructure, Service Provider, Collaboration, Enterprise Wireless, Data Center, and Security.
1- CCIE Enterprise Infrastructure
The CCIE Enterprise Infrastructure certification is formulated for those who would be working professionals who wish to obtain more skills and knowledge at developing and maintaining enterprise infrastructures.
CCIE Enterprise infrastructure is the most demanded track among all the CCIE certifications as it covers the entire enterprise network life from designing, deploying, and optimizing.  It is widely used in real networking circumstances. If you want to get a better job and boost your salary, CCIE EI certification is the best stepstone to give your IT career a lift.

2- CCIE Enterprise Wireless
The CCIE Enterprise Wireless certification would help candidates keep up with the constant updates in wireless technologies. Here participants gain education on various aspects of wireless technologies in the CCIE Enterprise Wireless certification, such as essential core technologies utilized, designing, planning, optimizing, and operating entire lifecycles in different complex wireless network environments.
3- CCIE Data Center
The CCIE Data Center certification would be designed for IT professionals to help them gain a better understanding of all Data Center technologies. Candidates who would be able to apply for this course would learn about harnessing all the latest DC technologies in an Agile manner to align the IT goals of an organization with the company's business aims. There would be no prerequisites for informal education required to be eligible for the CCIE Data Center certification. Still, eight years of work experience is recommended.
Related reading: Booming News! SPOTO 2023 CCIE DC Lab Training is Available Now
4- CCIE Security
The CCIE Security certification is considered for the individuals and working professionals who wish to advance their information and overall IT security using Cisco security solutions. The participants will gain knowledge regarding the creation and maintenance of secure systems with Cisco security technologies and all the industry's best practices. The CCIE Security certificate holders have authenticated that they have the skills and knowledge required to architect, engineer, implement, troubleshoot, and support all Cisco security solutions for organizations.
5- CCIE Service Provider
The CCIE Service Provider certification training program provides the learners with the expertise required to deliver their services efficiently to organizations. The certification would be created for network service engineers who work with Cisco technologies and the service provider environment.
6- CCIE Collaboration
The CCIE Collaboration certification is considered to be designed for all collaboration and communication architects who wish to improve their collaboration solutions skills. It is regarded as an expert-level certification, including a thorough examination that would test the candidate's skills and expertise in management, deployment, maintenance, and optimization of network infrastructures in relevance to collaboration solutions offered by Cisco.
7-CCDE
CCDE is the contraction for the Cisco Certified Design Expert. The certification training program teaches learners as well as networking specialists with expert-level skills required in network design. Designers could easily support complex network solutions and help organizations align their business strategies with their technology and technology strategy.
Job Prospects for CCIE Certified Professionals
CCIE certified professionals are considered to be some of the most sought-after employees in enterprises across industry sectors, as per various job portals, some of the best companies that would be looking forward to hiring CCIE certified professionals, which would be including not just CCIE but also Cisco Systems, Integrated Photonics Technology, iMrave, Piper Companies, CDW, Equinix, IBM, SBA Communications, and many more. Some people will have doubts: is CCIE still worth it in 2023? How does CCIE vs python? Read our blog, you'll get your answer.
Now that you would have obtained the CCIE Lab Certification, it would help you get success if you have acquired the SPOTO CCIE Lab Exam Dumps.

Latest passing report-100% pass guarantee
Recommend CCIE Lab exam study materials: 
Please follow and like us: