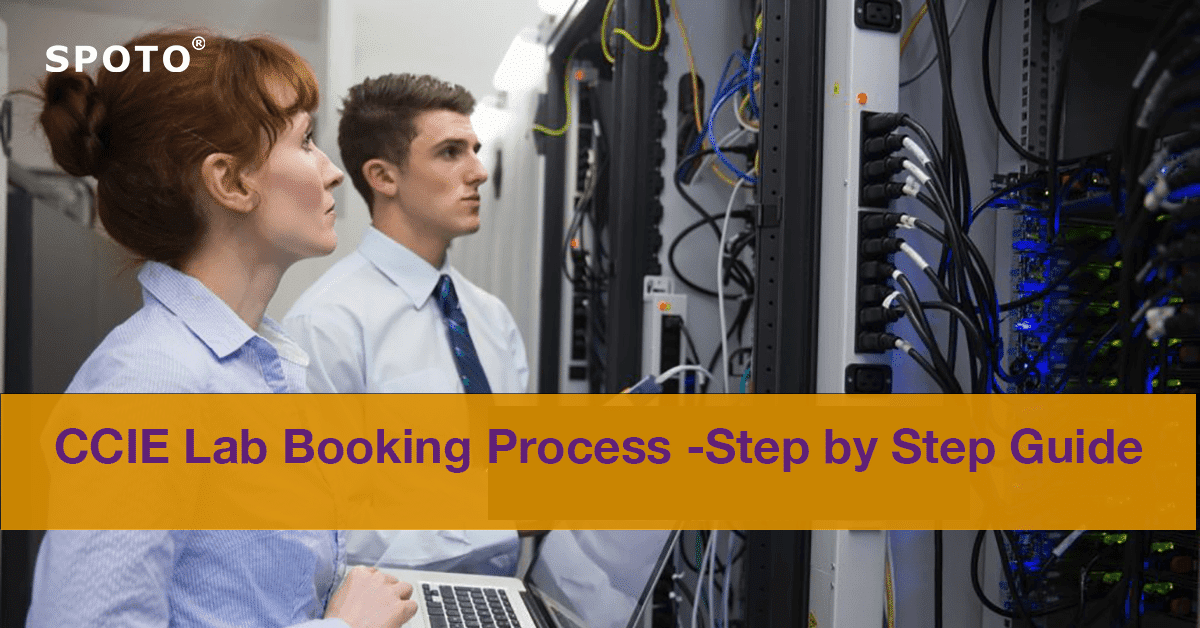 The CCIE LAB exam or Cisco Certified Internet Expert lab exam is part of the two exams you have to pass before getting a CCIE certification. The other one is the written exam. The steps to follow when booking for the written exam are similar to when you book for the other Cisco certification tests. However, passing the written test does not mean that you will get certified. You still need to take part two of the certification exam, the CCIE lab test. Here are the steps in booking your CCIE Lab exam.

Step1. Take the CCIE written exam.
The CCIE written exam is the first component of the CCIE exam. The second is the lab exam. Passing the written exam is essential because this is the first step in booking your CCIE LAB exam. How can you make sure that you give the CCIE written test to proceed to the lab exam? One way to ace the written examination for CCIE is by registering for the SPOTO online certification training courses. All the questions and answers for practice are 100% real, valid, and updated test items. Our company has always recorded a 100% passing rate for our clients seeking certification.
Step 2. Check Location of Test Centers
After taking and passing the written exam, you can process your application for the CCIE LAB exam. Check first the CCIE LAB examination location so that you can select the nearest test center to your place. If you live in the US, you can book your exam at the Research Triangle Park (RTP), USA, or San Jose, California, USA. Test-takers in Asia can book the exam in Banglore, India; Beijing, People's Republic of China; in Hong Kong, People's Republic of China; and Tokyo, Japan. Each of the following regions has one testing center: Sydney, Australia; Dubai, United Arab Emirates; or Brussels, Belgium.
Step 3. Log in to Your Cisco Account and Submit
You will need the following documents:
• Cisco account
• Identification number
• Date of passing the written exam
• Passing score on written exam
Step 4. Select Exam Date
After logging in and supplying all data needed, you can select a date for your exam. If you have already prepared well for the lab test, you may choose the earliest date. However, if you need more time to study, choose a date during which you think you have finished preparing for the exam.
Step 5. Provide Payment details
Once you have chosen a date, you can only pay the fee through wire transfer or credit card. Other modes of payment will not be honored.
If you still need more preparation time, register for SPOTO online training course for the CCIE lab exam. Our course includes regular updates, mock lab tests, 100% coverage of the real exam, latest lab exam feedbacks, round-the-clock technical support, tutorial video guide, 100% pass guarantee.
You will also get several CCIE lab topology sets to study and get familiar with for the final lab exam. SPOTO also offers a lab rack rental service. Although some IT professionals prefer to make or buy their lab rack, you may also rent one from SPOTO.
If you desire to pass the CCIE LAB exam and looking for the most reliable and clear to understand materials, now it is easy for you to get at SPOTO.

Are You Preparing to Take the Cisco Certified Internetwork Expert (CCIE) Lab Exam
Are You taking the Cisco Certified Internetwork Expert (CCIE) lab exam and need to arrange and book your appointment ahead? This article will give step-by-step instructions on how to book one.
Step 1 – Login To The CCIE Portal
Log into the CCIE portal as the first step, as this provides access to all necessary resources for scheduling and booking your CCIE lab exam.
Step Two – Select A Testing Center
Once logged into the portal, you'll be able to choose a testing center offering CCIE lab exams based on location or language preference. Review all of your available locations before making your selection.
Step 3 – Set An Exam Date
Next, select an exam date that best fits into your schedule and select a time slot if needed. Please keep in mind that some locations require advance notice when scheduling exams; so plan ahead by booking as early as possible.
Step 4 – Pay Your Fees (Step 4 of 4)
Once you have selected an exam date, it will be necessary to pay with either credit card or PayPal. Prices for exams can vary significantly based on location and type, although most are priced around $1,600 per attempt with additional non-refundable fees of $450 often being added as non-refundable charges; should multiple attempts be required, these costs could reach over $2,000.
Step 5 – Schedule An Examination
Once payment has been completed, you can officially schedule your CCIE lab exam using Cisco's online system or by calling their customer service line directly. After scheduling, be sure to follow any additional instructions such as downloading software or filling out registration forms prior to taking your scheduled appointment date and time.
While hesitating to make up his mind on which path to take, the two candidates appear. Booking a Cisco Certified Internetwork Expert (CCIE) lab exam involves several steps, such as logging in to the portal, selecting a testing center and choosing an exam date/time slot before paying upfront to secure your spot in line for taking the actual test itself. Prices may differ depending on location and other variables such as multiple attempts needed; it is safe to estimate that one attempt at taking this lab-based examination could cost as much as $4,900 when all costs such as fees or travel expenses associated with it are included. This fee might also need to cover administrative charges or travel costs incurred while testing successfully overall.
Conclusion
Booking a CCIE lab exam and managing your CCIE lab schedule are crucial essential in your journey to becoming a Cisco Certified Internetwork Expert (CCIE). When it comes to CCIE lab exam booking, planning well in advance is essential as demand can be high; understanding available schedule options ensures effective preparation. Focusing your efforts while properly handling both elements will enhance your chance of success with the certification process and increase chances of success for success in passing exams.
Recommend CCIE Lab exam study materials: 
Please follow and like us: