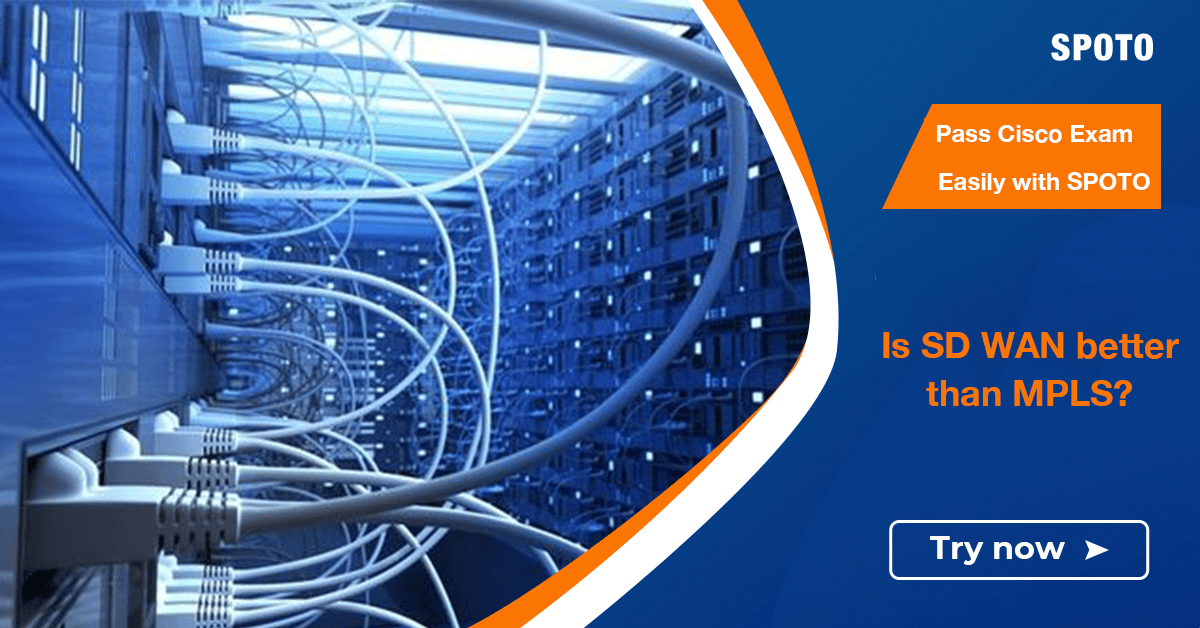 One of the most commonly asked questions by network security designers and CISOs when considering their WAN architecture is: "Should I choose SD-WAN over MPLS?" Yes. The decision to switch to SD-WAN has important implications for the enterprise.
Compared with MPLS, SD-WAN can be cheaper, more secure, and provide higher performance. MPLS may bring huge bandwidth costs, and SD-WAN can protect your network from vulnerabilities that MPLS cannot solve. The short answer is that SD-WAN provides better visibility, availability, enhanced performance, and greater operational freedom. This is why the industry has become increasingly interested in SD-WAN in the past few years.
Similarly, MPLS and SD-WAN are essential technologies used in Cisco systems and CCNA, CCNP, and CCIE exams. If you want to pass these exams, you should learn more from the SPOTO SD-WAN training course.
Categories
Exam Code
100% Pass Dumps
CCNA Dump
200-301/200-901/200-201
CCNP Dump
CCNP Core
CCNP Concentration
CCIE Lab Dump
CCIE EI/DC/SP/Col/Dev
PMI Dump
PMP/RMP/PgMP/ACP/CAPM
ISACA Dump
CISA/CISM/CRISC/CGEIT
Other IT Dump
AWS/Microsoft/Aruba/Comptia/F5/Juniper
Proxy Service
PMI-PMP, ACP, CAPM
PCNSC/ITIL V4/AWS/VMware
ISACA-CISA/CISM/CRISC

Another issue that affects the increase in interest is flexibility. MPLS connections are often fixed and rigid connections and cannot quickly adapt to the interconnectivity between branches required by today's dynamic networks. They also do not provide support, such as application recognition for delay-sensitive applications or complex bandwidth management.
So far, so good. But the challenge is that most SD-WAN solutions cannot provide an equivalent level of security as MPLS, which is a secure tunnel running through the service provider's secure network. There are many factors to consider when choosing an SD-WAN solution. Still, to indeed provide a more effective MPLS-based strategy, SD-WAN must include integrated security, and both security and network functions got to be managed through one integrated management platform.
Advantages of SD-WAN over MPLS
It can be found when coming to 3 areas of difference: cost, security, and performance. Some of these advantages are less cut and dried than others, and there may even be some disadvantages in exceptional circumstances, which will be further explained.
SD-WAN is more cost-effective than MPLS
Many organizations have connected remote branch offices and retail locations to central data centers through hubs and WAN models that rely on a single MPLS connection. As a result, all data, workflow, and transactions (including access to cloud services or the Internet) need to be passed back to the processing and redistribution data center. Compared with SD-WAN solutions, this is hugely inefficient.
SD-WAN reduces costs by using distributed dedicated data traffic exchanges and control points to provide optimized multi-point connections, thereby providing users with secure, local access to required services (whether from the network or the clouCloudhile ensuring direct access ClouCloud internet resources.
Secure SD-WAN provides better protection than MPLS.
The security advantage of MPLS seems to be that it provides a secure and managed link between branch offices and data centers through the service provider's internal backbone network. The public Internet connection itself does not offer the same level of protection.
But this comparison is deceptive. MPLS does not provide any form of analysis of the data it provides. Even if you traverse the MPLS connection, you still need to check the traffic for malware or other vulnerabilities. This requires at least the deployment of firewalls and any other security features on one end or the other.
Many SD-WAN solutions have the same problems. In addition to some basic security features, most SD-WAN solutions still need to add security as an overlay solution. For organizations that want to add security to their complex SD-WAN connections after the fact, the challenge is often beyond bargaining.
SD-WAN has higher performance than MPLS
From a performance point of view, MPLS provides a reliable fixed level of bandwidth. Although this seems to be an advantage, today's traffic performance requirements can be very unpredictable. As a result, organizations need to lease MPLS connections for their worst-case traffic load conditions, which means that because of the ever-increasing amount of data generated, many times, expensive bandwidth is not used, and at other times through modern networks and equipment— MPLS connections may restrict connections.
Of course, some MPLS connections provide a sliding connection scale. However, it is still limited, even so, due to the inability to understand the nature of the traffic being processed and dynamically adjust accordingly.
Challenges intensify, and all traffic requires bandwidth to use. Specific applications (such as voice and video) have latency requirements that require continuous monitoring. When multiple applications run through the same connection tunnel, delay-sensitive traffic needs to be prioritized.
SD-WAN can recognize applications and adjust bandwidth and other services accordingly. It can start multiple parallel connections and then provide delicate load balancing between them. Even failover to a new relationship when the available bandwidth drops and sensitive applications with no rate limit ensure latency-sensitive applications Receive all the space and horsepower they need.
MPLS is better than SD-WAN alone
However, in some cases, MPLS may be better than using SD-WAN alone. For example, MPLS provides a clean and secure connection, which is mainly required. Indeed, sorts of data, applications, and transactions, especially where a high degree of integrity and privacy is needed. However, since MPLS is an option available to all SD-WAN solutions, this is not an option. Critical transactions can still run on MPLS.
In some markets (especially in the United States), MPLS can be costly. Therefore, in these locations, replacing MPLS with a public Internet connection may be very cost-effective. However, even when MPLS is much cheaper, or safety or reliability concerns are more important than cost differences, SD-WAN can still run on MPLS connections to provide more than a standalone MPLS solution. Multiple protections and functions. This is because SD-WAN uses the same SD-WAN deployment, which can offer greater flexibility, finer flow control, integrated security, and the use of multiple connection strategies (MPLS, public Internet, IPSec, SSL, etc.) ability.
In almost all cases, secure SD-WAN can outperform MPLS.
Experience has shown that the benefits of SD-WAN solutions far exceed MPLS. This is because today's traffic composed of advanced Web applications and complex workflows requires a more flexible and dynamic connection environment than traditional static MPLS connections.
However, in terms of security, traditional SD-WAN solutions belong to a specific category. On the other hand, the secure SD-WAN solution provides a layer of management and flexible connection options for remote offices that MPLS cannot offer and offers in-depth and deeply integrated security, reducing management overhead and expanding visibility. The central IT management console or SOC solution extends to the extreme edge of the distributed WAN.
If you have enough information about your organization, you can decide whether SD-WAN or MPLS is more suitable for your needs.
In conclusion
When comparing SD-WAN and MPLS in terms of cost, security, and performance, SD-WAN is the winner. If you want to learn more about Cisco SD-WAN and MPLS, please get SPOTO Cisco exam dump or SD-WAN training courses to help you succeed!

Latest passing report-100% pass guarantee
Recommend Cisco exam study materials:
Please follow and like us: