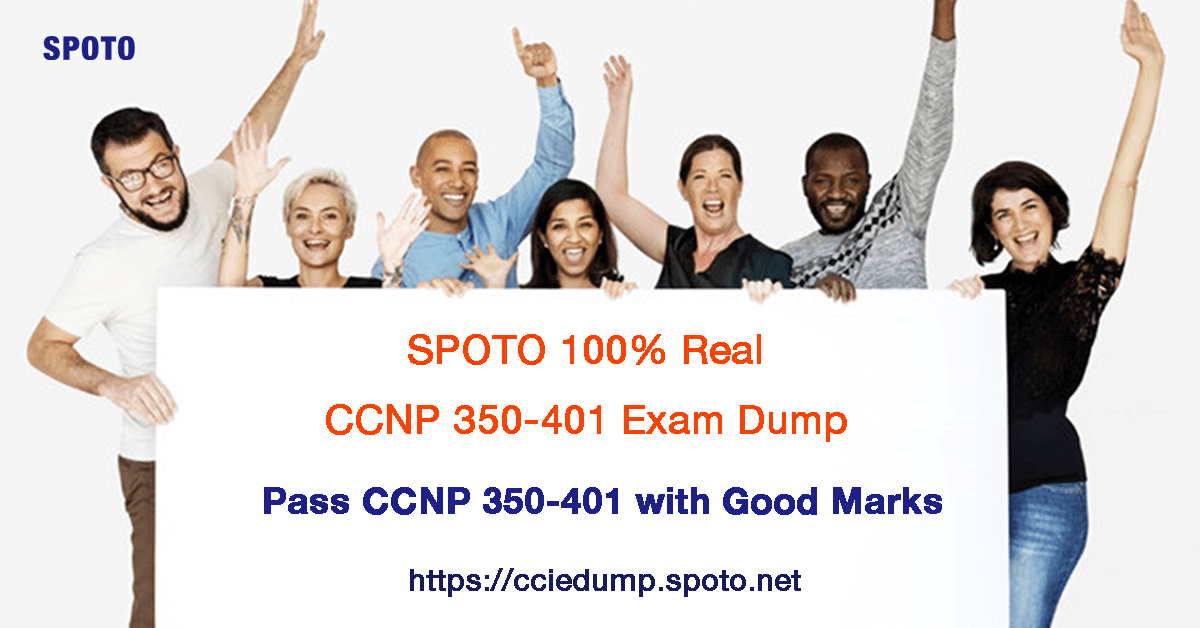 Before go for Cisco CCNP Enterprise (350-401) certification exam, you might be having certain doubts in your mind regarding the pattern of the test, the types of questions asked in it, the difficulty level of the questions, and the time required to complete the questions. These Cisco Certified Network Professional Enterprise ENCOR sample questions and demo exam would be able to help you out in removing these doubts and preparing you to take the test.
The CCNP 350-401 ENCOR, the core exam of CCNP enterprise would be able to help network engineers stand out in understanding a candidate's knowledge about implementing core enterprise network technologies, which would be consisting of dual-stack architecture (IPv4 and IPv6), security, virtualization, network assurance, infrastructure, and automation.
The course would require taking up CCNP 350-401 ENCOR is considered the Implementing Cisco Enterprise Network Core Technologies. The CCNP 350-401 is believed to be a 120-minute exam associated with Cisco Certified Specialist – Enterprise Core, CCIE Enterprise Wireless, and CCIE Enterprise Infrastructure Certifications. The CCNP ENCOR exam is going to be hosted by Pearson VUE.
Categories
Exam Code
100% Pass Dumps
CCNP Enterprise
350-401 ENCOR
300-410 ENARSI
300-415 ENSDWI
300-420 ENSLD
300-425 ENWLSD
300-430 ENWLSI
300-435 ENAUTO

It is considered to be an essential examination for the CCNP Track. Once you would have pass one of the concentration exam along with ENCOR, you would be able to become CCNP Enterprise Certified. The CCNP 350-401 will outdate the current CCNP Routing and Switching Exams as well as CCIE Written Exams for both Routing and Switching. Cisco networking certifications like CCNP certification covers wireless networks, configure and troubleshoot networking, hop redundancy protocols, etc.
The associated Concentration Exam to the CCNP 350-401 ENCOR are as follows:
• 300-410 ENARSI
• 300-415 ENSDWI
• 300-420 ENSLD
• 300-425 ENWLSD
• 300-430 ENWLSI
• 300-435 ENAUTO
Before we get into how many questions will be there in the CCNP 350-401 Exam, let's have an overview of the syllabus and exam blueprint of CCNP 350-401 ENCOR.
CCNP 350 – 401 ENCOR Syllabus
Architecture
1. Explaining the diverse principles of design utilized in an enterprise network
2. Analyzing the principles of design of a WLAN deployment
3. Distinguishing between on-premises as well as cloud infrastructure deployments
4. Explaining the principles of working of the Cisco SD-WAN solution
5. Explaining the principles of functioning of the Cisco SD-Access solution
6. Describing the concepts of wired as well as wireless QoS
7. Differentiating between software and hardware switching mechanisms
Virtualization
1. Describing device virtualization technologies
2. Configuring and verifying the data path virtualization technologies
3. Describing the concepts of network virtualization
Infrastructure
1. Layer 2
2. Layer 3
3. Wireless
4. IP Services
Network Assurance
1. Diagnosing the network problems utilizing tools like the traceroute, debugs, conditional debugs, SNMP, ping, and Syslog
2. Verifying and Configuring device monitoring using Syslog for logging
3. Verifying and Configuring NetFlow and Flexible NetFlow
4. Verifying and Configuring SPAN/RSPAN/ERSPAN
5. Verifying and Configuring IPSLA
6. Describing Cisco DNA Center workflows to apply network configuration, monitoring, and management
7. Verifying and Configuring RESTCONF and NETCONF
Automation
1. Interpreting essential Python components as well as scripts
2. Constructing valid JSON encoded file
3. Describing the high-level principles as well as advantages of a data modeling language, like YANG
4. Describing APIs for Cisco vManage and DNA Center
5. Interpreting REST API response codes as well as results in payload utilizing RESTCONF and Cisco DNA Center
6. Constructing EEM applet for troubleshooting, automating configuration, or data collection
7. Comparing the agent vs. agentless orchestration tools, like Puppet, Chef, Ansible, as well as SaltStack
CCNP ENCOR 350-401 exam consists of about 100± questions, which are required to be completed in 120 minutes. If you wish to acquire success in the same, you must have to go through lots of studying, or you could have the CCNP Dumps from a reputed and reliable provider like the SPOTO. The experts formulate SPOTO CCNP ENCOR Dumps to give the peculiar knowledge to obtain success. So, acquire the SPOTO CCNP ENCOR 350-401 dumps right away.

Latest passing report-100% pass guarantee
Recommend CCNP exam study materials:
Please follow and like us: