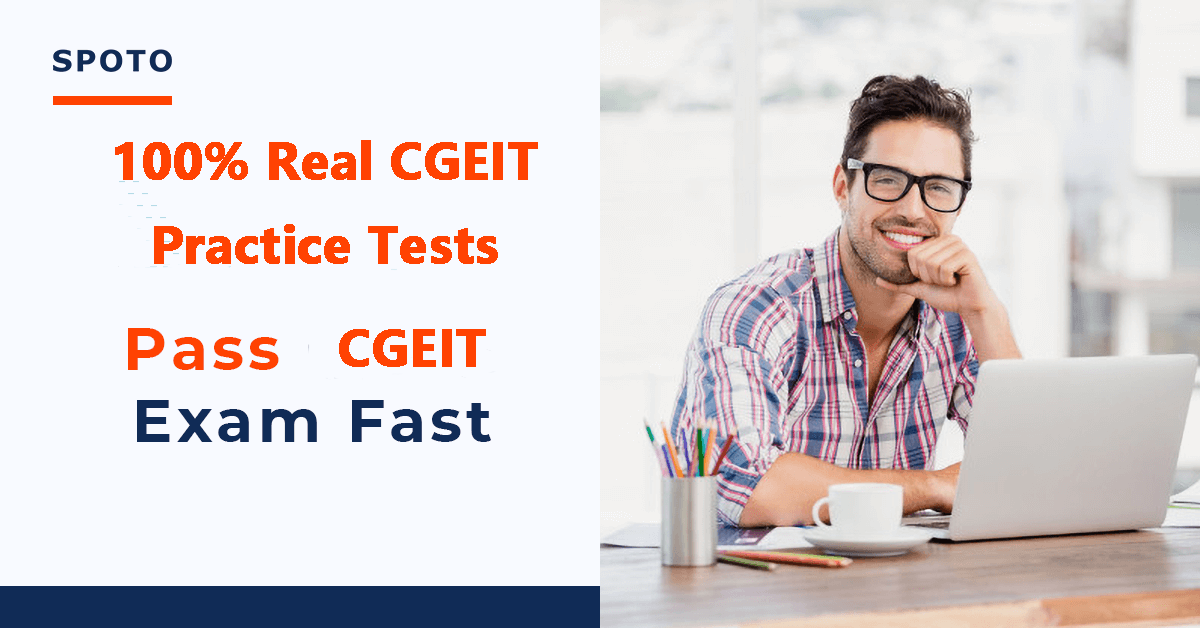 ISACA's Certified in the Governance of Enterprise IT (CGEIT) certification is framework agnostic and the only IT governance certification for the individual. CGEIT can put you in the role of a trusted advisor to your enterprise!
Preparing for the CGEIT exam can be a full-time job. Getting certified is not simple and takes immense work. It takes time, practice, and the right focus. SPOTO practice exams are made to mimic real CGEIT exam examples of the questions you'll encounter on exam day while teaching you the foundational skills you need to grasp for the actual exam!

Pass the CGEIT exam with free practice tests and exam dumps from SPOTO.
1.A large enterprise has decided to use an emerging technology that needs to be integrated with the current IT infrastructure. Which of the following is the BEST way to prevent adverse effects on the enterprise resulting from the new technology?
A. Develop key risk indicators (KRIs).
B. Develop key performance indicators (KPIs).
C. Implement service level agreements (SLAs).
D. Update the risk appetite statement.
Answer: A
2.The PRIMARY focus of a committee tasked with evaluating an IT project portfolio should be to ensure:
A. an industry-standard capability maturity model is used.
B. the enterprise strategy is updated.
C. consistent selection criteria are applied.
D. a consistent estimation methodology is leveraged.
Answer: C
3.The PRIMARY reason for periodically evaluating IT resource staffing requirements is to:
A. confirm IT-related responsibilities are defined for the enterprise's business and IT staff.
B. verify that human resource recruitment and retention processes meet enterprise IT objectives.
C. ensure the enterprise has sufficient resources to address changing business and IT needs.
D. ascertains the IT function, has enough skilled staff to maintain daily operations.
Answer: C
4.The BEST way for a CIO to monitor the alignment between the business and IT strategy is to regularly review:
A. IT services supporting business processes.
B. the balanced Scorecard.
C. key risk indicators (KRIs).
D. the risk register.
Answer: A
5.A large retail chain realizes that while there has not been any data loss, IT security has not been a priority and should become a key goal for the enterprise. What should the FIRST high-level initiative for a newly created IT strategy committee support this business goal?
A. Identifying gaps in information asset protection.
B. Defining data archiving and retrieval policies.
C. Modernizing, internal IT security practices.
D. Recruiting and training qualified IT security staff.
Answer: A
How to pass the CGEIT Exam with SPOTO CGEIT practice tests?
There are only four steps for you to 100% pass CGEIT!
1.Before scheduling your exam, please confirm the exam & dump stability with the SPOTO consultant and then make your further preparation.
2.Purchase SPOTO CGEIT exam dumps and practices exam dump three to five days. If you make no mistakes on the dumps/practice test, you can schedule the exam.
3.Be relieved to take the exam and try your best for passing in the first attempt.
4.In case of failure, please confirm with the sales to get a free update of the dump.
Why SPOTO CGEIT Exam Practice tests?
SPOTO is a leading IT training institute for 17 years. We have helped thousands of candidates to pass their exam in the first try.
100% real and valid CGEIT exam questions and answers.
Fewer questions but with the highest accuracy to save time and money.
7/24 Online professional tutors
100% passing rate from SPOTO candidates
Free update during service
Free service extension in case of failure
Get the Latest & Valid CGEIT Exam's Question and Answers to 100% pass!

Latest passing report
Read more:
Please follow and like us: