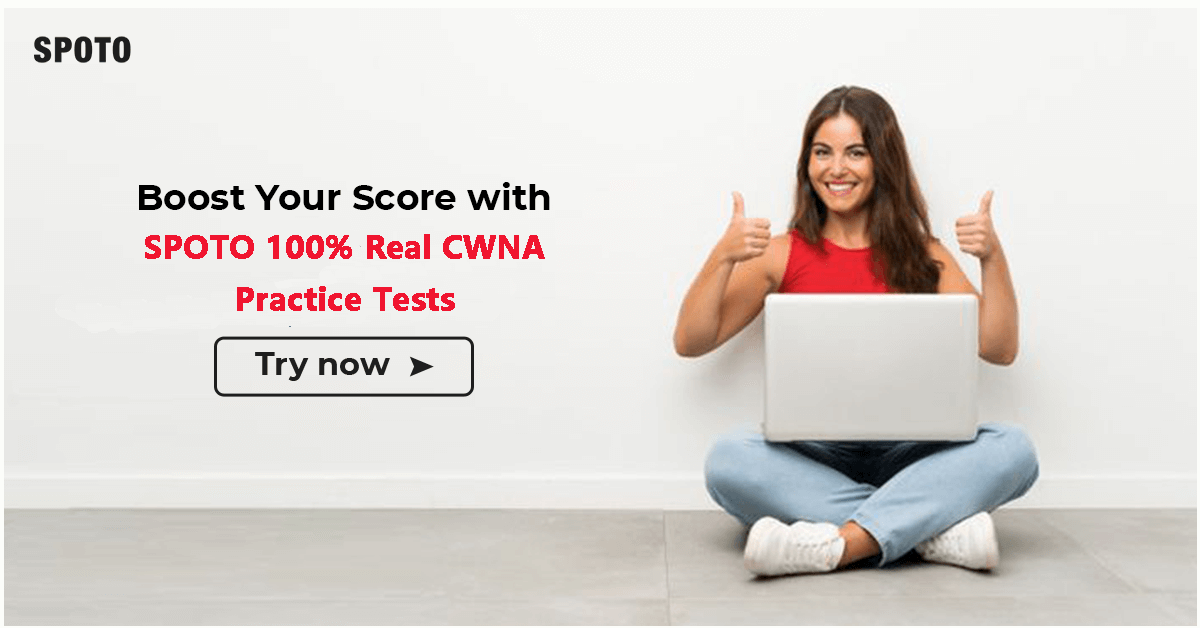 CWNA may be the most valuable and useful wireless network credential for administrators, due to its vendor-independent wireless technology approach. CWNA exam contains 60 multiple-choice questions, lasts for 90 minutes, and its passing score is 70 percent required; instructor candidates must earn 80 percent.
SPOTO CWNA practice test can test your skills before taking the real CWNA certification exam. The CWNA practice exam is free and contains real exam questions. If you want more real CWNA exam questions and answers, please contact us to get complete CWNA study materials!

Try this practice test now!
1.An RF signal sometimes bends as it passes through some material other than free space. What is the term that describes this behavior?
A. Reflection
B. Refraction
C. Scattering
D. Warping
Answer: B
2.What can an impedance mismatch in the RF cables and connectors cause?
A. Fewer MCS values in the MCS table
B. Excessive VSWR
C. The increased amplitude of the RF signal
D. Increased range of the RF signal
Answer: B
3.What factor does not influence the distance at which an RF signal can be effectively received?
A. Free Space Path Loss
B. Receiving station's radiosensitivity
C. Transmitting station's output power
D. Receiving station's output power
Answer: D
4.A WLAN transmitter that emits a 50 mW signal is connected to a cable with 3 dB loss. If the line is connected to an antenna with 9dBi gain, what is the EIRP at the antenna element?
A. 23 dBm
B. 26 dBm
C. 13 dBm
D. 10 dBm
Answer: A
Explanation:
CONVERT 50mW = 17dB
(17dB) -3dB + 9dB = 23 dBm
5.In a long-distance RF link, which statement about Fade Margin is true?
A. The Fade Margin is a measurement of signal loss through free space and a frequency and distance function.
B. The Fade Margin of a long-distance radio link should be equivalent to the receiver's low noise filter gain.
C. A Fade Margin is unnecessary on a long-distance RF link if more than 80% of the first Fresnel zone is clear of obstructions.
D. Fade Margin is an additional pad of signal strength designed into the RF system to compensate for unpredictable signal fading.
Answer: D
For more, buy 100% Real & Latest SPOTO CWNA practice test! 

How to pass CWNA Exam with SPOTO CWNA practice tests?
There are only four steps for you to 100% pass CWNA!
1.Before scheduling your exam, please confirm the exam & dump stability with the SPOTO consultant and then make your further preparation.
2.Purchase SPOTO CWNA exam dumps and practices exam dump three to five days. If you make no mistakes on the dumps/practice test, you can schedule the exam.
3.Be relieved to take the exam and try your best for passing in the first attempt.
4.In case of failure, please confirm with the sales to get a free update of the dump.
Why SPOTO CWNA Exam Practice tests?
SPOTO is a leading IT training institute for 17 years. We have helped thousands of candidates to pass their exam in the first try.
100% real and valid CWNA exam questions and answers.
Fewer questions but with the highest accuracy to save time and money.
7/24 Online professional tutors
100% passing rate from SPOTO candidates
Free update during service
Free service extension in case of failure
Get the Latest & Valid CWNA Exam's Question and Answers to 100% pass!

Latest passing report
Read more:
Please follow and like us: