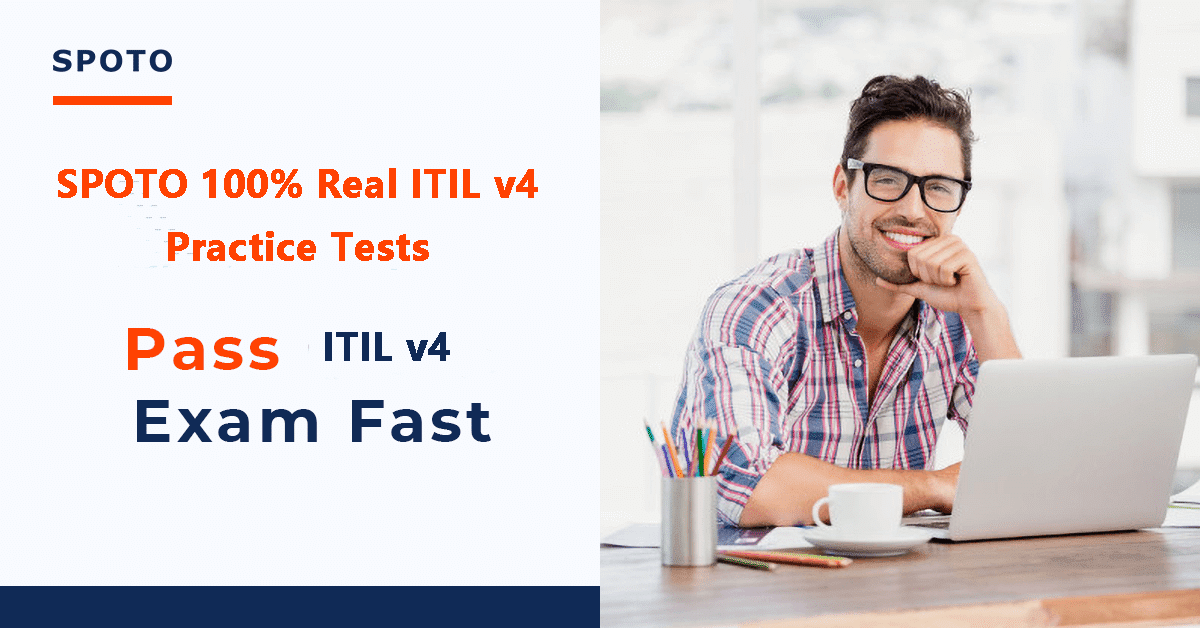 The ITIL exam is an entry-level certification to test your general knowledge of ITIL concepts. It covers the key elements, concepts, and terminology used in the ITIL service life cycle, including the life cycle stages, the links between the processes used, and their contributions to service management practices. There are 40 questions and the time limit is 60 minutes. It would help if you had a score of at least 65% (26 questions) certified by the ITIL Foundation.
SPOTO's ITIL v4 practice test is a meaningful way to test your ITIL skills before taking the ITIL 4 certification exam. The ITIL 4 necessary practice exam is free for everyone and contains real exam questions. You can conduct ITIL v4 mock tests at any time. Take this test today!

1.Which guiding principle helps to ensure that better information is available for decision making?
A. Keep it simple and practical
B. Think and work holistically
C. Optimize and automate
D. Collaborate and promote visibility
Answer: D
2.Which practice has a purpose that includes observing a service to report selected state changes identified as events?
A. Information security management
B. Monitoring and event management
C. Incident management
D. Change control
Answer: B
3.Which describes a standard change?
A. A change that needs to be scheduled assessed, and authorized following a defined process
B. A change that is typically implemented as a service request
C. A high-risk change that requires an in-depth assessment
D. A change that must be implemented as soon as possible
Answer: B
4.How does information about problems and known errors contribute to 'incident management'?
A. It enables quick and efficient diagnosis of incidents
B. It removes the need for regular customer updates
C. It eliminates the need for collaboration during incident resolution
D. It allows the reassessment of known errors
Answer: A
5.Which practice owns and manages issues, queries, and requests from users?
A. Incident management
B. Service desk
C. Change control
D. Problem management
Answer: B
How to pass ITIL v4 Exam with SPOTO ITIL v4 practice tests?
It only takes four steps for you to 100% pass ITIL v4 exam!
1.Before scheduling your exam, it's better to confirm the exam & dump valid or invalid with the SPOTO consultant and then make your other preparation study guide.
2.Purchase SPOTO ITIL v4 exam dumps and practices exam dump three to five days. If you make no fault on dumps/practice tests, you can schedule an exam.
3.Be encouraged to take the exam and pass on your first attempt.
4.If failed, confirm with service to get free update of the dump.
Or you can join the proxy service for a single success!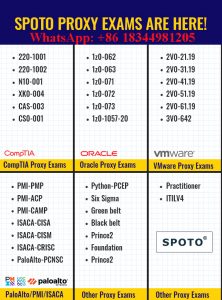 Why SPOTO ITIL v4 Exam Practice tests?
SPOTO is a leading IT training institute for 17 years. We have helped thousands of candidates to pass their exam in the first try.
100% real and valid ITIL 4 exam questions and answers.
Fewer questions but with the highest accuracy to save time and money.
7/24 Online professional tutors
100% passing rate from SPOTO candidates
Free update during service
Free service extension in case of failure
Get the Latest & Valid ITIL 4 Exam's Question and Answers to 100% pass!

Latest passing report
Read more:
Please follow and like us: