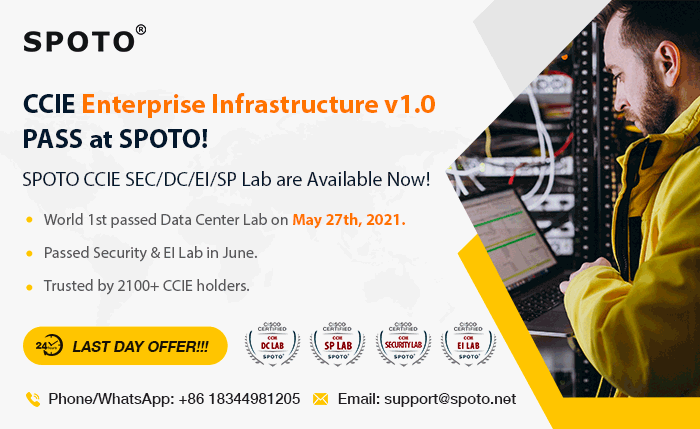 SPOTO effectively conquers the CCIE EI lab after the world's first passes of the DC and Security LAB on May 24 and June 16! Two applicants have passed the most recent CCIE EI lab! Check the pass report below.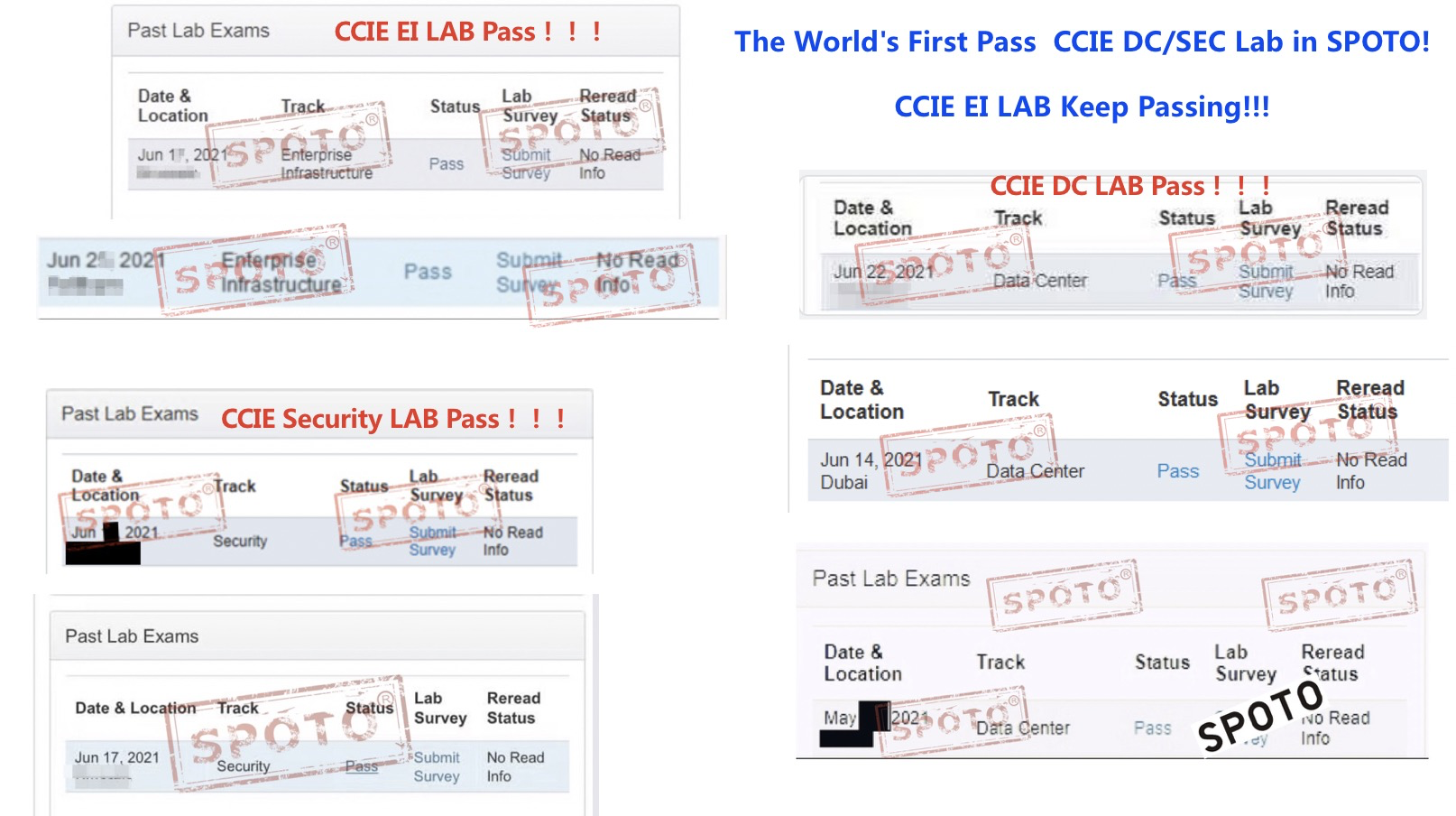 SPOTO has passed seven CCIEs with the most current version, including three DC, two Security, and two EI. SPOTO has currently resolved the major Cisco tracks! Furthermore, we are the first institute in the world to pass the new CCIE version consistently, demonstrating the technological strength of the SPOTO CCIE team.
This blog will cover the secrets of our success as well as our CCIE lab service. If you'd like additional information, join the CCIE Lab study group to receive a special deal, lab topologies, and the real EI workbook demo!

What is the purpose of the new CCIE EI lab exam?
Cisco released a new edition of the CCIE on April 27, 2020, different from CCIE result 2019. The integration of automation and actual equipment usage is the most significant change in the latest version of CCIE. As you can see in the image below, the module has entirely altered. All You Need to Know–Key Points of Cisco Live 3rd Webinar on CCIE EI Exam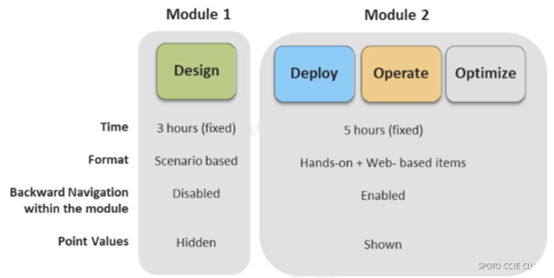 Network experts will no longer be confined to hardware in the new Cisco system but will also have access to a single technological direction. It will be more comprehensive, making becoming a new Cisco network engineer both a challenge and an opportunity in the marketplace.
After Cisco announced the certification upgrade in June 2019, SPOTO formed a dedicated team to address the changes in the certification's direction to create a new Cisco talent model based on technology trends, business needs, course upgrades, real rack equipment deployments, and solution development on the latest version.
How do you pass the new CCIE version and become a new networking expert?
Get Reliable Solution: SPOTO EI, Security, DC, Collaboration lab are available and stable now!
Let's have a look at the current SPOTO EI v1.0 lab exam topology.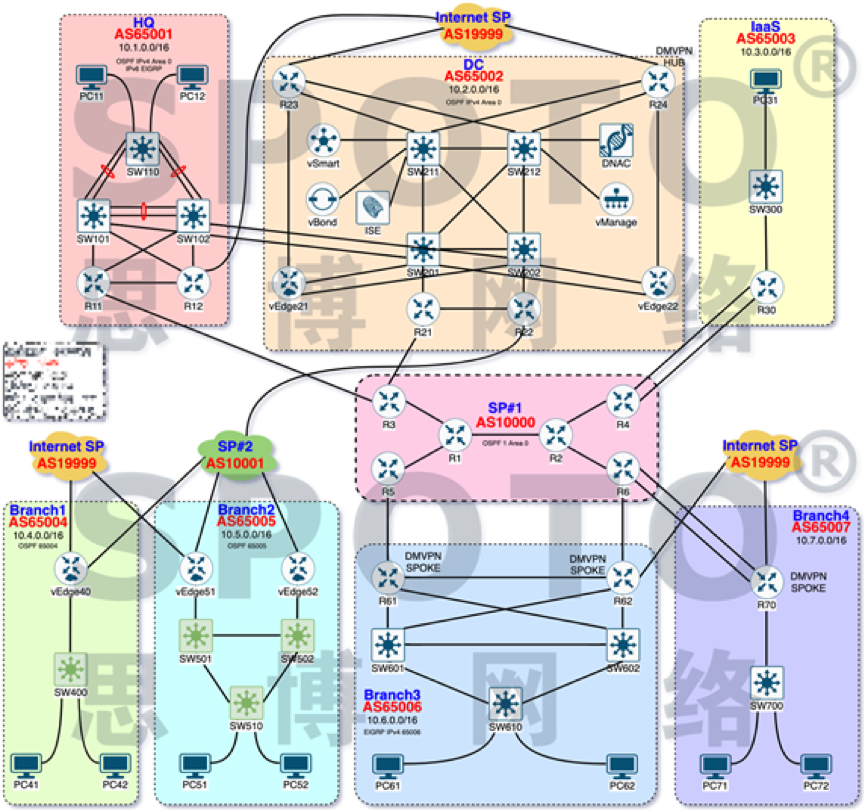 SPOTO once again has the unique courses and solutions to take the latest Cisco version by storm! SPOTO is the finest choice for everyone who wishes to master the new CCIE EI certification or the new Cisco certification! We provide 100% actual workbooks and solutions to assist you in preparing for your Lab exam. Because the CCIE Lab facilities in Richardson will open early on June 15,… now is the optimum time for you to prepare for 1-3 months and then obtain CCIE certified this year!
2. The CCIE rack has been installed all over the world.
The new CCIE lab's practice difficulties stem from the lack of real-world equipment. Take, for example, the EI actual machine equipment; a whole EI LAB practice equipment set costs around USD 650,00. As a result, individuals find it challenging to create their practicing environment due to the high cost.
Because SPOTO applicants are spread throughout 152 nations and regions, SPOTO has set up dozens of racks in 7 countries and 11 data centers worldwide to satisfy the demands of more than 200 candidates practicing LAB online at the same time.
3. Upgraded courses: EI, DC, Security, Wireless, SP, and Collaboration.
SPOTO is dedicated to maintaining high standards, polishing our curriculum and service system, boosting students' learning abilities, and bolstering job skill training.
You may also like: World First PASS! SPOTO Aces CCIE Security Lab Exam after DC!
Our teacher team has spent the last eight months self-researching DC, EI, Security, wireless, and cooperation, constantly talking internally, adding real-world information, continually optimizing the course system, and allowing external guests to participate in the course review.
CCIE EI LAB SPOTO EI v1.0 Course Outline
There are two models in this exam (Design and Deploy & Operate & Optimize).

This is the material on which you should work. When you take the exam, you will be confronted with them.
Design: Design 1
Deploy & Operate & Optimize:LAB1
Study Plan: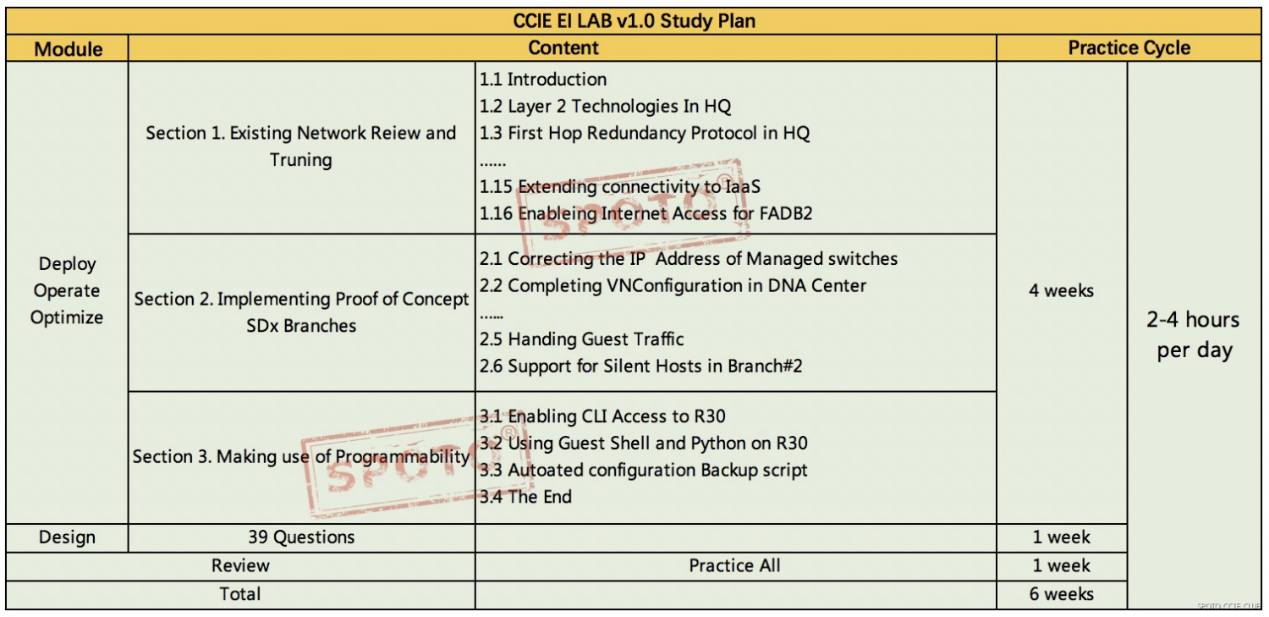 This is the study plan for the CCIE EI LAB v1.0. You can take the exam after 1.5 months to devote 2-4 hours every day to lab practice. We supply three months of service time, so you'll have plenty of opportunities to practice and stick to your schedule.
Service Package for SPOTO CCIE EI Lab Training
Actual CCIE EI Lab test booklets and solutions (cover Module 1 and Module 2)
Remote rack access for practicing the entire lab (including IOS, init configuration, and so on)
7/24 instant help through WhatsApp, Skype, and email…
Technical assistance from a CCIE instructor/tutor
Video tutorial that explains the workbook and the solution
Obtain the most recent exam feedback and stay up to date with free workbooks and solutions.
See the CCIE EI v1.0 page for more information about the CCIE service and how to open workbooks and solutions!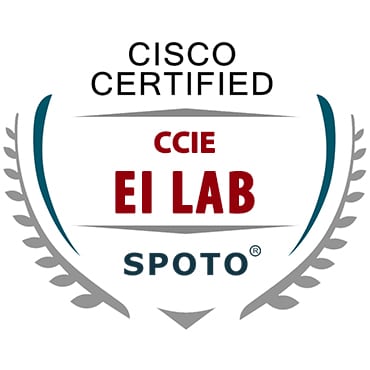 CCIE Enterprise Infrastructure Theory Training Course
SPOTO has launched the CCIE EI online training courses  including
1) SD-Access Elementary Course
2) SD-WAN Elementary Course
3) SD-Access Advanced Course
4) SD-WAN Advanced Course
5) Automation and Programmability
A lot of our candidates are studying this training course now and give high praise for our courses.
Why should you go with SPOTO?
SPOTO
Others
Passing Candidates

2100+CCIE

60 candidates take exam per month, update daily

Passing Candidates

Less than 100 CCIE

5 Candidates Taking Exam per Month

Passing Rate

Up to 90%- Students pass in 1st try

Passing Rate

Lower than 35%-Students fail many times

Pass Time

1.5-3 months or less

Pass Time

6+ months

Workbooks and Solutions

100% real as the exam and latest study materials

Workbooks and Solutions

Not real exam

Practice Environment

Real lab environment & complete rack for practice

Practice Environment

It is virtual device

Support

7/24 instant live support within 30 minutes response anywhere anytime,

Support

…

Professional Tutor Team

Experienced CCIE Certified instructors and

tutors

Only Materials without service and update

 

18-Year Experience in IT Training

 

Less than 2 years
3 easy methods to getting your CCIE certification

After double-check your payment information.
1. We form a service group for you, including an instructor, a tutor, and a service member.
2. Within 8 hours, the teacher will provide LAB materials to your email, which will comprise a workbook, solution, lesson video, and other materials.
3. The tutor will show you how to access the workbook, solve the problem, and watch the tutorial video.
4. The tutor will assist you in installing IOU on your laptop so you can practice the CCIE EI LAB materials.
5. You start practicing after watching the tutorial video.
6. If you have any questions, the tutor will assist you in finding answers.
Conclusion
SPOTO has been a leading brand in global network technology talent training for 18 years, focusing on online Cisco, PMI, ISACA, Huawei, Microsoft, and other IT international certification and network technology talent training. It has trained nearly 2,200 IEs in 152 countries and regions around the world. If you want to pass the CCIE EI lab on the first try, besides knowing about the CCIE EL lab exam topics, you should obtain the study materials offered by SPOTO!

Recommend CCIE Lab exam study materials: 
Please follow and like us: