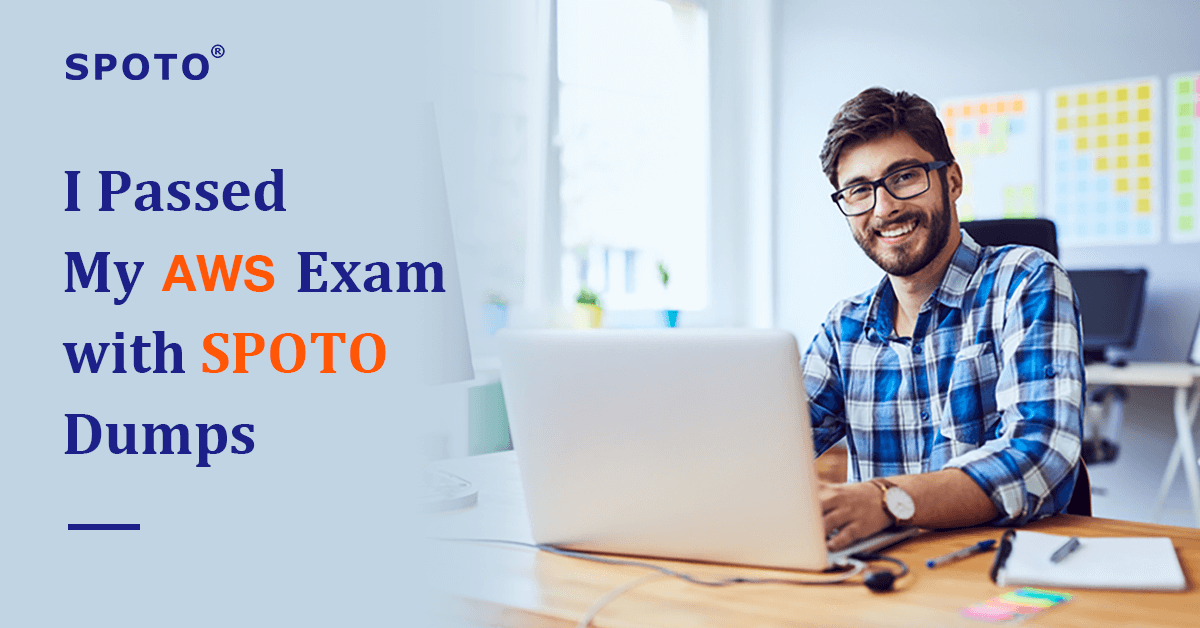 Cloud computing is becoming more and more popular as small and medium businesses find it the fastest way to market their applications. With the cloud, you can increase our storage capacity. It is also less costly and easy to use. The demand for cloud computing has made a career in Amazon Web Services attractive. Passing the AWS exam can bring more career opportunities. There are no prerequisites for taking the test. However, having several years of experience in cloud computing can increase one's chances of passing the exam. Also, getting study and review materials or SPOTO AWS exam dumps can familiarize a candidate with the type of test to be given.
Categories
Exam Code
100% Pass Dumps
AWS
DVA-C01/Associate
CLF-C01/Cloud Practitioner
SAA-C02//Associate
SOA-C01/Associate
DOP-C01/Professional
SAP-C01/Professional
DAS-C01
SCS-C01
MLS-C01
ANS-C00

Certifications to Take First
Before taking the AWS exam for certified AWS professionals, you can take the AWS Cloud Practitioner training, then take lower-level tests for preparation. You can take the foundational-level AWS certification, which is the Cloud Practitioner exam. The test will validate your knowledge in defining AWS and the global infrastructure, describing basic AWS cloud architecture principles, AWS cloud value proposition, essential services on the AWS platform, basic security and compliance, and defining account management billing, and pricing models. People from non-technical fields can take the exam and get certified as a Cloud Practitioner.
Suppose you are interested in becoming an associate solutions architect, SysOps Administrator, and developer. Associate architects help design blueprints for projects of the company and draw blueprints for digital applications. The associate developer helps develop and maintain AWS applications. Studying for these lower-level certifications will help you in your preparation for the AWS exam.
What's Next?
The next level of examination is the AWS professional certificate. Enrolling in an online certification training course such as SPOTO offers will help you get AWS certified on your first try. SPOTO has been the leading agency that offers AWS exam dumps, including study materials, AWS practice tests, and access to a remote server where you can practice taking the test in a simulated. SPOTO was established in 2003, and for 17 years, it has produced thousands of certified professionals in IT, PMP, AWS, and other fields. Our AWS practice test contains 100% real, valid, and updated test items that have been collected from the previous exams. Our team of experts verifies first The test questions and answers before we include them in our dumps. Besides, our remote server will allow you to discuss some problems that you cannot solve with our teaching team. A team member will walk you through the solution until you can do it yourself. Taking practice tests on the remote server lets you experience a simulated environment during the exam.
How to Get SPOTO Dumps
To get AWS exam dumps, you must register on our website and pay the AWS exam's corresponding fee. You can send payment through credit card or debit card. After receipt of your payment, you can expect the materials in your email, along with the login details for the remote server. You can download the materials and use the remote server for your practice sessions.
With SPOTO AWS exam dumps, you can methodically prepare for your AWS certification exam with ease.

Latest passing report-100% pass guarantee
Recommend AWS exam study materials:
Please follow and like us: