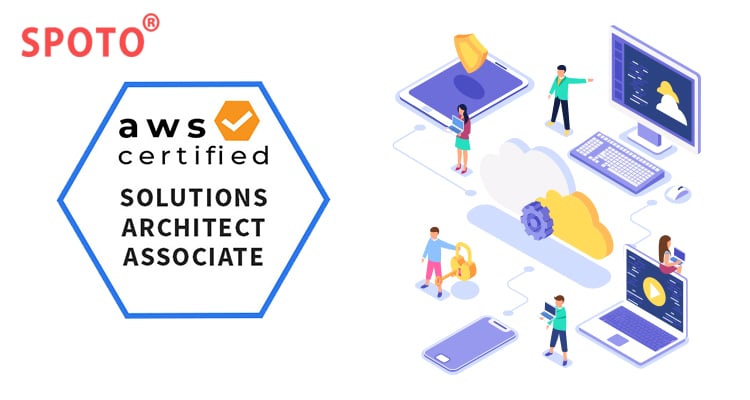 AWS Certified Solutions Architect Associate isn't considered an easy exam. The exam is considered to be very much focused on the scenario. Anyone willing to know about the preparation for AWS certification should note this well, AWS would be writing their questions so that only someone with real hands-on experience and an understanding of their services could pass.
SPOTO AWS dump is the right choice for your preparation as our dump is 100% covering the real AWS exam.
Categories
Exam Code
100% Pass Dumps
AWS
DVA-C01/Associate
CLF-C01/Cloud Practitioner
SAA-C02//Associate
SOA-C01/Associate
DOP-C01/Professional
SAP-C01/Professional
DAS-C01
SCS-C01
MLS-C01
ANS-C00

AWS Certified Solutions Architect – Associate Exam or shortly known as SAA-C02 Exam Overview
The AWS Certified Solutions Architect – Associate (SAA-C02) examination is intended for individuals who wish to perform in a Solutions Architect role. This exam would be validating an examinee's ability to demonstrate practical knowledge of how to deploy and architect secure and robust applications on AWS technologies. It would be proving an examinee's ability of:
• Defining a solution utilizing architectural designing principles based on customer requirements.
• Providing implementation guidance based on best practices to an organization throughout the lifecycle of a project.
Now, let's discuss the tips of clearing the AWS Solutions Architect Associate Exam in the first attempt.
• Selecting Best Study Dumps
If obtained from a reliable source, study dumps could be quite helpful for the candidates to prepare for the exam in as little time as possible. Study dumps are quite useful in reducing the time and money. But, you need to check its authenticity before acquiring and preparing through it. There are numerous study dumps providers, but right now, the leading IT-Dumps provider is the SPOTO. You should check out the SPOTO 100% real and valid AWS Solutions Architect Associate dumps.
• Learning the theory and focus on the labs
AWS would be providing plenty of certification preparation and training opportunities. It could be tempting to power through all the theory material and come back to the labs later. Still, it would be much more efficient to do the labs immediately after learning the relative theory. Simultaneously, the exams wouldn't be having any labs, utilizing the labs to get firsthand experience applying the method, which would be improved my mental model and make it easier for recalling the materials. Of course, you can also take the AWS bootcamp to prepare for the exam.
• Never hit submit until you're sure
When taking the exam, once you would have clicked Submit on a question, the answer would be zipping off to the server, and you couldn't change it. You could skip around through queries, and, as long as you wouldn't be submitting them, come back to answer them when you would be ready. If you select an option for a question, you couldn't skip to another question until you would have cleared that option.
• Think about the options
You are required to have some patience and make sure you would be reading the question and options carefully. The format for the Solutions Architect—Associate exam is considered to be multiple choice, and you would be encountering several tricky problems in which the answer options could be all very similar. In such cases, you should read the question carefully, pick up on keywords, and try to eliminate the choices you feel would probably be the wrong answer.
Why not prepare the AWS SAA-C02 exam with SPOTO?
SPOTO consists of the team of experts, which formulates the SPOTO SAA-C02 dump so that you would be able to clear this exam in the first attempt.
SPOTO aims to help all candidates for preparing and passing Cisco CCNA, CCNP, CCIE Lab, CISSP, CISA, CISM, PMP, AWS, and other IT exams in the first try.
Please hurry up to contact us now! SPOTO AWS Solutions Architect Associate dumps could be purchased through our website by making the online payment.
SPOTO SAA-C02 dumps are considered to be 100 percent accurate and reliable. Once you have made the payment, you could achieve these dumps for eight days, which is extendable later on as per your choice.

Read more:
Please follow and like us: