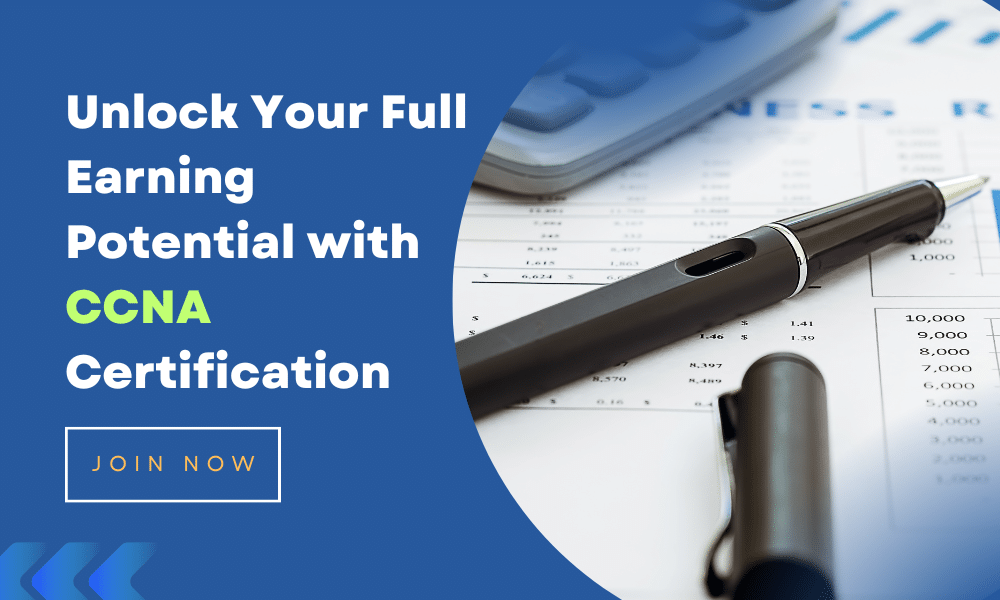 Hey there, fellow tech enthusiasts! Are you looking to advance your career and unlock your full earning potential? CCNA certification is your best choice. It is one of the most popular and respected IT certifications. This super valuable certification is your ticket to work in networking with the potential for significant salary increases.
We guide your journey to explore the ins and outs of CCNA certification. We discuss salary comparisons to study materials, exam tips, and career advancement recommendations. So let's dive in!
What is the CCNA certification?
Cisco Certified Network Associate (CCNA) certification is entry-level networking certification offered by Cisco Systems. It validates your knowledge of fundamental networking concepts like IP addressing, routing, and switching. The CCNA certification is valuable for individuals looking to pursue a career in networking and can lead to significant salary increases.
Benefits of CCNA certification
Some of the most important benefits include:
Excellent career prospects – The certification helps you carve a niche in computer networking. The career graph is pretty steep, with the prospect of getting elevated to senior-level positions.
Multiple job opportunities – As per the Bureau of Labor Statistics (BLS), 333,200 Network and Computer Systems Admin jobs were available in 2021. Your CCNA certification makes you eligible for networking positions.
Greater earning potential – CCNA certified professionals earn an average of $80,000 annually, much higher than the average salary for IT professionals without CCNA certification.
Comparison of CCNA salary with other IT Certifications
CCNA certification opens up several job opportunities and puts you in the league of high earners. So how does the CCNA professional's salary stack up against other popular IT certifications? According to ZipRecruiter, average salaries for CCNA-certified professionals in the United States is $89,681. The highest annual salary is around $146,500 and the lowest being $42,000. Also, the highest CCNA earners reside in California, Massachusetts, New York, and Michigan. Such salaries are significantly higher than the average salary for IT professionals without CCNA certification, which is $65,000. In short, the CCNA certification is a great way to start, putting you ahead of the IT crowd.
Job prospects for CCNA professionals
Apart from the financial aspect, job opportunities for CCNA-certified professionals are abundant. As per the Bureau of Labor Statistics, employment for "Network, and computer systems administrator" jobs is projected to grow 8% between 2020 and 2030, which is much faster than other occupations. With a CCNA certification under your belt, you are eligible for the following job titles:
Network administrator
Network engineer
Network technician
Systems engineer
Security engineer
IT consultant
Cloud engineer
The top companies that hire CCNA professionals include:
Cisco Systems
Amazon Web Services (AWS)
Microsoft
Google
IBM
Dell
Hewlett Packard Enterprise (HPE)
Juniper Networks
Palo Alto Networks
So, gear up for an exciting career journey that will surely take you places!
Requirements and eligibility criteria for CCNA certification
As you begin your CCNA certification journey, we recommend that you have the following essential skills:
You should be a minimum of 13 years old
If you are under 18 years, you need parental consent to take the exam
Fundamentals of networking concepts
Basic understanding of Cisco networking products
While the first two requirements are mandatory, the remaining can be easily overcome. Whether you're a seasoned networking pro or just starting your IT adventure, the CCNA certification can be within your reach.
Recommended study materials for CCNA exam
The CCNA exam is a 120-minute, multiple-choice exam that covers a wide range of networking topics. The exam costs $300, plus tax, or use Cisco Learning Credits. The CCNA certification is valid for three years. You must recertify every three years by taking the CCNA Recertification Exam to maintain your certification.
You can find trusted CCNA study materials at the following resources:
Cisco Learning Network – It is the official learning resource from Cisco for CCNA certification preparation. Your one-stop shop for various resources, including practice exams, reading course materials, and training courses
Cisco Press Books – Your official source for original Cisco certification related books. These books range from fundamentals to advanced preparation guides.
CCNA Study Guide – The official study guide has comprehensive study materials covering all exam topics, including practice questions and labs.
Training Courses – You can Google several online and in-person training courses available in your area. Make sure to read the reviews and consider post-course support before signing up.
Additionally, Reddit forums and other online chat groups can also be a good source of credible input for the exam. You could also look to join local study groups on Facebook. Studying alone can be challenging, and groups help you stay focused and motivated.
Tips for success in CCNA certification exam
First thing first, make sure to choose the training that provides in-depth explanations, real-world scenarios, and practice questions. Second, you need to have a study plan and stick to it. The CCNA course can be long, so you need to break down the syllabus into manageable chunks. Following are our tried and tested tips for success in the exam:
Start studying early – give yourself plenty of time to learn and practice.
Study plan – Having a study plan makes the efforts accountable and sets you up for success.
Proper study materials – The importance of proper study materials can not be stressed enough. Getting official study materials makes sense as Cisco endorses them.
And don't forget to practice because practice makes perfect. Solve enough mock tests to boost your confidence and prepare you for the real deal.
Overview of certification syllabus and format
Let's catch a bird's-eye view of the CCNA certification exam syllabus and format. The exam is divided into two sections. Section 1 includes networking fundamentals, IP connectivity, and IP services. Section 2 includes security fundamentals, automation, and programmability.
The exam carries multiple-choice questions and is proctored for 120 minutes. So prepare well and get ready to showcase your networking prowess and ace the exam!
Benefits of CCNA certification for IT professionals and organizations
The certification opens doors to increased knowledge and skills as an IT professional. It demonstrates that you have the skills to become a successful network engineer. The credential helps you qualify for higher-paying job opportunities, career advancement, and increased job security. Moreover, CCNA certification gives you the foundations needed to continue learning and grow as an IT professional.
Organizations reap the benefits of having CCNA-certified professionals on their teams. They can boast of improved network security. Having CCNA professionals on the team means reduced downtimes. The organization's overall network efficiency can be improved with automation and optimizations.
Recommendations for continuous learning and career advancement
Networking and IT are ever-evolving fields. One continuously needs to acquire skills to stay ahead of the competition. You can explore the following avenues to expand your knowledge:
Take online courses – Online courses in the form of videos and text materials help you stay up-to-date with the latest trends in technology. Some of the most popular online course providers include Coursera, EdX, and Udemy.
Attend workshops and conferences – A handy way to keep updated and continue to build your professional network is to attend online or offline workshops.
Getting involved in open-source projects – Such opportunities help you exhibit your skills to the community and gain the latest knowledge of industry best practices.
Getting certified – CCNA is one of the several specialized certifications offered by Cisco. Once you complete the certification, you may explore more advanced certifications to build on your IT skills.
In conclusion, the CCNA certification is your gateway to a prosperous career in networking and IT. With lucrative salary prospects and several job opportunities, investing in the CCNA certification makes sense. Your future as a CCNA-certified superstar awaits!
Please follow and like us: