SPOTO will host an unusual activity that covers all old candidates in May thanks to SPOTO all past customers for your support. If you or your friends want to take any certification exams, you cannot miss them. We will introduce specific details about the event.

There are some points about the activity you should note:

Note 1: You should recommend your friend to join SPOTO

If you are an old SPOTO customer who Wants to get the discount, and you need to recommend your friends to join SPOTO. You only provide your friend's information involving in email, WhatsApp, or Skype with us. That is very easy to get a discount. More friends you have referred to, and you will get more the offers. At the same time, your friends also will get a significant discount.

Note 2: These Coupons are only valid within ten days after you receive ours via email
You have participated in our discount activity and referred your friends. You should use these codes with ten days when you have received ours via email. If you have two or more coupons, and you only can use one of them in one certification exam. But, the ten-day service is based on your time. Only you need our service, and we will support our service with you. You can purchase our products in advance to get the discount and enjoy our service following your time. You have better to use the coupon ASAP in case of the invalidity of the activity.

Note 3: Different Certified exams with different discount prices
There are different exam discount activities in the various certified exams. So, the discount price is different. Our special offers involve different products such as written exam dumps (Cisco CCNA, CCNP), CCIE Lab, CISSP, CISA, CISM, PMP exam, etc. You can choose what you want to take the certified exam.

The following is the details of this particular activity: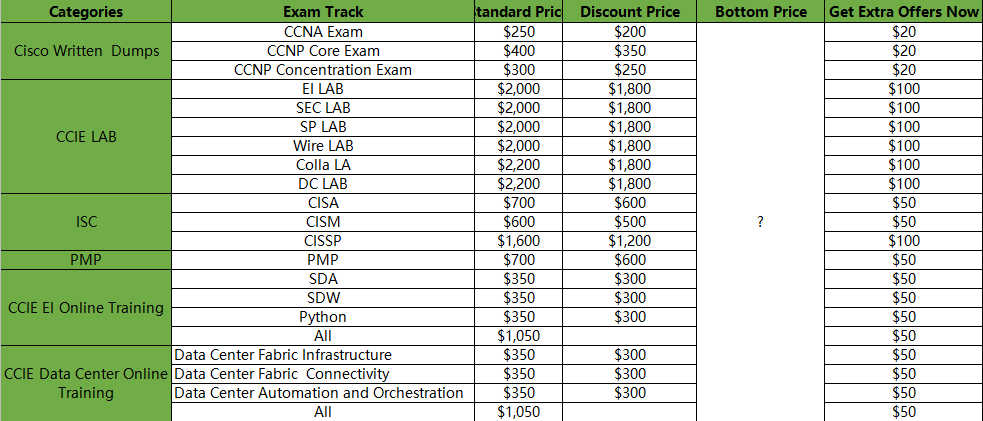 I will take an example of the details of that chart. If you are an old candidate and want to take the Cisco CCNA written exam, and you will get a discount that is $200. Meanwhile, you have recommended your friends to SPOTO. So, you and your friend can get the coupon $20. Finally, you will pay less for our CCNA exam study materials.
So, if you have any questions, contact us directly. The duration of this activity continues in May. Hurry to join us. Don't miss the special discount.

Please follow and like us: