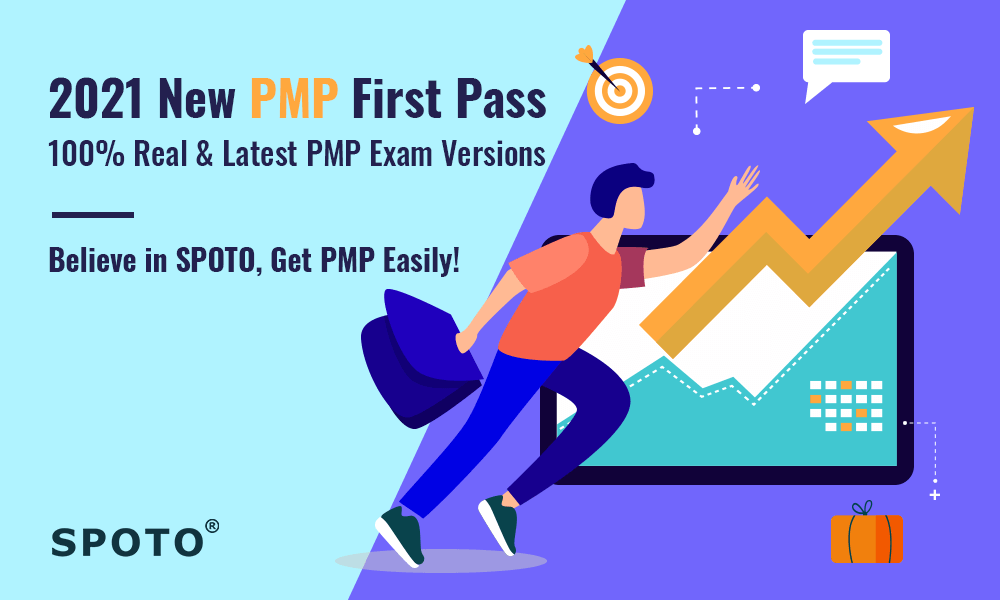 PMP exam is a Project Management Professional certification Exam provided by the Project Management Institute (PMI). PMP is considered to be recognized globally, with members in 193 countries. Having a PMP would demonstrate the education, experience, and ability to lead and direct successful projects. Most project manager positions in top companies would require PMP qualification and, if not, it is seen as a distinct advantage of acquiring the capability. All information regarding PMP could be found here in the PMP Certification Explained article. If you want to pass the PMP exam in the very first try, you can get the PMP study guide, PMP exam preparation blog and PMP exam dumps from SPOTO.
Categories
Exam Code
100% Pass Dumps
PMI
PMP
RMP
CAPM
PgMP
ACP
PMP proxy service
PMI-ACP proxy service
PMI-PBA proxy service

PMP Exam Study Material
PMBOK Guide would costs you about $47.98 but is free to download from pmi.org for the PMI members. Reading the PMBOK isn't compulsory, and some qualified project managers would have revealed that they passed the exam without going through the PMBOK, but you would feel more prepared if you would have gone through it once or twice. Also, the PMBOK is a guide or reference point on techniques and processes that could be utilized in day-to-day project management and is considered an excellent tool for having in your arsenal.
Apart from the PMBOK Guide, there are so many options when looking at the study materials available on the market, so it can be challenging for you to know where to start. Choose study materials that will help you prepare for your PMP certification to best suit your learning style. Here is an overview of the most popular and relevant study materials to help you decide which of those materials fits your learning preferences and behaviors best.
PMBOK Guide——Essential PMP Study Guide
The PMBOK Guide itself is considered process-based, meaning it would be able to describe completing the project management utilizing tasks. The processes in the PMBOK guide would be overlapping and interacting throughout the project life cycle.
Processes would be presented in terms of:
• Inputs (plans, documents, designs, etc.)
• Tools and Techniques (methods for accomplishing activities)
• Outputs (plans designs, documents, etc.)
PMP Preparation Books
PMP exam preparation books are also known as PMP exam study guides, which need to be used to companion the PMBOK Guide. They cover the same material as the PMBOK Guide (and are primarily structured similarly), but the language is more fluid and easier to understand. They also cover some topics that are not explained in the PMBOK Guide but still about the PMP exam content.
We recommend you to use at least one of the available prep books, but preferably two of the available preparation books out there. Each author has his approach, and you need to decide which one works best for you. So, try to read a sample before you buy them.
Recommended PMP Learning Resources
The Project Management Professional (PMP) is considered a lot to take on by yourself, so it would be advised to sign-up for professional training to pass the exam. As noted above, it wouldn't be sufficient just to read the PMBOK Guide as it is considered to be for reference only. You would also require other resources for completing your preparation.
If you would be entirely new to studying project management, it is recommended for you to Head First PMP. Still, if you would be familiar with the knowledge areas and process groups, Andy Crowe's would be the perfect fit for you.
Head First should be seen more as a PMP Exam Study Guide for Beginners, and Andy Crowe's more advanced, but they both are considered to be complementing each other.
Head First PMP provides you a brilliant introduction utilizing real examples. Andy Crowe's is considered to be much more similar to the PMBOK but easier to digest and more focused on helping you pass the exam.
Conclusion
Now that you have gone through the study guides, you would require to clear the PMP Exam in one go; you must be looking forward to gaining the same in the first attempt. It is possible to have it if you acquire the SPOTO PMP Exam Dumps and practice through the materials and practice tests. SPOTO is the most significant dumps provider and has helped many candidates achieve success in their PMP Certifications.

Latest passing report-100% pass guarantee
Recommend PMP exam study materials:
Please follow and like us: