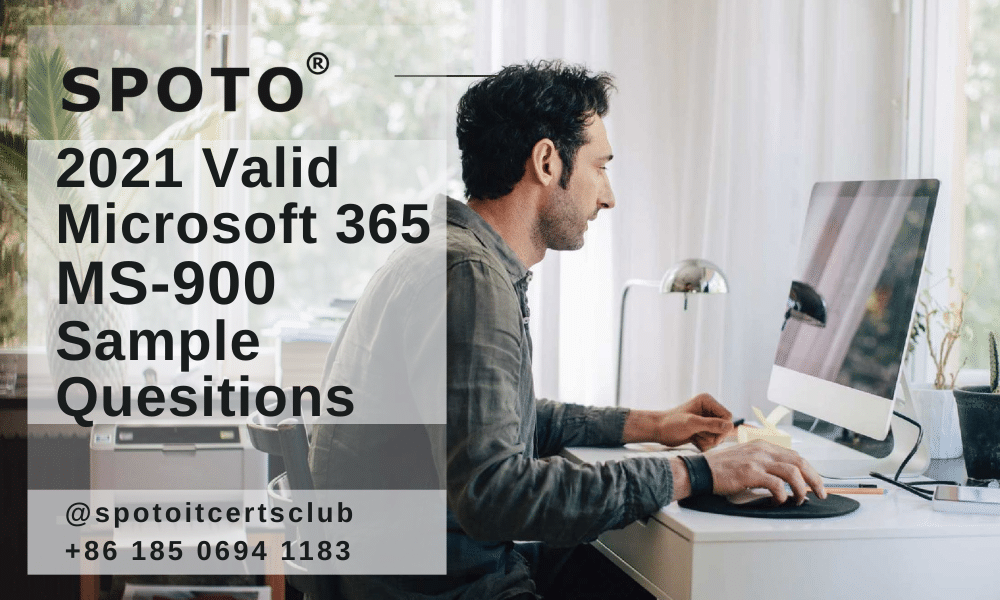 If you are looking for some help for your Microsoft exam preparing and the assurance of getting your exam passed, you're at the right page.
This MS-900 Sample Question Set is designed to provide you with information on the Microsoft 365 Fundamentals test. These sample questions will help you get familiar with the kind of questions that will appear on the MS-900 certification test, as well as the difficulty level of those questions. SPOTO Dump will be your best choice if you want to obtain more Microsoft 365 Fundamentals MS-900 test questions with verified answers for the actual exam.
There's also a new activity called "Refer a Friend to Get a Coupon"! You'll both receive a great discount on our high-quality items if you recommend a friend to us! Now is the moment to join!

Related Sample Questions

2021 Microsoft AZ-104 Practice Exam Questions and Answers Download for Free
01. When talking about cloud services, what does the term "scalable" mean?
a)Able to build models.
b)Able to resize organizational data structures.
c)Able to add or reduce service capacity on demand.
d)Services are deployed in a redundant manner.
02. In order to connect Microsoft 365 Usage Analytics to Power BI, what data must you provide?
a)Tenant ID
b)Activity report ID
c)Power BI Template ID
d)Global Administrator Object ID
03. A company experiences a Microsoft 365 outage that affects an entire region. You check the Service Health Dashboard and observe that the service is healthy.
After the incident is resolved, you need to find information in Service Health Dashboard that describes what happened during the outage. What should you use?
a)Message Center
b)incident closure summary
c)Post-Incident Review (PIR)
d)service request
04. With Configuration Manager and Intune configured for co-management, which two Intune remote actions are available?
a)User reset
b)Factory reset
c)Remote control
d)Application reset
05. GDPR stands for which of the following?
a)General Data Privacy Regulation
b)General Data Protection Regulation
c)General Data Primary Regulation
d)General Data Proposed Regulation

06. Microsoft 365 Activity Reports are accessed through which interface?
a)Security & Compliance Center
b)SharePoint Admin Center
c)Report Center
d)Microsoft 365 Admin Center
07. You are the compliance officer for your organization. You need to implement a policy to schedule the periodic verification of Azure Active Directory group memberships. Which tool should you use?
a)Conditional Access
b)Privileged Authorization Management
c)Privileged Identity Management
d)Access Reviews
08. The Office configuration XML file can be configured through which of the following?
a)https://config.office.com
b)https://configure.office.com
c)https://config.office365.com
d)https://configure.office365.com
09. You are a security manager for your organization. You need to configure document classification. Which tool should you use?
a)Classification explorer
b)Azure Identity Protection
c)Azure Information Protection
d)Exchange Data Loss Prevention Policies
10. Exchange Online hybrid is an example of what kind of cloud deployment model?
a)Service cloud
b)Hybrid cloud
c)Private cloud
d)Public cloud
Answers:
Question: 01
Answer: c
Question: 02
Answer: a
Question: 03
Answer: c
Question: 04
Answer: b, c
Question: 05
Answer: b
Question: 06
Answer: d
Question: 07
Answer: d
Question: 08
Answer: a
Question: 09
Answer: c
Question: 10
Answer: b
Conclusion
For those seeking assistance with their practice, SPOTO dumps will be the most beneficial option available. Consider taking the SPOTO Dumps Test with our Verified Exam Questions, and you will realize that every question on the exam is precisely the same as what you saw in the SPOTO Dumps.
Again, the even of Refer a Friend to Get Special Discount is on. Don't miss it ↓

Latest Passing Report-100% pass guarantee
Please follow and like us: