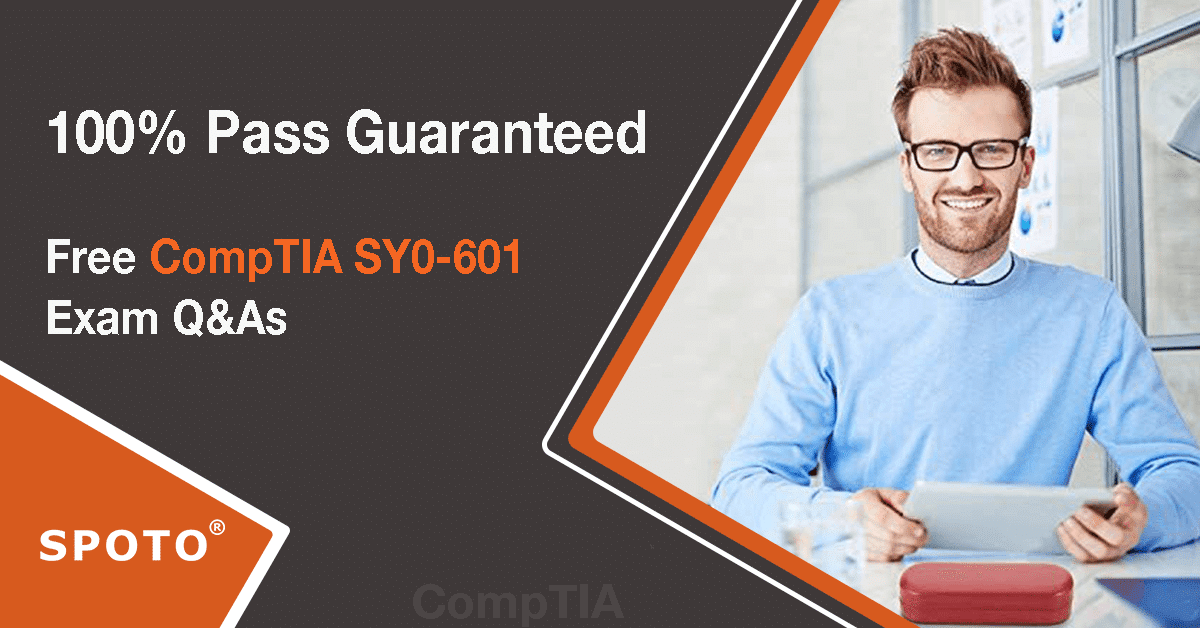 Get the latest 2023 exam questions about CompTIA Security + SY0-601. The SPOTO CompTIA SY0-601 exam dump provides you with updated questions and answers. Suppose you want to get CompTIA SY0-601 certification in your first attempt. In that case, the SPOTO CompTIA SY0-601 exam dump is the most effective and valuable learning material for you to 100% pass the CompTIA SY0-601 exam!
Categories
Exam Code
100% Pass Dumps
CompTIA
SY0-501
SY0-601
220-1001
CV0-002


Try these 10 SY0-601 exam demos for free to test your preparation and verify SPOTO dumps' reliability!
QUESTION 1
A small company that does not have security staff wants to improve its security posture. Which of the following would BEST assist the company?
A. MSSP
B. SOAR
C. IaaS
D. PaaS
Correct Answer: B
QUESTION 2
A development team employs bringing all the code changes from multiple team members into the same development project through automation. A tool is utilized to validate the code and track source code through version control. Which of the following BEST describes this process?
A. Continuous delivery
B. Continuous integration
C. Continuous validation
D. Continuous monitoring
Correct Answer: B
QUESTION 3
A security engineer reviews log files after a third discovered usernames and passwords for the organization's accounts. The engineer sees there was a change in the IP address for a vendor website one earlier. This change lasted eight hours. Which of the following attacks was MOST likely used?
A. Man-in- the middle
B. Spear-phishing
C. Evil twin
D. DNS poising
Correct Answer: D
QUESTION 4
A network engineer has been asked to investigate why several wireless barcode scanners and wireless computers in a warehouse have intermittent connectivity to the shipping server. The barcode scanners and computers are all on forklift trucks and move around the warehouse during regular use.
Which of the following should the engineer do to determine the issue? (Choose two.)
A. Perform a site survey
B. Deploy an FTK Imager
C. Create a heat map
D. Scan for rogue access points
E. Upgrade the security protocols
F. Install a captive portal
Correct Answer: AC
QUESTION 5
A manufacturer creates designs for very high-security products that are required to be protected and controlled by government regulations. These designs are not accessible by corporate networks or the Internet.
Which of the following is the BEST solution to protect these designs?
A. An air gap
B. A Faraday cage
C. A shielded cable
D. A demilitarized zone
Correct Answer: A
QUESTION 6
In the middle of cybersecurity, a security engineer removes the infected devices from the network and locks down compromised accounts. In which of the following incident response phases is the security engineer currently operating?
A. Identification
B. Preparation
C. Eradication
D. Recovery
E. Containment
Correct Answer: E
QUESTION 7
A company's bank has reported that multiple corporate credit cards have been stolen over several weeks. The bank has provided the names of the affected cardholders to the company's forensics team to assist in the cyber-incident investigation.
An incident responder learns the following information:
The stolen card numbers timeline corresponds closely with affected users making Internet-based purchases from various websites via enterprise desktop PCs.
All purchase connections were encrypted, and the company uses an SSL inspection proxy for the inspection of encrypted traffic of the hardwired network.
Purchases made with corporate cards over the corporate guest WiFi network, where no SSL inspection occurs, were unaffected.
Which of the following is the MOST likely root cause?
A. HTTPS sessions are being downgraded to insecure cipher suites
B. The SSL inspection proxy is feeding events to a compromised SIEM
C. The payment providers are insecurely processing credit card charges
D. The adversary has not yet established a presence on the guest WiFi network
Correct Answer: C
QUESTION 8
Which of the following allows for operational test data to be used in new systems for testing and training purposes to protect the read data?
A. Data encryption
B. Data masking
C. Data deduplication
D. Data minimization
Correct Answer: B
QUESTION 9
A security modern may have occurred on the desktop PC of an organization's Chief Executive Officer (CEO). A duplicate copy of the CEO's hard drive must be stored securely to ensure appropriate forensic processes and custody chain is followed.
Which of the following should be performed to accomplish this task?
A. Install a new hard drive in the CEO's PC, and then remove the old hard drive and place it in a tamper-evident bag
B. Connect a write blocker to the hard drive. Then leveraging a forensic workstation, utilize the dd
command m a live Linux environment to create a duplicate copy
C. Remove the CEO's hard drive from the PC, connect to the forensic workstation, and copy all the contents onto a remote file share while the CEO watches
D. Refrain from completing forensic analysts of the CEO's hard drive until after the incident is confirmed; duplicating the hard drive at this stage could destroy evidence
Correct Answer: D
QUESTION 10
While checking logs, a security engineer notices several end-users suddenly downloading files with the.tar.gz extension. A closer examination of the files reveals they are PE32 files. The end users state they did not initiate any of the downloads. Further investigation reveals the end-users clicked on an external email containing an infected MHT file with an href link a week prior.
Which of the following is MOST likely occurring?
A. A RAT was installed and is transferring additional exploit tools.
B. The workstations are beaconing to a command-and-control server.
C. A logic bomb was executed and is responsible for the data transfers.
D. A fireless virus is spreading in the local network environment.
Correct Answer: A
In Conclusion
Do you want to get pass CompTIA SY0-601 exam very fast? Here SPOTO CompTIA SY0-601 exam dumps cover 100% real SY0-601 exam questions and answers! If you practice our dumps during your exam prep, you can easily pass CompTIA SY0-601 exam in 7 days!
Why SPOTO?
• 100% real exam answers and questions
• 100% pass guarantee
• Real Simulated Exam Environment
• Free update for dump stability
• Fewer questions with the highest accuracy
• Latest Passing Report Feedback
• 7/24 Technical support
• Professional Tutors Teams

Latest passing report-100% pass guarantee
Recommend CompTIA exam study materials:
Please follow and like us: