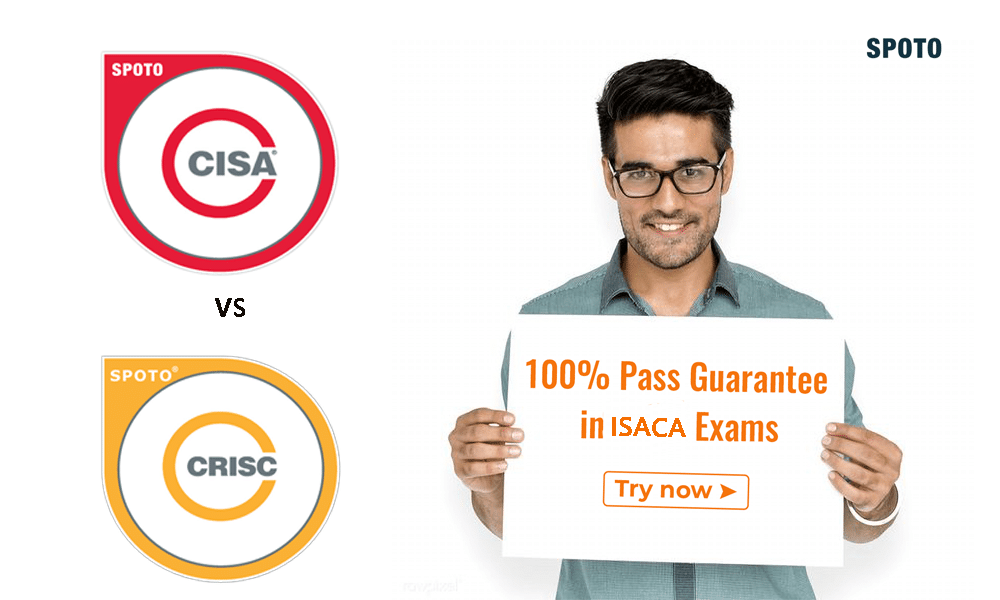 Earning an Information Systems Control Association® (ISACA®) certification can validate your skill and capacity at the workplace. According to global knowledge that with ISACA certified, you will get a salary boost. As you know that, ISACA provides several certifications. When choosing and which certification exam to take, you may be confused—no ideas about choosing CRISC or CISA. No worries. In this article, we will share the difference between CISA vs. CRISC certification.
If you would like to take the exam, don't forget to get the ISACA dumps from SPOTO to ensure you pass the exam on the first try with a 100% pass guaranteed.

Both CRISC and CISA security-related certifications, combining with CISM, there are three security-related certifications in ISACA®.
ISACA offers three security-related certifications:
CISA (Certified Information Systems Auditor),
CISM (Certified Information Security Manager)
CRISC (Certified in Risk and Information Systems Control).
| Categories | Exam Code | 100% Pass Dumps |
| --- | --- | --- |
| ISACA | CISA | |
| | CISM | |
| | CISA/CISM/CRISC proxy service | |
About CISA
The CISA credential would target the IT professionals who are working in governance and audit-related roles. Characteristically, CISA professionals will hold positions like IS or IT auditor or audit manager, non-IT auditor, and consultant. You would also find many CISA professionals engaged in governance, security, assurance, and audit control and enterprise leadership roles. If you are looking forward to obtaining this certification, you should opt for the SPOTO CISA Exam Practice Tests.
The CISA certification would be authenticating the candidate's knowledge and the ability to control, assess, audit, and perform ongoing monitoring of an enterprise's IT business systems. Required skills would be reflected in the five CISA job practice domains:
Domain No. 1: The Process of Auditing Information Systems
Domain No. 2: Governance and Management of IT
Domain No. 3: Information Systems Acquisition, Development, and Implementation
Domain No. 4: Information Systems Operations, Maintenance and Service Management
Domain No. 5: Protection and Information Assets
To earn the credential, candidates must possess a minimum of five years of professional work experience controlling, auditing, or securing information systems and clearing the CISA exam. The CISA study process might include attending CISA review classes, enrolling in an online course, or utilizing software, review manuals, and study guides. After clearing the exam, the candidates must comply with the Information Systems Auditing Standards.
According to the Global Knowledge report, CISA salaries have a ranking of number 13, with an average US salary of $97,117.
About CRISC
The CRISC credential would be specifically targeting the professionals who would be work with IT risk management at the enterprise level. Typical certified in risk and information systems control crisc candidates would be required to have CIOs/CISOs, business analysts, project managers, and IT professionals engaged in risk management, control, assurance activities, and compliance. CRISC domains are listed as follows
Below mentioned are the CRISC job domains are:
Domain No. 1: IT Risk Identification
Domain No. 2: IT Risk Assessment
Domain No. 3: Risk Response and Mitigation
Domain No. 4: Risk and Control Monitoring and Reporting
CRISC requirements would include a minimum of three years of work experience in information security program management in two or more than two of the CRISC job domains, including Domain 1 or 2. This experience would be obtained in the ten years preceding the application or within five years of clearing the exam.
In the Global Knowledge report, the CRISC certification would be second only to the CISSP in terms of reported earnings with average US earnings, which would be reported at $107,968.
The Bottom Line
When choosing between pursuing an ISACA credential such as CISA and a CRISC certification, keep the following in mind:
CISM isn't far behind CISSP in terms of average salary. While CISSP is focusing on the operational side of security, CISM would be targeting the strategic side of safety and its relations to business goals.
The CRISC certification is second only to the CISSP terms in which would be reported earnings. It would be validating your ability to work with IT risk management at the level off.
If your career goals are focused solely on audit-related roles, then the CISA might be considered the right credential for you.
Hence, if you wish to gain the CISA or CRISC Certification, you could have it by enrolling yourself in the training course, like that offered at the SPOTO CISA/CRISC Exam Practice Tests.

Latest passing report
Read more:
Please follow and like us: