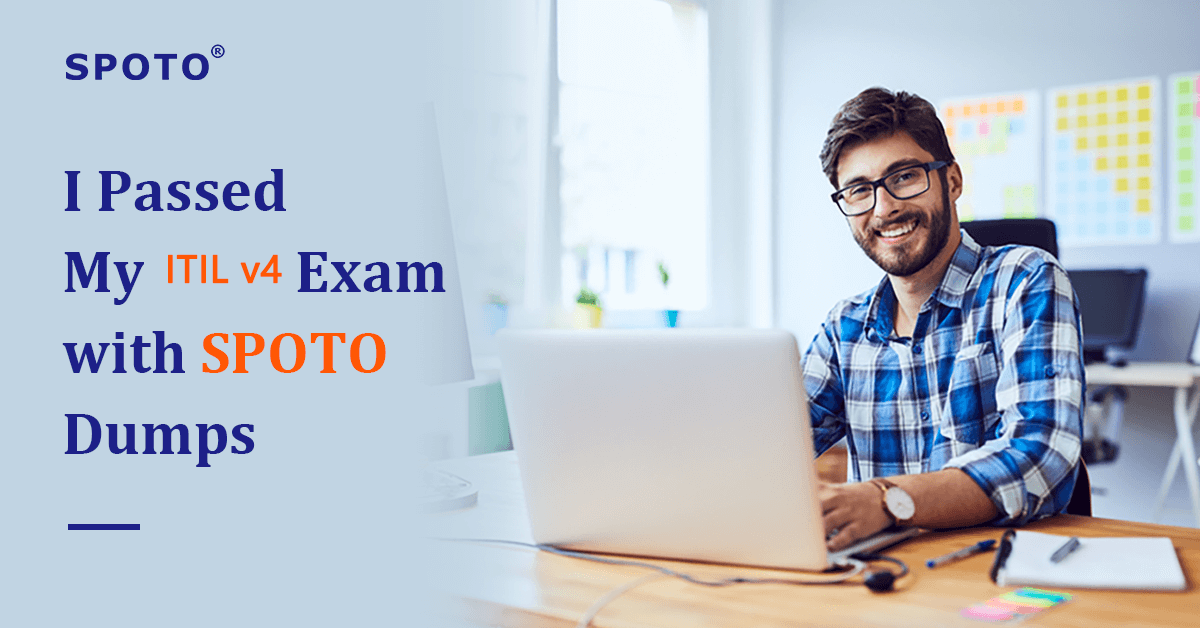 ITIL is considered one of the world's most recognized certification for the IT service management profession. But earning the ITIL Certificate could be quite challenging, especially if you are a working professional. It would be much more difficult for you to find time for studying ITIL quite hard. Below we have specific tips that you could follow to ease up your study process, and also, you should check out the SPOTO ITIL Exam Dumps to benchmark your success.

Steps to study for the ITIL Exam:
1. Determine Target Date for ITIL Exam
If you wish to succeed, you first require to determine an attainable target! Determine when you are going to sit for the ITIL exam. This does not mean that you go and schedule your ITIL exam date right away. You have to mark a date that you could be ready for taking the ITIL exam. It all depends on your schedule, availability as well as dedication. Still, it is recommended that you should at least have as a regular full-time working professional, planning of about 6 to 8 weeks for ITIL preparation.
2. Prepare Your Plan
You could plan out 6 hours of study per week based on your schedule. For example, you could study 2 hours on Monday, 2 hours on Wednesday and two more hours on Sunday. Or, if you wish you could leave the weekend empty, you could swap Sunday study with Thursday. The days you would be studying for ITIL may change week-to-week, but you should try to keep at least 6 hours of study time. There might be special days or long public holidays ahead that you wouldn't be able to study. Planning these weeks as free and making your ITIL study plan accordingly is your second step.
3. Taking Notes during Your ITIL Study
There would be lots of concepts, formulas, hints, etc., on your way throughout the journey of your ITIL Training—Printout the handouts before starting lectures as well as taking notes during your ITIL study. Especially take notes where you would think that you have come across the valuable information. These notes would be useful once you have completed the course. You would be able to go over the notes during the last weeks of preparation for remembering previous lectures you would be met before.
4. Practice as much as Possible
Do as much as practice you could. ITIL Training would include the 200 practice questions, section quizzes at the end of each section, and 2 sample full realistic ITIL exams. Marking your answers and checking whether you can score over 70% from each quiz and sample ITIL exams. Our recommendation would be, if you could achieve over 70% from quizzes and sample exams of the ITIL Training, like the SPOTO ITIL Exam Dumps and from ITIL Realistic exams, you could confidently clear the Real ITIL exam as well.
5. Go and achieve the ITIL!
You could have gone through all sections, completed all quizzes, and scored over 70% from quizzes and realistic ITIL exams. You would be ready for the Big Day. If you would have still time for the ITIL exam, you should spend it on the last days by going over your notes. Getting a good sleep before the day of the ITIL exam and taking the ITIL exam is imminent for finalizing your ITIL study.
Now that if you wish to achieve the ITIL Certification in the first attempt, you should follow these steps and gain the SPOTO ITIL Exam Dumps to achieve success.

Latest passing report-100% pass guarantee
Recommend ITIL exam study materials:
Please follow and like us: