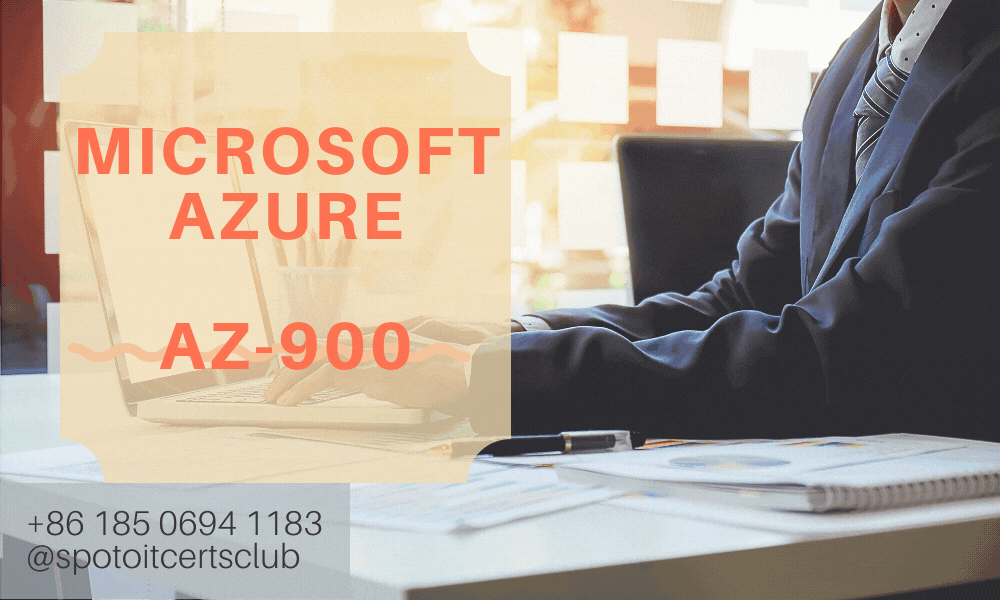 How difficult is the AZ-900?
The Azure Fundamentals certification is for IT and non-technical workers who want to confirm their core understanding and knowledge of cloud services, especially those provided by Microsoft Azure.
Because cloud computing is quickly gaining traction in enterprise infrastructure, demonstrating Microsoft certification Azure fundamentals is a wise career move. Whether you want to be a cloud developer, a corporate decision-maker, or in sales and marketing, we can help.
If you're considering taking the AZ-900 exam, you should consider your plan and how the certification will help you advance in your career. You've undoubtedly got a lot of queries. Do I have enough AZ-900 experience? How many hours should I devote to studying? And what kind of questions might you expect in the exam? What is the difficulty level of the AZ-900 exam?
Let's go over the specifics before talking about the AZ-900 Micorosoft Azure Fundamentals certification exam's difficulty level.

What is the purpose of the AZ-900 Exam?
The AZ-900 exam assesses a candidate's knowledge of cloud principles, basic Azure services, security, privacy, compliance, and trust, as well as Azure pricing and support.
Scalability, elasticity, and IaaS vs. PaaS are among the topics covered in this exam. You must also be able to recognize and comprehend Azure-specific technologies such as Azure IoT Hub, Azure Machine Learning, and Azure SQL DB. You can get a list of exam subjects here.
The exam is $99 USD, comprises 40 to 60 questions, and a time limit of 85 minutes. 700 points, or nearly 70%, is considered a passing score.
The AZ-900 test serves as a springboard for a range of cloud-based positions and certifications. It's intended to lay the groundwork for professionals who want to work in the cloud.
Professionals who pass more specialised associate-level certifications, such as AZ-103 for Azure Administrator or AZ-203 for Developing Solutions for Microsoft Azure, can branch out into a variety of professions. Professionals can eventually get expert-level certifications by passing examinations like the AZ-300, Microsoft Azure Architect Technologies.
How difficult is AZ-900?
In comparison to other IT tests, the AZ-900 is a very straightforward entry-level exam designed for nontechnical workers. But don't expect a stroll through the park. You'll need a thorough study plan to pass, and the material can be complex if you're new to cloud technology – even if you have IT experience.
Nonetheless, according to Perth Ngarmtrakulchol, the AZ-900 exam can be passed in three days of full-time Microsoft Azure learning, which is much less time than other IT certification exams. Other professionals, such as Shane Bartholomeusz, studied the material for a month before passing the exam. The prevailing belief is that it will take between a week and two weeks.
The AZ-900 test examines cloud computing expertise at a high level. Instead of being asked to provide or identify a command, you can be asked why it is used. It doesn't become very difficult in terms of technical knowledge, but it will test your overall comprehension of the Azure platform.
Passing the AZ-900 Exam
Although Microsoft provides free Microsoft training materials, it's difficult to replicate the in-depth and personalized experience that comes with instructor-led Microsoft Azure training like SPOTO.
You must understand how to relocate an Azure virtual machine between subscriptions. Network Security Group and Azure Advisor are both important concepts to grasp. Recognize the differences between IaaS, PaaS, and SaaS and be able to name them.
Take practice exams to test your knowledge once you've mastered the subject. This will not only show you where you need to improve, but it will also help you gain confidence for exam day. You're probably ready for the examination if you frequently score 80 percent or higher on practice exams. However, to be cautious, we propose a percentage of 90% or above.
Spending time on the Azure platform is another excellent option. Sign up for a free trial and have a look around. Examine the many tools and services available. The finest teacher is experience, and having this frame of reference on test day might help a lot.
Finally, here are some real AZ-900 exam questions from the YouTube channel Harry's It Certs, if you think is helpful, pleasse LIKE and Subscribe~

Latest passing report-100% pass guarantee
Please follow and like us: