PMP is considered to be the world's most recognized certification for the project management profession. But earning the PMP Certificate might be regarded as quite challenging, especially if you are a working professional, finding time for studying PMP might be a bit hard. This blog will give you some tips to pass the PMP exam smoothly!
Also, if you want to pass PMP in the shortest time, get SPOTO 100% pass dumps to pass PMP in the first try!

Some Steps of Achieving PMP Certifications:
Step 1: Determine Target Date for Sitting in the PMP Exam

If you desire to be successful, you are required to determine an attainable target first! Determining when you would be sitting for the PMP exam. This is considered to be the first step of the PMP Study Plan. This doesn't mean that you should go and schedule your PMP exam date. You are required to mark a time that you would be ready to take the PMP exam. It all would depend on your schedule, availability, and dedication, but our recommendation for a regular full-time working professional is planning 3 to 4 months for PMP preparation.
A regular PMP Training would be including about 35 hours of project management education. But you would be spending more time making practice tests, going over notes, remembering formulas, and going over unclear parts that you couldn't understand well in the first attempt, etc. Therefore, a typical PMP preparation would take about 70 to 85 hours in total. If you would be considering that you are required to study only in the evenings, during weekends and public holidays, you could assume that you could spare around 6 hours for PMP study each week. And this would make 12 to 14 weeks preparation time in total.
Step 2: Prepare Your Plan

You could plan 6 hours of study per week, which would be based on your schedule. For example, you could study 2 hours on Monday, 2 hours on Wednesday, and 2 hours on Sunday. If you wish to leave the weekend empty, you could swap Sunday study with the Thursday. The days you would be studying for PMP might change week-to-week but try to keep at least 6 hours of study time. There might be specials days or long public holidays ahead that you won't be able to study. Plan these weeks as free as well as make your PMP study plan accordingly.
Step 3: Acquire and Prepare through Proper Study Materials

Once you have prepared your schedule and planned about how to study for the PMP Certifications, you are required to obtain excellent and reliable study materials like offered as the SPOTO PMP Dumps. SPOTO PMP Dumps are formulated through the experienced trainers who are having the experience of about 17 years.
Recommend reading: Download Free 2020 SPOTO PMP Exam Q&As to Test Yourself
Step 4: Do Practice as much as possible.

The biggest tip we could give for you for passing any certification exam would be to Do as much as Practice you could. PMP Training would be including about 750 practice questions, section quizzes at the end of each section, and 1 sample full reasonable PMP exam. Mark your answers and check whether you could score over 70% from each quiz and sample PMP exams. We would recommend that if you could score above 70% from quizzes and sample exams of the PMP Training and PMP Realistic exams, you could confidently pass the Real PMP exam. If you wish to practice with guaranteed success, you should obtain SPOTO PMP Dumps.
Latest PMP Passing Report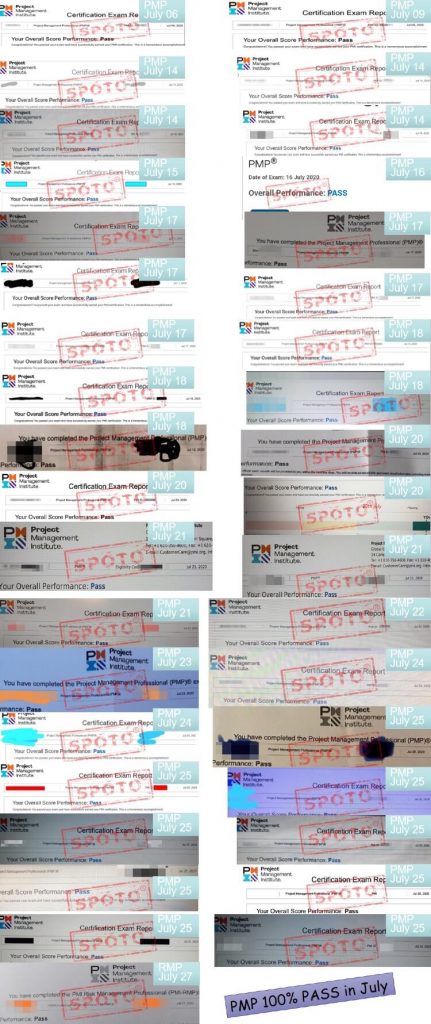 SPOTO PMP Dumps offers 100% real and latest PMP Certification Practice Exams to all candidates. You would also gain simulated exam experiences that would help you out in preparing for the actual exam quickly.
Get SPOTO PMP dumps now to be PMP certified in the first try!

Read more:
Please follow and like us: