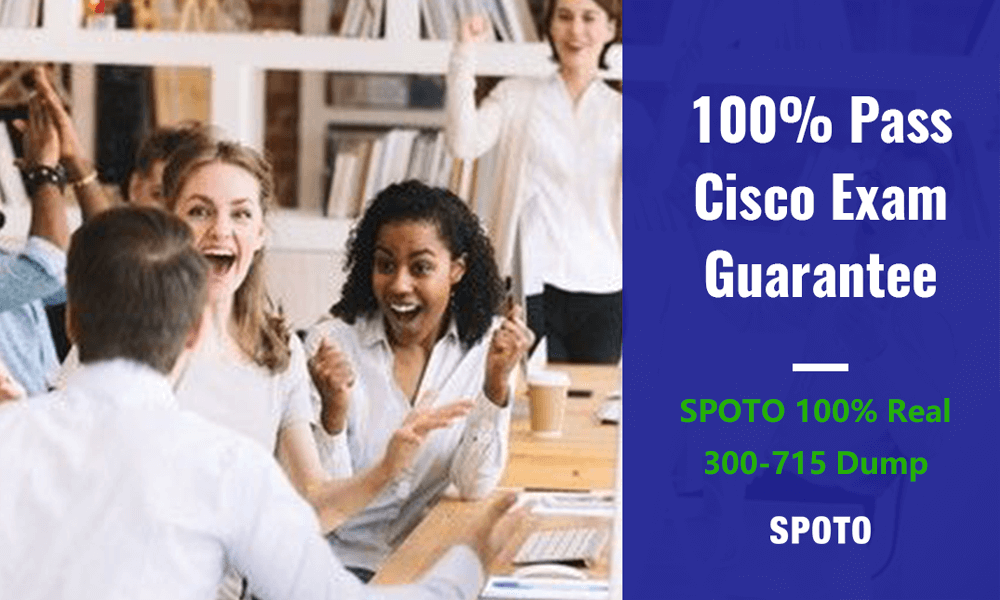 To pass the Cisco 300-715 SISE exam, it is required that you study extensively and have your concepts clear. But the most important thing is to know about the recent questions asked in the real CCNP Security 300-715 exam. SPOTO now offers the 300-715 demo for you to test yourself!
Why take the CCNP Security 300-715 SISE Exam Practice Test?
You will be able to get complete information about the Cisco 300-715 exam during the SPOTO demo free of cost.
The practice test contains ten questions with the correct answer based on the real 300-715 exam.
It will help you identify the quality of the 300-715 dumps learning material so that you can make purchasing decisions accordingly.
Get SPOTO 300-715 Dumps – Easy Way to Get 100% Success.

QUESTION 1
Which two fields are available when creating an endpoint on the context visibility page of Cisco IS? (Choose two)
A. Policy Assignment
B. Endpoint Family
C. Identity Group Assignment
D. Security Group Tag
E. IP Address
Answer: AC
QUESTION 2
When configuring Active Directory groups, what does the Cisco ISE use to resolve ambiguous group names?
A. MIB
B. TGT
C. OMAB
D. SID
Answer: D
QUESTION 3
What is the purpose of the IP HTTP server command on a switch?
A. It enables the https server for users for web authentication
B. It enables MAB authentication on the switch
C. It allows the switch to redirect users for web authentication.
D. It enables dot1x authentication on the switch.
Answer: C
QUESTION 4
What are two requirements for generating a single signing in Cisco ISE using a certificate provisioning portal, without making a certificate request? (Choose two)
A. Location the CSV file for the device MAC
B. Select the certificate template
C. Choose the hashing method
D. Enter the common name
E. Enter the IP address of the device
Answer: BD
QUESTION 5
What service can be enabled on the Cisco ISE node to identify the types of devices connecting to a network?
A. MAB
B. profiling
C. posture
D. central web authentication
Answer: B
QUESTION 6
In which two ways can users and endpoints be classified for TrustSec? (Choose two)
A. VLAN
B. SXP
C. dynamic
D. QoS
E. SGACL
Answer: AE
QUESTION 7
What does the dot1x system-auth-control command do?
A. causes a network access switch not to track 802.1x sessions
B. globally enables 802.1x
C. enables 802.1x on a network access device interface
D. causes a network access switch to track 802.1x sessions
Answer: B
QUESTION 8
Which command displays all 802 1X/MAB sessions that are active on the switch ports of a Cisco Catalyst switch?
A. show authentication sessions output
B. Show authentication sessions
C. show authentication sessions interface Gi 1/0/x
D. show authentication sessions interface Gi1/0/x output
Answer: B
If you find the demo useful for you,then we recommend you make the purchasing decision immediately and prepare for the Cisco Certified Network Professional 300-715 exam now with SPOTO 100% real dump to be CCNP Certified in the first try!
How Does SPOTO 300-715 Exam Dump Help You Clear CCNP 300-715 exam?
100% real and valid 300-715 exam dumps verified by IT experts.
SPOTO 300-715 dump will help you discover and identify areas you should focus on and make corresponding strategies for better preparation.
Our professional tutors will offer 7/24 technical support to solve all your problems.
100% pass rate. Free Service Extension in case of failure
Latest Passing report of 300-715 exam from SPOTO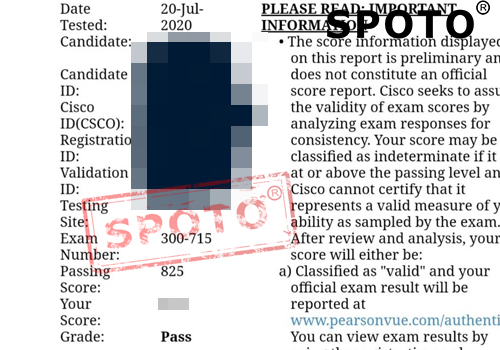 Join us to pass CCNP 300-715 Exam at the first try!

Read more:
Please follow and like us: