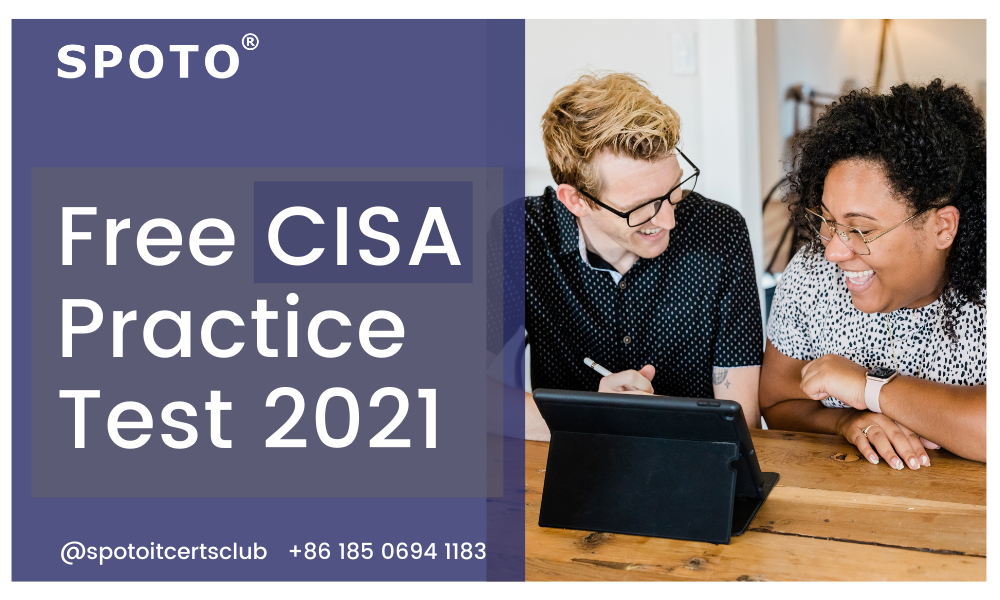 The CISA exam is notoriously difficult, with only 50% of test takers passing on average, and substantially lower rates for first-timers. As a result, it is critical to prepare for the test by studying and learning.
Many IT professionals fail the CISA test due to a lack of preparation for the audit component. Here we prepare some of the real CISA exam questions. Try them and check if you are ready for your exam. If you want more CISA exam questions. Choose SPOTO to help you pass your exam. SPOTO dumps cover all kinds of ISACA exam. 100% Pass Rate is Guaranteed.

QUESTION 1
Which of the following is the BEST way to detect system security breaches?
A. Conducting continuous monitoring with an automated system security tool
B. Conducting frequent vulnerability scans
C. Ensuring maximum interoperability among systems throughout the organization
D. Performing intrusion tests on a regular basis
Correct Answer: A
QUESTION 2
An organization decides to establish a formal incident response capability with clear roles and
responsibilities facilitating centralized reporting of security incidents.
Which type of control is being implemented?
A. Corrective control
B. Detective control
C. Preventive control
D. Compensating control
Correct Answer: A
QUESTION 3
Which of the following is a preventive control that can be used to mitigate insider threats?
A. User activity monitoring
B. Penetration testing
C. Role-based access
D. Backup procedures
Correct Answer: C
QUESTION 4
In a virtualized environment, which of the following techniques effectively mitigates the risk of network attacks?
A. Segmentation
B. Configuration assessment
C. Encryption
D. Containerization
Correct Answer: C
QUESTION 5
Which of the following is the PRIMARY reason to adopt a capability model?
A. To ensure compliance with laws and regulations
B. To decrease the organization's level of risk
C. To guide improvement of organizational processes
D. To increase the organization's level of security
Correct Answer: C

QUESTION 6
Demonstrated support from which of the following roles in an organization has the MOST influence over information security governance?
A. Chief information security officer(CISO)
B. Information security steering committee
C. Chief information officer (CIO)
D. Board of directors
Correct Answer: D
QUESTION 7
Which of the following is the BEST indication of an effective problem management process?
A. Incidents are assigned to engineers immediately.
B. The time to close an incident is reduced.
C. The number of repeat incidents is reduced.
D. Incidents are logged in a centralized system.
Correct Answer: C
QUESTION 8
Which of the following provides an IS auditor assurance that the interface between a point of sale (POS) system and the general ledger is transferring sales data completely and accurately?
A. The data transferred over the POS interface is encrypted.
B. Nightly batch processing has been replaced with real-time processing.
C. Electronic copies of customer sales receipts are maintained.
D. Monthly bank statements are reconciled without exception
Correct Answer: D
QUESTION 9
Which of the following is the MOST effective control against injection attacks on a web application?
A. Modern application firewalls
B. Setting up the application and database on different servers
C. Strong identity controls for application users
D. Validation of data provided by application users
Correct Answer: D
QUESTION 10
The PRIMARY purpose of running a new system in parallel is to:
A. validate the operation of the new system against its predecessor.
B. resolve any errors in the program and file interfaces.
C. provide the basis for comprehensive unit and system testing.
D. determine which of the two systems is more efficient and effective
Correct Answer: A
SPOTO dumps will be the most beneficial option for people who need help with their practice. Take the SPOTO Dumps Exam with our Verified Test Questions, and you'll see that every question on the test corresponds to the SPOTO Dumps.
The Refer a Friend to Get a Special Discount promotion is still active. Don't miss it ↓

Latest Passing Report-100% pass guarantee
Please follow and like us: